Vanilla Beer Cake Bites with Blueberry Filling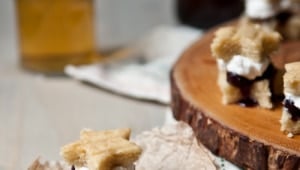 Vanilla Beer Cake Bites with Blueberry Filling
Sometimes I just need a second.
A second to take a breath. Of course I love the tumbling-forward-faster-than-I-can-keep-up-with pace that my life takes, but I need a second. Spring is the season to pause. The season to sit on the porch, long conversations with friends, favorites rediscovered, season. Maybe it isn't a season to find out what new things you haven't heard of yet, it's a season to remember the things you already love and not even care why you love them.
It's a vanilla cake, Sierra Nevada Pale Ale, grilled chicken, favorite sunglasses, faded jeans kind of season. Sure, I love the new stuff constantly being thrown into my consciousness, but the old favorites have earned their space.
This is my season to take a breath and rediscover my favorites. Not justify why I like them, but to just sit and enjoy. In the spirit of this take a breath and remember to enjoy what you like, and to like what you like because you like it, here are my old favorites, the beers that have been with me since the beginning of this craft beer journey, the ones that will still be there when the dust settles on all the new trends. These are the craft beer equivalent of the guy who drives you to the airport at 5am and shows up to help you move.
Vanilla Beer Cake Bites with Blueberry Filling
Ingredients
Cake
½

cup

unsalted butter

softened

1

cups

white sugar

¼

cup

brown sugar

2

large eggs

1

tsp

vanilla extract

2

tbs

canola oil

¼

cup

heavy cream

½

cup

pale ale

or wheat beer

1 ¾

cups

all-purpose flour

1½

teaspoons

baking powder

½

teaspoon

salt
Filling:
1

cup

blueberries

fresh or frozen

1/2

cup

white sugar

2

tbs

corn starch

¼

cup

pale ale

or wheat beer or blueberry beer

¾

cup

heavy cream

¼

cup

powdered sugar

1

tsp

vanilla
Instructions
Preheat oven to 325.

Add the butter and both kinds of sugar to a stand mixer. Mix on high until well creamed, about 3 minutes.

Add the eggs and vanilla, stopping several times to scrape the bottom to insure everything is well combined.

Add the oil, cream and beer, mixing until well combined.

Stop the mixer, sprinkle with flour, baking powder and salt, stir until just combined.

Pour into a 9X13 baking pan that has been greased and floured.

Bake until the top is golden brown and springs back when lightly touched, 23-26 minutes.

While the cake bakes, make the blueberry filling. In a pot over medium high heat add the blueberries, sugar, cornstarch and beer. Bring to a boil, stirring frequently, until thickened. About 8 minutes. Allow to cool completely.

Allow cake to cool completely, transfer to a flat surface. Using a 1 to 2 inch cookie cutter, cut out 12-18 shapes.

IN a stand mixer add the heavy cream, vanilla and powdered sugar. Beat on high until medium peaks form.

Slice the shapes in half, like splitting a hamburger bun (alternately you can use one shape for the top and another for the bottom).

Fill the shapes with blueberry filling and whipped cream. Chill until ready to serve.