Chocolate Stout Pudding with Beer Whipped Cream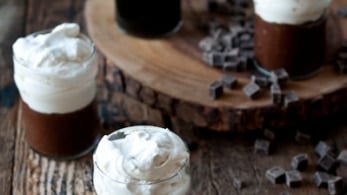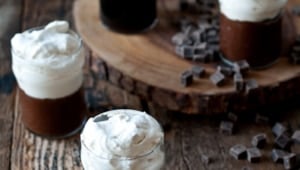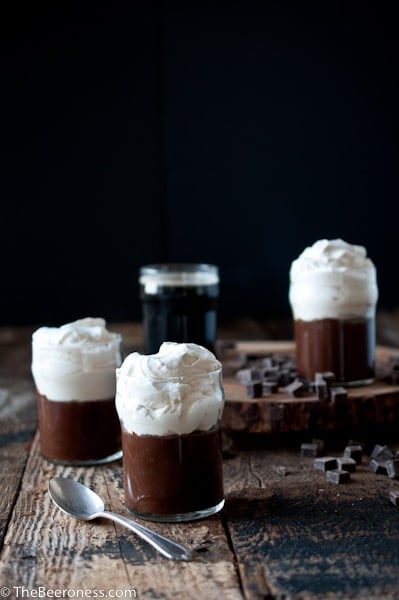 So I have this problem with comfort food.
Or more, the problem is with me. I find comfort in odd foods. For most people it's warm food, or crispy carby foods, or cheesy foods. For me, it's cold food. Sushi is my comfort food. And cereal (don't judge). And to make this even more strange, ice cream is not on my list of cold comfort foods (you can now judge me). Maybe it's because I live in a land that is 80 degrees on Christmas, or maybe because I've just never been all that normal.
Pudding is a comfort food for me. It has that Summer Visit to Grandmas House feeling, and this version is full of beer and chocolate. It's cold, but oddly comforting, for those of us that take our comfort that way.
But then again, it's chocolate and beer, maybe I'm more normal than I thought.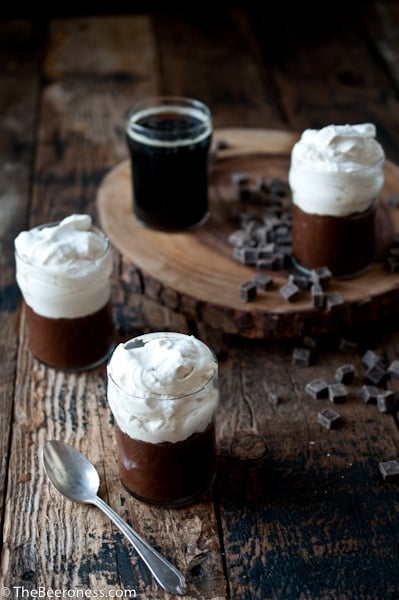 Chocolate Stout Pudding with Beer Whipped Cream
Ingredients
For the Pudding
2/3

cup

sugar

3

tbs

cornstarch

4

wt oz dark chocolate

60%, chopped

¾

cup

heavy cream

¾

cup

chocolate stout

1

large egg yolk

1

tbs

unsalted butter

½

tsp

vanilla extract
For the whipped cream
1

cup

heavy cream

½

cup

powdered sugar

3

tbs

stout

½

tsp

vanilla extract
Instructions
In a large saucepan off heat whisk together the sugar and cornstarch. Add the cream, beer, and egg yolk, whisk until well combined. Add the chocolate.

Bring to a boil, stirring continually over medium heat. Whisk continually for 1 minute, remove from heat.

Add the butter and vanilla, stir until well combined.

Pour into serving containers, chill until set, about 2 hours.

To make the whipped cream, add the cream and powdered sugar to a stand mixer. Beat on high until soft peaks form. While mixer is running add the stout and vanilla, beat until soft peaks return.

Top pudding with whipped cream prior to serving.