Honey Stout Glazed Bacon Wrapped Asparagus
Honey Stout Glazed Bacon Wrapped Asparagus
Sometimes, I wonder how long it'll last.
I sat at dinner a few weeks ago, with someone who's quickly become a great friend, and talked about the rough years we've had, similar in ways, and how we keep that hurtful past close to the vest. How those years help us evolve and pushed us to be better people, and somehow wound us down rabbit holes that landed us in our dream jobs.
I wasn't that kid. I was the girl in the hand-me-down dress, with a sad smile. I wasn't the fighter that I should have been, and I wasn't ever lucky enough to end up in the right place at the right time. But now, here I am. If you'd asked me 5-years ago what my dream job was I'd have told you something not nearly as incredible as what I'm doing now.
So I wonder, how long can it last? Can I stay here for a while longer? Traveling, being seen worthy of costly shipments or hard to find beer, being paid to be here and here? I wonder how much I can do to give back and pay it forward in order to karmically cement my place in a job that I'm not even sure how I created.
People email me to ask how I did it. Can I pick your brain? How can I do what you do? The answer is: I have no idea. I'm not sure how I got here and the truth is, if I had to start over I'm not even sure that I cold recreate this.
So here I am, incredibly grateful and a little confused. Because my life seems to be a bit bacon wrapped and beer glazed. Good on top of good. Let's hope it sticks for a while longer. I really like it here.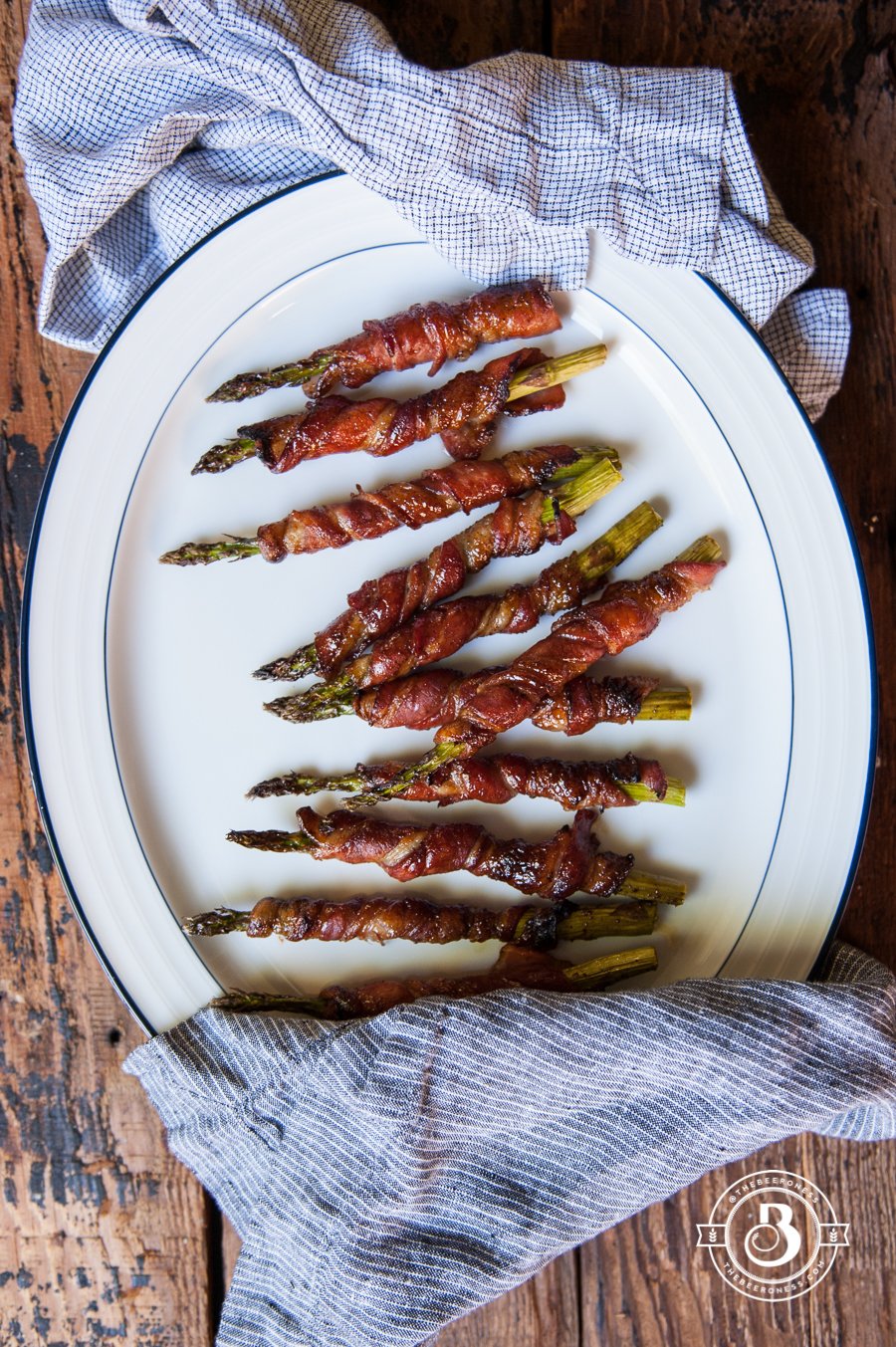 Honey Stout Glazed Bacon Wrapped Asparagus
Ingredients
½

cup

stout beer

2

tbs

balsamic vinegar

3

tbs

honey

½

tsp

chili powder

1

lbs

large stalk asparagus

trimmed

2

lbs

sliced bacon

not thick slices
Instructions
Preheat the oven to 425.

Take the bacon out of the fridge 30-minutes prior to baking to come to room tempurature*.

Place a wire rack over a baking sheet (for easy clean up, line the baking sheet with tin foil before adding the wire rack) set aside.

Add the stout, balsamic, honey and chili powder to a pot over high heat. Boil, stirring occasionally until thickened and reduced, about 8 minutes.

Wrap each asparagus with bacon, place on the wire rack.

Bake for 8 minutes, then brush with glaze, bake for 8 additional minutes, brush with glaze once more and bake until bacon is crispy, about 5 more minutes.

Serve immediately.
Notes
*Dish works best with thin strips of bacon that are at room temperature and thick stalks of asparagus that are ice cold but not frozen (right from a cold fridge), this will help the bacon crisp before the asparagus becomes over cooked.
Inspired by the gorgeous and talented Bakeaholic Mama, Bacon Wrapped Asparagus with Balsamic Glaze