Beer Braised Potatoes With Rosemary Beer Gravy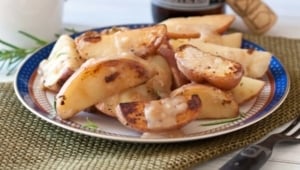 ;
A reader from Iceland emailed me last week to ask what I listen to when I'm cooking. "You seem like a music girl," she said.
Music, food, beer, it all seems to be a different parts of the same creature and just like food can find a matched pair with beer or wine, music is the same way.
Making these potatoes I was lured to music that was timeless, earthy and effortless. Here is a bit of that list:
Something In The Way She Moves, James Taylor
Tampa To Tulsa, The Jayhawks
Torn In My Pride, The Black Crows
Fortune Teller, Robert Plant
Wicker Chair, Kings Of Leon (this was off a Demo they made before they were famous, handed to me late one night on Sunset by Nathan. I'm not sure if it is still available online, but I still listen to that Demo all the time)
Red House, Shudder To Think
Duncan, Delta Spirit
;
Between prep, braise and eating, this is the music that joined me and the potatoes in the kitchen. A slow, lazy Sunday afternoon playlist that was a perfect compliment to a timeless potato dish.
And the beer that came along for the ride was Damnation by Russian River. A Belgian style beer that gave the starch in the potatoes a beautiful push forward in taste. If you're a craft beer fan, or just starting to grow in curiosity about the subject, Russian River should be counted among the Craft Beer Meccas of the world. Seek out the beers they make, and plan to stop by the brewery if you ever find yourself in Northern California, or the West Coast, for that matter.
;
;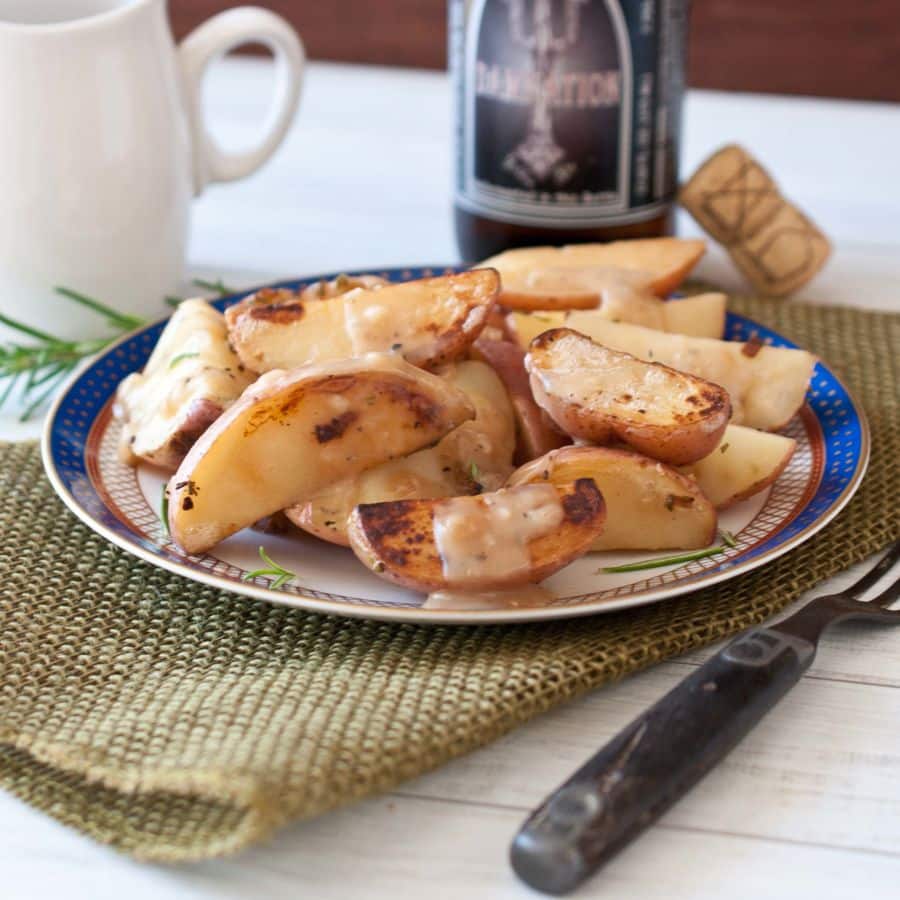 Beer Braised Potatoes With Rosemary Beer Gravy
Ingredients
For The Potatoes:
2 tbs butter
1 large shallot chopped (1/3 cup)
1 lbs red potatoes chopped
1 tsp salt
2 tsp chopped fresh rosemary
1 cup beer
1 tsp black pepper
For The Gravy:
2 tbs flour
1/3 cup chicken stock
Salt and pepper to taste
Instructions
Preheat oven to 325. In an oven safe Dutch Oven or pot with a lid (check that all knobs are oven safe) melt butter. Add the shallots and cook until soft, about 2 minutes.

Add the potatoes and cook until browned, about 5 minutes.

Remove from heat, pour beer over potatoes, add rosemary, pepper and salt. Cover with lid and place pot in the oven until potatoes are fork tender, about 18-20 minutes.

Remove from oven and return to stove. Using a slotted spoon, remove the potatoes and set aside.

Add the flour and stock, whisk over medium high heat until thickened, about 3 minutes. Serve potatoes with gravy.