Chocolate Porter Mousse Tart with Potato Chip Crust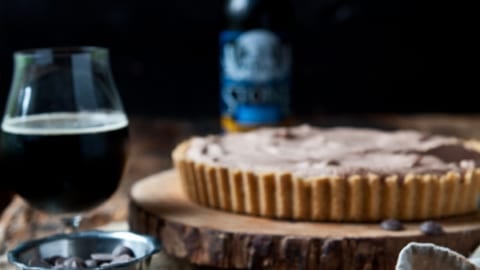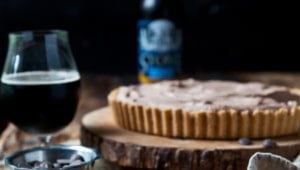 Chocolate Porter Mousse Tart with Potato Chip Crust. POTATO CHIP CRUST!! #chocolate #beer #recipe
You already know the kind of tricks I play over here. You know that I add salty things to sweet things more often than not. You know that pretzels have been a favorite, as is bacon. But I've moved on, or really, I'm expanding.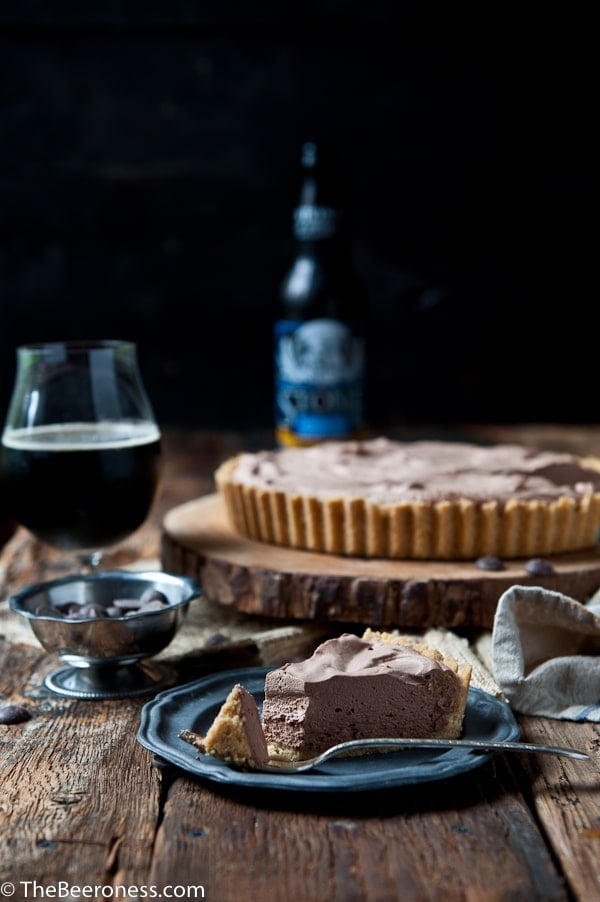 I'm broadening my salty-sweet pairings to improve upon those chocolate covered potato chips you love so much more than you expected to. Sweet and savory is a balance, like malt and hops. It's a way to round out flavors and bring them to a new level. Try it the other way too. Add a little brown sugar to your fried chicken, or maple syrup to your barbecue sauce.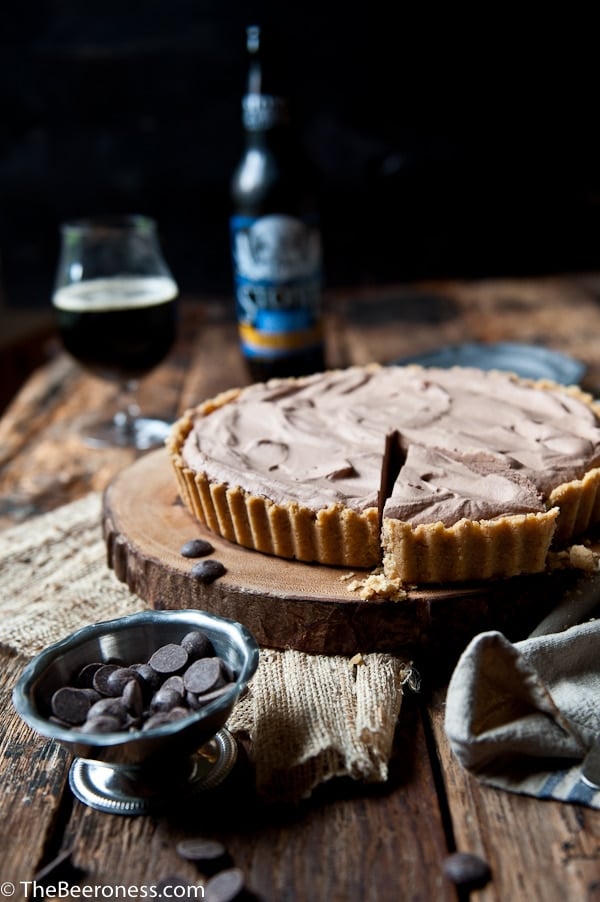 Beer needs that same balance, a little sweetness from the malt, and a little bitterness from the hops. Of course, I needed a beer that messed around with these principles as well. It seemed a bit fated when this beer showed up on my doorstep from Stone Brewing. This beer is savory. It's warm and smokey with notes of cocoa and orange. It's not a sweet chocolate beer that you might be used to. It's perfect to pair with a big plate of barbecue beer ribs, and finish with a tart that has a big kick of savory-salty dessert mouthful. Stone's Smoked Porter with Chocolate and Orange Peel is a fantastic cooking beer, the flavors and big and bold. It's a fantastic reminder of how important beer and food are becoming to each other.
For the chips, I used Kettle Brand Sea Salt chips, so perfect.
Chocolate Porter Mousse Tart with Potato Chip Crust
Ingredients
7.5

wt oz

about 6 cups bag salted kettle potato chips

½

cup

flour

3

tbs

cornstarch

2

tbs

brown sugar

3

tbs

melted butter

10

wt oz

about 1 ¾ cups dark chocolate chips

½

cup

+ 2tbs porter

Stone Smoked Porter with Chocolate & Orange Peel

2

cups

heavy cream

1/3

cup

powdered sugar

¼

tsp

salt
Instructions
Preheat oven to 350.

Add the chips, flour, cornstarch, and brown sugar to a food processor, process until chips have been reduced to crumbs. While the food processor is running, add the melted butter until well combined with the potato chip crumbs.

Starting with the sides, press the crust into a 9-inch tart crust with removable bottom (alternately, you can use a spring form pan, pressing the sides up just about 1 ½ inches).

Bake at 350 for 10-12 minutes, or until crust is golden brown. Remove from oven and allow to cool.

In a microwave safe bowl add the chocolate chips and ½ cup porter. Microwave for 45 seconds, stir and repeat until melted. Allow to cool for ten minutes.

In the bowl of a stand mixer add the cream, remaining 2 tablespoons porter, salt and powdered sugar. Beat on high until soft peaks form.

While mixer is running, slowly add the chocolate until well combined.

Spoon into cooled crust in an even layer. Refrigerate until ready to serve.