Cherry Stout Beer Brownies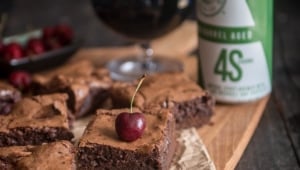 Cherry Stout Beer Brownies
Don't look at me like that. I know we agreed that brownies shouldn't be bastardized by things like nuts or fruit, but this is different. Mostly because I wanted to do it and rules don't apply when I feel like this, you know how it goes.
Just hear me out. When cherries come into season I need to put them on all the things. All. The. Things. Remember when I pickled cherries in beer? That was fun, I need to do that again. This brownie situation was like that because I had cherries and need to make something borderline ridiculous with them.
So, there I was with a nice little haul of Pacific Northwest Cherries, and then a beer showed up on my doorstep (that's what happens when you have a weird job like this one, beer just shows up on your doorstep) and it's a beer that's made with cherries and cocoa, and it tastes like making out with your crush.  4 Seasons Imperial Stout from Mother Earth Brewing is an 11% monster that you shouldn't consumer without a spotter and some carbs because it goes down far too easy for that much of a punch.
When you have an imperial stout made with cherries AND cocoa,  you have to make brownies studded with cherries as a consumable echo to that beer. Also, it's nice to have some carbs to share with your spotter, obviously.
Cherry Stout Beer Brownies
Ingredients
½

cup

(114g) melted butter

1 ½

cups

(300g) granulated sugar

1/3

cup

(75g) stout beer

3

large

eggs

6

weight ounce dark chocolate chips

melted

1

cup

(120g) all-purpose flour

½

teaspoon

(6g) salt

¼

cup

(25g) unsweetened cocoa powder

1

cup

(130g) halved and pitted dark sweet cherries (like Bing cherries)

1

tablespoon

cornstarch
Instructions
Preheat the oven to 350°F.

Add the melted butter and sugar to a mixing bowl, mix until well combined.

Stir in the beer and the eggs, mix until well combined.

Stir in the melted chocolate.

Sprinkle with flour, salt, and coco powder, mix until just combined.

Toss the cherries with cornstarch. Stir into the batter.

Pour into a pan lined with parchment paper.

Bake for 40 minutes or until a toothpick in the center returns with a few crumbs attached but it's covered in batter.

Allow to cool and rest for one hour before removing from the pan and cutting into squares