Porter Caramelized Onion and Brie Dip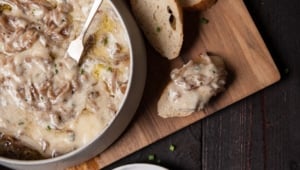 Porter Caramelized Onion and Brie Dip
I have what people now refer to as a "creative brain" and what used to just be called "a behavior problem." It's done well over the years to lead me down some fascinating rabbit holes and land me in a job that makes me more grateful than I have words for. But there is a downside that's a bit obscure.
Creative brains weave creative dreams. Actual, at night, in bed, dreams that shake me up and stay with me through the day, and sometimes even years later. The other night I woke up in a cold sweat, terrified after my brain decided to concoct this story in the early morning hours:
I'm in Pakistan as a documentary film maker. I'm following a group of men and women who—during the week—have typical jobs, work in offices, go home to their families. But on the weekend they leave the comforts of home to fight as a small militia to bring down ISIS. I've decided to call the film Weekend Warriors.
The first week of filming I meet an old man, short and wide, with white eyebrows and chocolate brown eyes that remind me of my Mom's golden retriever. He's sweet, quiet and always wears the same tan buttoned down shirt. He's asking me to help him find his 22-year-old daughter. She's been captured by ISIS and is being used to smuggle documents back into the country.
They've sewn a plastic bag full of papers into her belly like a drug mule. "If they find her first, they will cut her open like cattle, take the papers and leave her for dead. You must find her first." My pulse starts to race, I know I need to help. I call in favors, talk to contacts, chase down tips. It all leads me to a large apartment complex at 1 am.
The corridors are silent and dimly lit. I can hear only my foot steps on the pavement as I walk past rows of doors looking for the person said to know where the girl is. Thin, bony arms garb me from behind, One hand on my mouth, another arm around my throat, I'm pulled backward into a dark apartment.
"Shut up," an older woman is in my face, hot breath pushing out a raspy whisper, "He. Will. Kill. You." She spins me around and pushes my face towards the now closed door. I can see through the peep-hole, her hand is still aggressively covering my mouth.
I see her! The daughter I've been looking for is walking around the complex moving closer to the apartment I'm in. I try to wriggle free to explain my excitement to my captor, her grip tightens. Behind her is a shadow moving closer, a man moving steadily towards.
He's so silent she doesn't know. As his face moves into the yellow light of a nearby street lamp I see that it's her father. As I start to relax from the relief, my captor tenses. He reaches for her, still moving quickly, his outstretched hand grabs the back of her hair right at the scalp. I'm confused for a second, what is he doing? She lets out a small, sharp yelp of pain as he pulls her head closer to his face. She's a few inches taller than he is, her knees bend to accommodate and she struggles to stay upright.
"Who owns this world?" He breathes into her ear as he puts a gun to her temple. "I DO! I own this world!" He pulls the trigger and I watch her crumple at his feet. I collapse behind the closed door.
I wake up terrified. What the hell, brain? Where did that come from? Can't I just have those flying dreams I hear about? or even the ones where I go back to high school naked? I'd like to say dreams like this are a one-off, but this is pretty standard.
I remember my dreams every morning and more often than not they're obscure, but not always as terrifying. I'd like to say that I dream about beer and food, but that's just when I'm awake.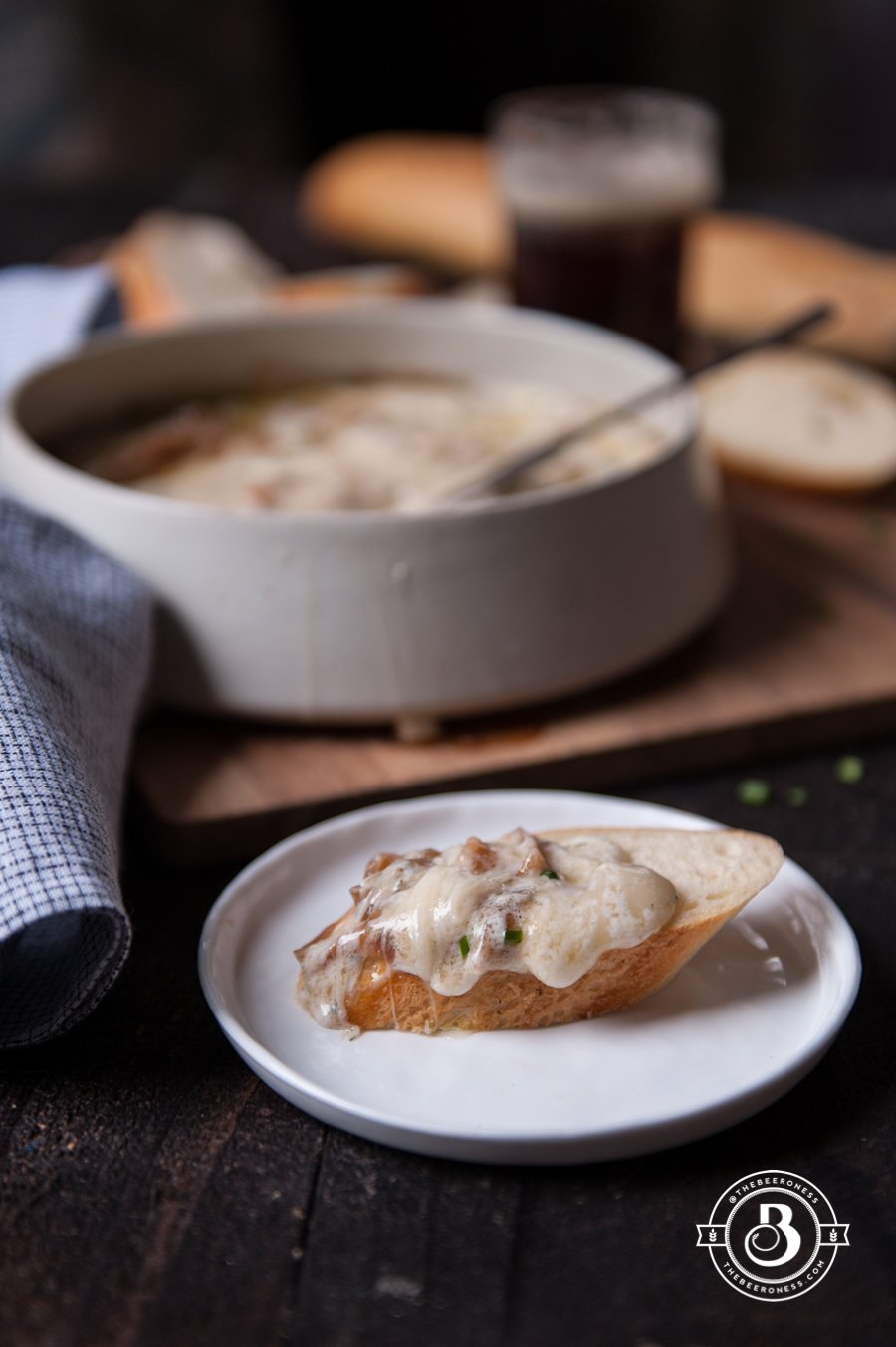 Porter Caramelized Onion and Brie Dip
Ingredients
1

large sweet onion

Maui, Walla Walla Sweet, or Vidalias

1

tbs

28g unsalted butter

1

tbs

12g olive oil

2

tsp

6g packed brown sugar

½

cup

113g porter or stout beer, divided

1

tsp

2g minced fresh thyme

1

tsp

1g chopped fresh chives

8

wt oz

227g double cream brie, room temperature

8

wt oz

227g mascarpone cheese, room temperature

1

tbs

8g cornstarch

Baguette for serving
Instructions
Thinly slice the onion and add to a pot over medium heat with the butter, olive oil, and brown sugar. Cook until the onions start to soften, then add ¼ cup beer.

Cook, stirring occasionally over medium heat until onions have turned dark brown and the beer has evaporated, about 45 minutes. Add the additional beer and cook until the pan is mostly dry with only about a tablespoon of liquid left (can be made 2 days in advance, store in the fridge in an air tight container).

Trim the rind off the brie, cut into small cubes. In a small bowl stir together the thyme, chives, brie, mascarpone and cornstarch.

Add the onions in an even layer to the bottom of an oven safe baking dish, top with cheese in an even layer.

Bake at 375 for 15 minutes or until the cheese is bubbly, stir to combine. Serve warm with baguette slices.
Notes
This dip can be a bit oily, don't be concerned. Think of this like the oil served alongside bread at an Italian restaurant, it's part of the flavor of the dip.