Caramel Apple Galette with Champagne Whipped Cream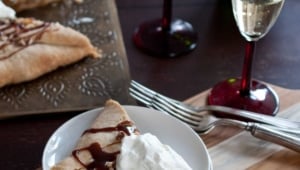 I made three Galettes in the past week. This one, one I'm working for the cookbook I'm writing and a small caramelized onion and cheddar one that got devoured.
These are like a secret weapon, in a way. The crust (which you absolutely MUST be made from scratch) is one of my favorite recipes I've ever made. It's soft and buttery and flakey and takes about 8 minutes to throw together.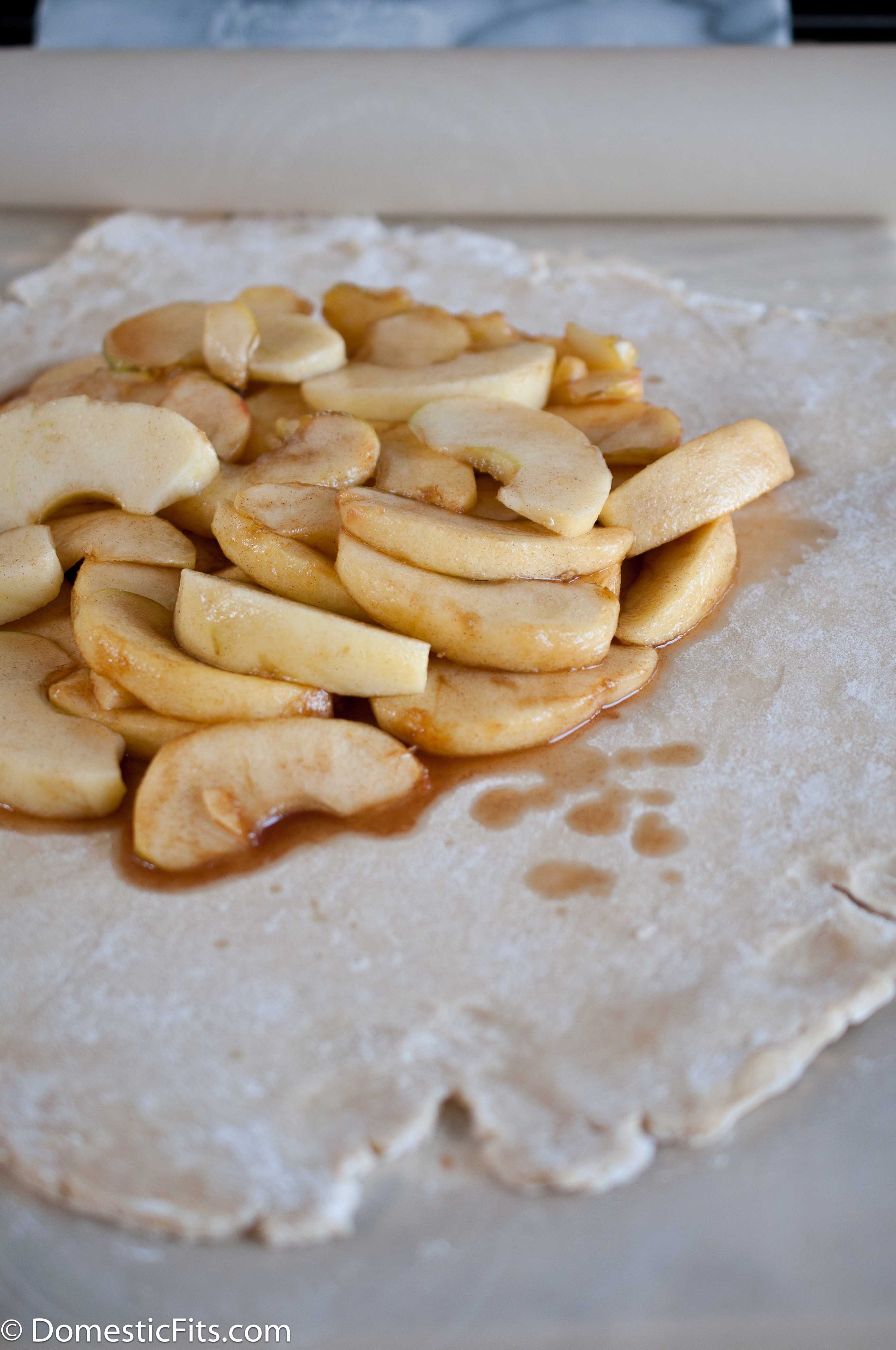 Eight minutes and you have yourself the best homemade crust you have ever tasted. It does need at least an hour to chill, but the best part is that you can make it days ahead of time and it's all ready to go when you need it. You can even double the recipe and freeze the extra in a ziplock freezer bag for up to a month.
It's rustic and it's imperfections just make it that much more charming.
It has that perfect balance of foodie without fussy and casually elegant. Perfect.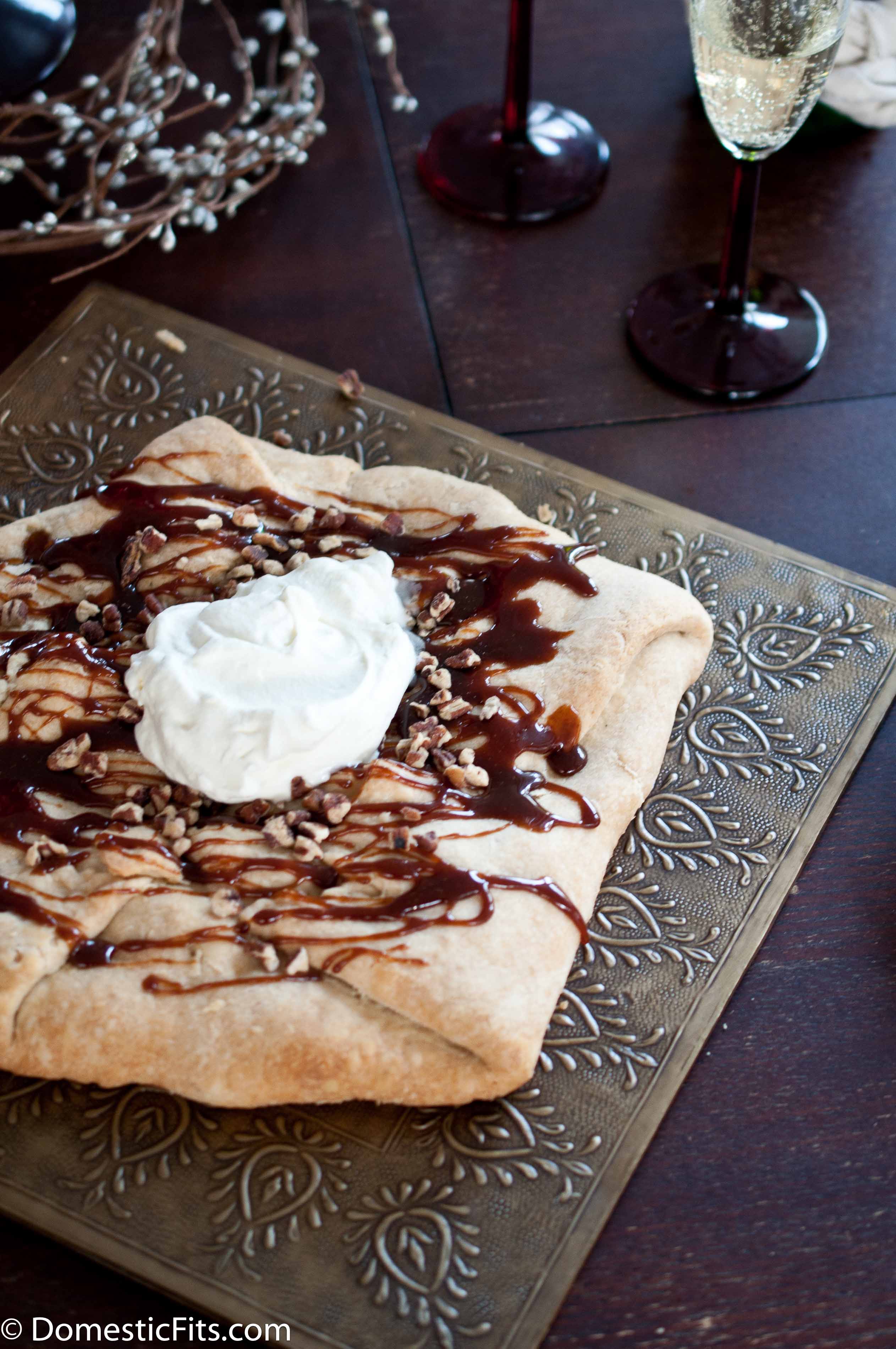 And with Champagne Whipped cream (for real!!) it's perfect for New Years.
Oh, and I found out last year how to pronounce Galette. I really wanted to say Guh-Lay, because it sounded more elegant to me. I was wrong, I'll put my linguist aspirations on hold. It's pronounced Gal-Let. Either way, it's delicious.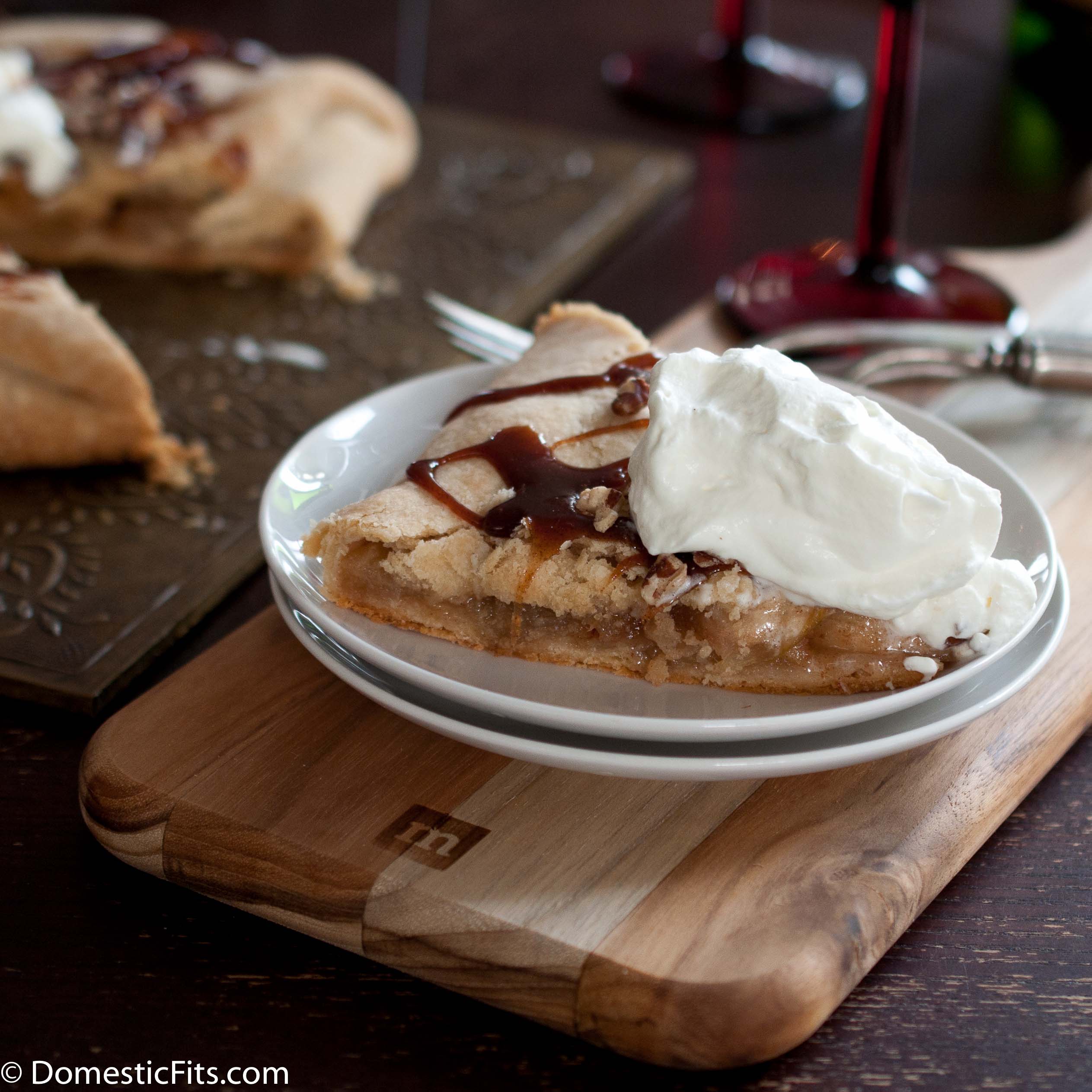 Caramel apple Galette with Champagne Whipped Cream
Ingredients
For The Crust:
2 cups flour
1 tsp salt
1 tsp sugar
1 1/2 sticks (3/4 cup) of butter
1/3 cup ice cold water
For The Filling:
4 large honeycrisp apples, peeled, cored and sliced (about 5 cups)
3 tbs lemon juice
1 tbs Vietnamese cinnamon
1 cup white sugar
½ cup brown sugar
¼ cup water
2 tbs butter
1 tsp bourbon vanilla
1 tbs melted butter
For The Whipped Cream
1 cup heavy cream
¼ cup powdered sugar
¼ cup champagne
Instructions
In a food processor add 1 1/3 cup flour, salt, sugar and butter, process until well combined. Add the remaining flour and process again until combined. Transfer to a bowl and mix in the water until just combined (don't add the water while the dough is in the food processor or your dough will be brittle and cracker-like). The dough should be soft. Form dough into a disk, wrap with plastic wrap and chill in the refrigerator for 2 hours. Can be made three days ahead of time.
Preheat oven to 375.
Place sliced apples in a large bowl. Sprinkle with lemon juice, pinch of salt and cinnamon, toss to coat. Allow to sit at room temperature for 10 minutes.
In a pot add both kinds of sugar and water, stir until combined and all sugar has been moistened. Turn burner to high, allow to boil until sauce has turned amber. Remove from heat. Allow to cool for about 5 minutes. Drain apples and add to caramel sauce, toss to coat. (if your sauce seizes when you add the apples, return to heat and allow to cook until the sauce has softened) Allow Apples to marinate in caramel while you prepare the crust, about 10 minutes.
Once dough has chilled, place on a well floured flat surface. Dust the top with flour. Roll into a 16 inch rustic circle. Transfer dough to a sheet or parchment paper. Using tongs, remove apples from pot (reserve sauce) and add to the center of the dough, leaving a 3-4 inch boarder empty. Fold the empty dough up over the filling leaving a hole in the center of the Galette. Using the parchment paper, transfer the Galette and the parchment to a baking sheet. Brush crust with melted butter.
Bake at 375 for 30-35 minutes or until golden brown.
While the Galette is baking, finish the caramel sauce. Return reserved caramel sauce to the stove and allow to boil until it has reached 230. Turn off heat, and while stirring continuously, add the butter and the vanilla. Drizzle sauce over galette.
To make the whipped cream, add the cream and powdered sugar to a stand mixer and beat on high until peaks form, about 3 minutes. Reduce speed to medium and slowly add champagne. Briefly return speed to high to return peaks to whipped cream. Refrigerate whipped cream until ready to use, top Galette just prior to serving.