Caramel Apple Beer Bread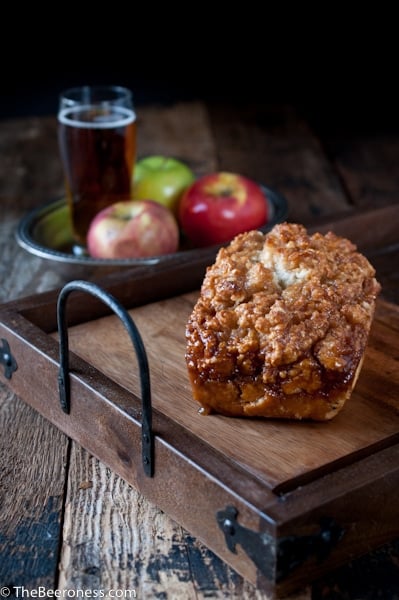 I love this bread in spite of how easy it is.
Yes, in spite. In fact, I almost resent it for being so easy, I like a challenge. I like to work for it. I like beer pizza dough that takes 24 hours and I love that it takes all day for me to make raviolis from scratch and even my chocolate chip cookies take 72 hours from start to finish. And then this bread takes about ten minutes, and really it only takes that long because I force you to make caramel sauce to go on top. Which, incidentally, turns all toffee like and beautiful in the oven, making that extra 6 minutes more than worth it.
So damn this bread for being so easy and far more than worth the "effort" it takes. I'll just have to find another way to slave away in the kitchen.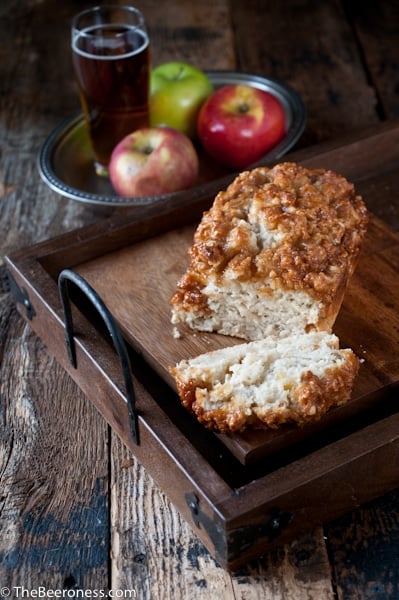 Caramel Apple Beer Bread
Ingredients
For the caramel sauce
¾

cup

granulated sugar

2

tbs

water

2

tbs

unsalted butter

cut into cubes
For the Bread
3

cups

flour

3

tbs

sugar

2 1/2

teaspoons

baking powder

½

tsp

salt

1/4

cup

chopped walnuts

½

tsp

cinnamon

1

large granny smith apple

peeled and chopped (about 1 ½ cups)

12

ounces

wheat beer

4

tbs

melted butter
Instructions
Preheat oven to 350.

In a pot over high heat add the sugar, water and butter. Stir until the butter has melted. Allow to boil without stirring for 5 to 6 minutes or until the sugar has turned an amber color.

In a large bowl stir together the flour, sugar, baking powder, salt, walnuts, cinnamon, and apple pieces. Pour the beer and butter into the dry ingredients, stir until just combined. Pour into a greased 1.5 qt loaf pan. Pour the caramel over the top of the loaf.

Bake at 350 for 45-55 minutes or until a toothpick inserted in the center comes back clean.