White Chocolate Cake with Blood Orange Filling and Russian Imperial Buttercream
White Chocolate Cake with Blood Orange Filling and Russian Imperial Buttercream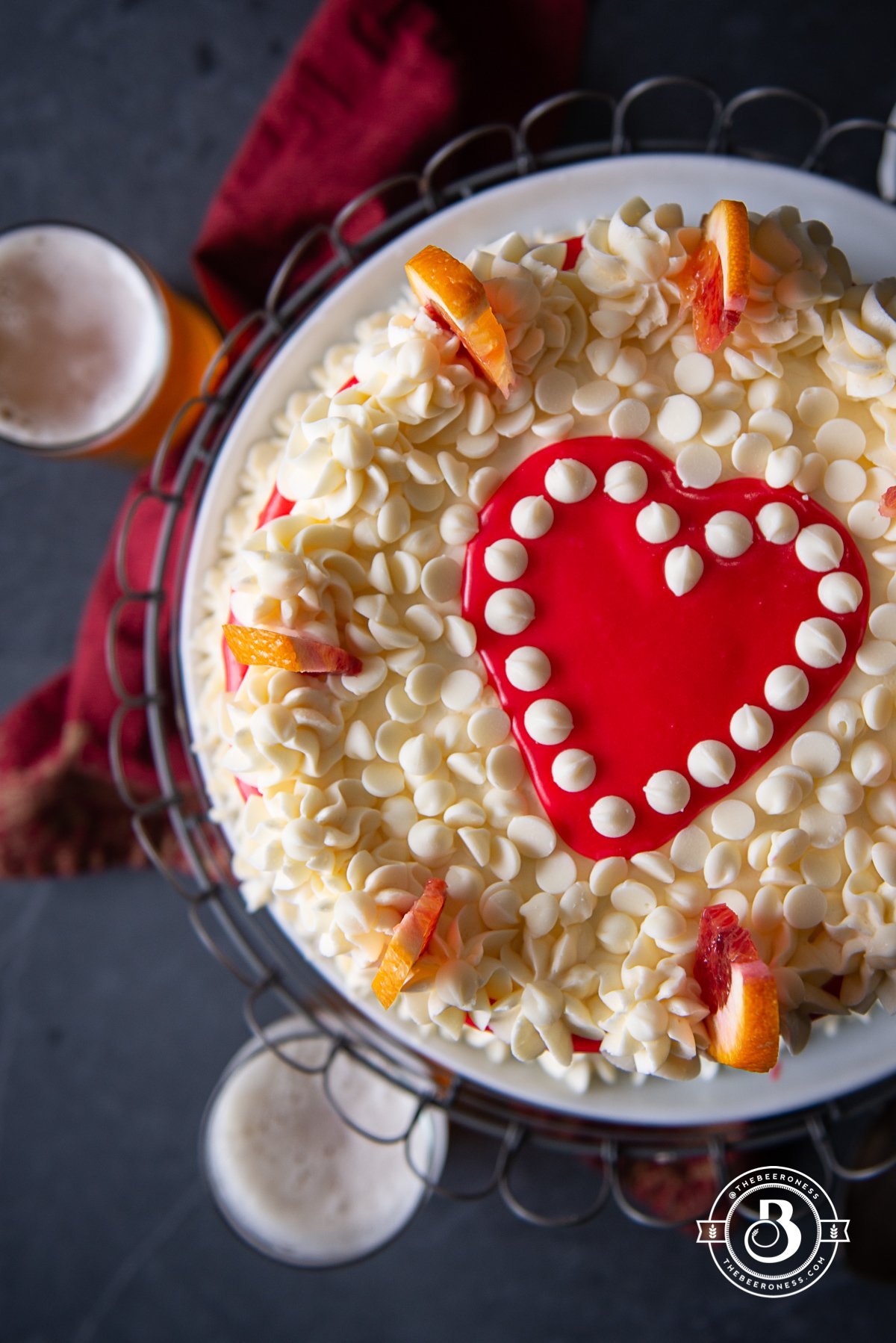 The most frustrated I have even gotten while cooking, came at the hands of a cake. Not just a little frustrated, but throwing an actual tantrum in the kitchen all by myself. This is the ugly truth, people, if you can't handle it, please look away!
Certainly, this is all my fault. I have these unreasonably high expectations for the cakes I bring places, as if the entire enjoyment of these treats will be ruined if they don't look flawless and the crowd of party-goers don't gasp and ask "did you really make that?!" I know, this is insane and I should be in some sort of baked goods related therapy to cure myself.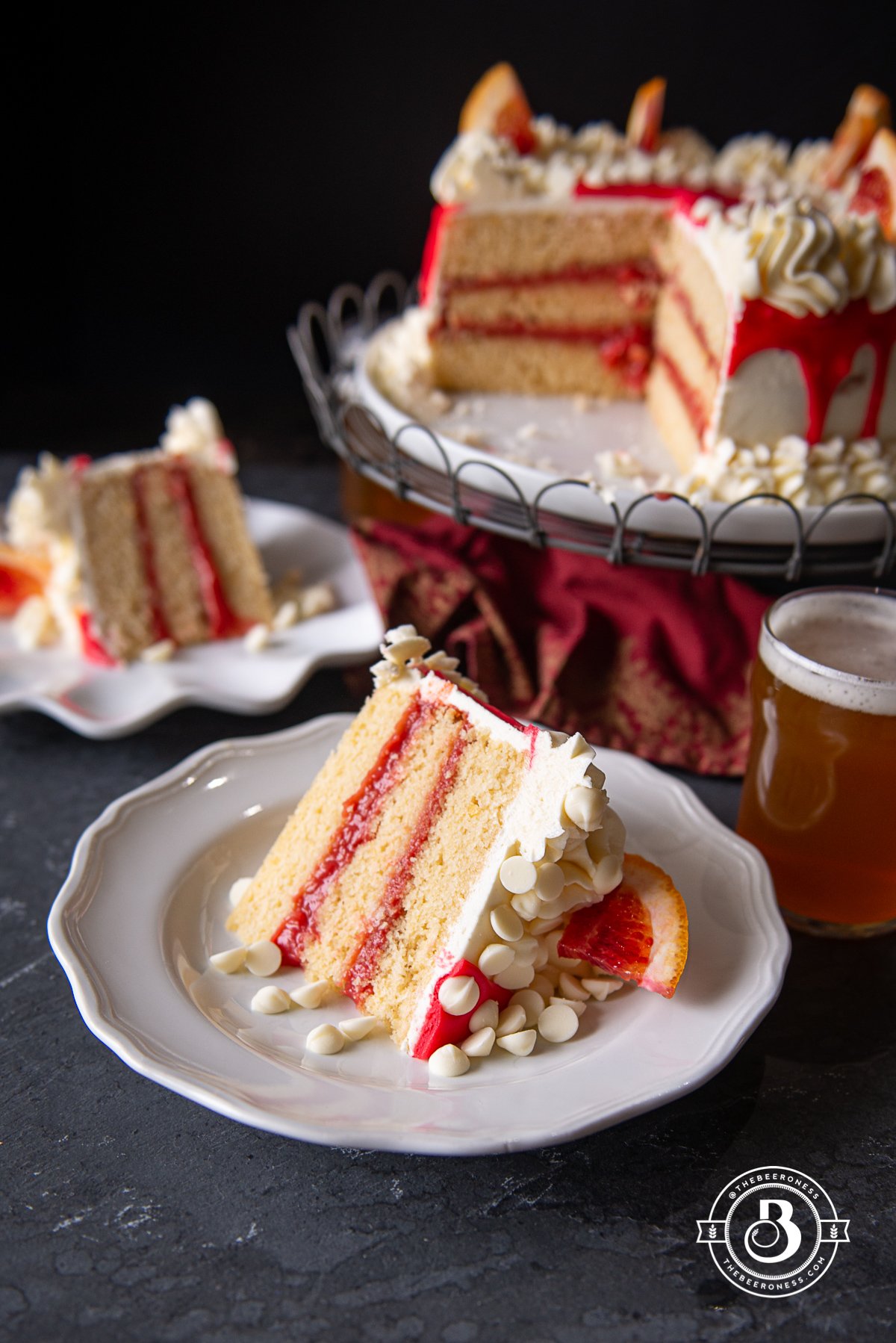 But because of my aforementioned baking-induced-trauma, I have learned some things that I hope make the path a little less rocky for you, my friend. You don't deserve a cake meltdown.
First rule of cake making, we don't talk about cake making! Wait, nope that's another club. The first rule is: do not, I REPEAT DO NOT, under any circumstances, ever, never, ever attempt to make a cake the day you intend to eat it. It will not end well, for several reasons. Cold cake is much easier to work with, warm cake is an asshole and it will slide all over and collapse and taunt you. Make all the components the day before (unless the frosting is super easy, then you can make it the day of) and store it all covered in the fridge.
The second rule is sorta along the same lines, but since I already said "first rule" I'm going to need to continue this line of thinking and make this the second rule: temperature matters. A LOT. First, the cake needs to be cold, and the frosting components need to be warm. When you're making a butter-based frosting the "softened" or "room temperature" butter indicator is not a suggestion. It's literally the only way that stuff will work. If you try to use cold butter and trick your frosting into working, it will laugh at you and then turn into a mixture that resembles cottage cheese. It's really sad.
Making a nice little drip down the side of your cake covers a myriad of sins, I think we can call this the third rule. Or just literally throw a bunch of chocolate chips on the top, it'll look good and people will like it. If you're new to chocolate drips, they're super easy but I'm going to let Chelsweets tell you about that, she's way better at it than I am.
The next rule is this: if you're worried about your cake being dry, just brush the cake layers with a simple syrup (a mixture of sugar and water) and bam! Moist cake.
The last rule is to remember that people will just be happy that you brought cake, no one cares nearly as much about how it looks as you do, so let it go if it's not perfect. You're perfect, and you brought beer and cake so everyone will love you. Even without the beer and cake, you're the best. Don't forget that.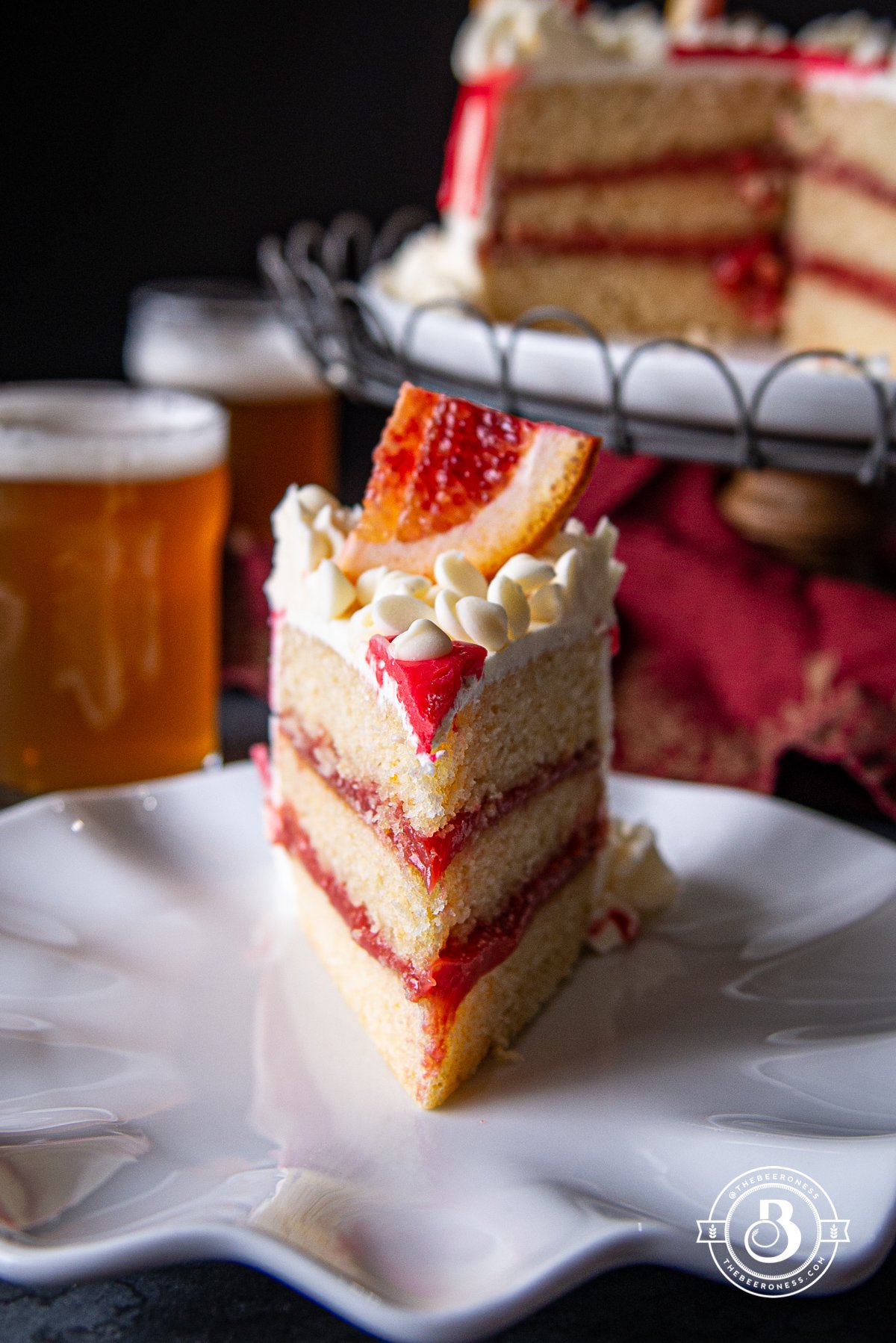 White Chocolate Cake with Blood Orange Filling and Russian Imperial Buttercream
Ingredients
For the Filling:
1

tablespoon

blood orange zest

6

egg yolks

1 ¼

cup

(250g) white sugar

1

cup

(8oz) fresh-squeezed blood orange juice

¼

cup

(2oz) IPA beer

2

tablespoons

cornstarch

½

teaspoon

salt

½

cup

(114g) unsalted butter, cut into cubes
For the Chocolate Cake:
2 ½

cups

(300g) all-purpose flour

1 ½

cups

(300g) sugar

1

teaspoon

baking powder

1

teaspoon

baking soda

1

teaspoon

salt

1

cup

buttermilk

½

cup

(112g) vegetable oil

½

cup

(4oz) beer

pilsner, pale ale, lager

2

teaspoons

vanilla extract

3

large eggs

6

oz

(about 1 cup) white chocolate chips, melted

½

cup

(114g) melted butter, melted and slightly cooled
For the Frosting:
1

cup

(228g) butter, room temperature

1

cup

(205g) vegetable shortening

1

(14oz) can sweeten condensed milk, chilled

1

cup

(115g) powdered sugar

2

teaspoons

vanilla extract
Instructions
Add the zest, orange juice, beer, sugar, cornstarch, salt, and yolks to a saucepan off the heat and whisk until well combined. Add the butter and place the pan over medium/low heat. Whisk until thickened, about 10 minutes. Allow to cool to room temperature. Add to a bowl, cover and refrigerate until chilled, at least 2 hours.

Preheat oven to 350°F (if you haven't done so, set your butter out to come to room temp, and put your sweetened condensed milk in the fridge to prepare to make the frosting!).

Add the flour, sugar, baking powder, baking soda, and salt to a stand mixer fitted with a whisk attachment, whisk to combine.

Add the oil, beer, vanilla, and eggs. Stir on low speed until just combined, then drizzle in the melted white chocolate and melted butter (do not over mix).

Grease and flour 3 (9-inch) cake pans. Divide the cake equally between the pans.

Bake until the top springs back when lightly touched, 28-32 minutes. Allow to cool before removing from the pans.

Layer the cooled cake with the blood orange mixture spread between the layers. Cover loosely and refrigerate until chilled (cold cakes are much easier to work with), ideally overnight.

Add the room temperature butter and shortening to the bowl of a stand mixer, beat on high until the mixture is very white, light and fluffy. This will take about 5 full minutes, but it's an important step in getting enough air into the frosting to make it light. Lower the mixer speed to medium, add the sweetened condensed milk and vanilla extract. Turn off the mixer, add the powdered sugar, then mix until well combined.

Spread with about 2/3 of the frosting mixture on the outside of the cake, refrigerate until chilled and the frosting is set.

Add the remaining frosting on to the outside of the cake in a smooth layer and as decoration.