Spiked Hot Chocolate with Salted Caramel Whipped Cream
Spiked Hot Chocolate with Salted Caramel Whipped Cream
Jennifer was one of those people I admired right away.
Her gorgeous photos, flawless recipes (she's a trained chef), and she just seemed like someone I wanted to have a beer with. After we passed the obligatory blog-stalking-each-other period, we became friends. She's someone who will give advice without judgement, share what she's learned, and she'll go to bat for you.
She's the type of friend you want, even if she lives on the other side of the country. Even if most of our communication is vent-messaging each other things we know the other will understand. Even if I'm still hoping to make an East Coast trip happen soon, and it just doesn't seem to be materializing.
When her book, The Gourmet Kitchen,  came in the mail I was thrilled. It was exactly what I wanted it to be. Gorgeous photos, recipes you want to make, and instructions that feel effortless to follow.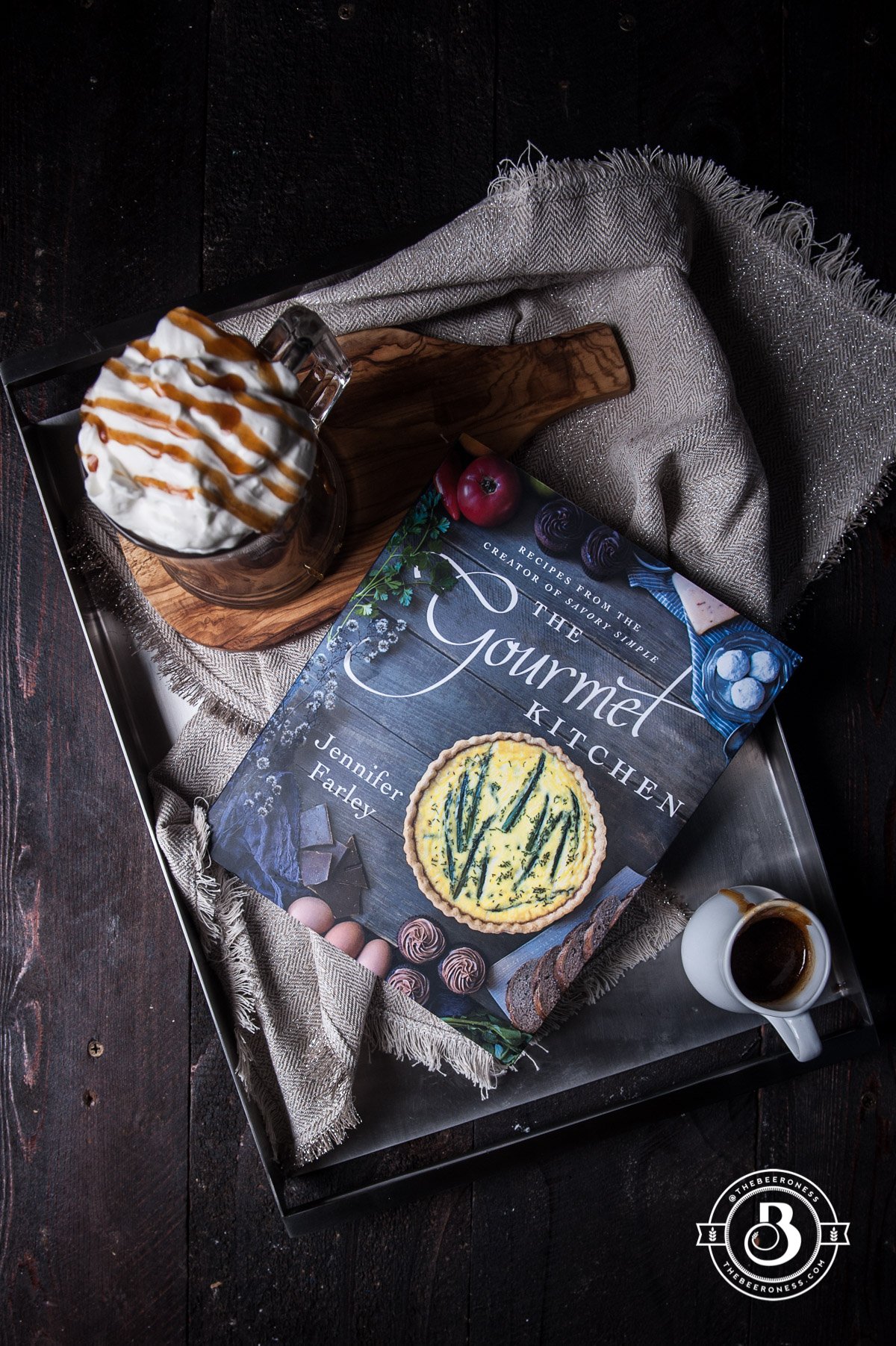 So I made a recipe, and drooled over the rest. I was sucked in by the idea of a salted caramel whipped cream and now all other whipped creams will be decidedly inferior. I switched out the bourbon for a bourbon barrel aged stout because I do that type of thing, but feel free to booze as you choose with bourbon, brandy, rum or beer.
Don't forget to check out her blog Savory Simple, and her Instagram.
Spiked Hot Chocolate with Salted Caramel Whipped Cream
Used by permission from The Gourmet Kitchen cookbook by Jennifer Farley,
Ingredients
¼ cup granulated sugar
1 tablespoon water
½ teaspoon kosher salt
1 cup heavy cream
3 cups whole milk
6 weight ounces bittersweet chocolate, chopped
½ teaspoon pure vanilla extract
½ cup bourbon barrel aged stout (or ¼ cup bourbon)*
Instructions
In a medium saucepan heat the sugar, water and salt over medium heat until the sugar is dissolved. Allow the sugar to continue cooking, keeping a close eye on it, until it starts to turn golden brown. Once it begins to caramelize, it will darken quickly. Let the sugar get dark without burning for the best results.
Once the caramel is a dark amber, remove the pan from heat and pour the heavy ream down the side of the saucepan. The caramel will splatter before temporarily seizing up, be careful to avoid burns.
Move the pan back onto the burner and use a heatproof spatula to stir the caramel and cream until evenly combined. Remove from heat and allow to cool for 5 to 10 minutes, stirring periodically.
Pour the caramel into a clean bowl and cover with plastic wrap, pressing firmly directly against the cream to prevent a skin from forming. Chill until very cold, several hours and up to overnight.
In a stand mixer fitted with a whisk attachment whip the caramel until it reaches medium peaks. Set aside.
In a medium saucepan, heat the milk over medium heat. When the milk is steaming but not yet simmering, remove from heat and add the chocolate. Allow the mixture to sit for a minute until the chocolate has melted. Vigorously whisk in the vanilla and beer (or bourbon), and briefly return to heat until the desired serving temperate us reached. Pour into mugs, top with whipped cream.
Notes
Recipe in the book calls for 1/4 cup bourbon. The only adaptation I made was the option of using 1/2 cup bourbon barrel aged stout instead of bourbon,
https://domesticfits.com/spiked-hot-chocolate-salted-caramel-whipped-cream/
I was given a copy of The Gourmet Kitchen without expectation or obligation. All opinions are my own.