Buttermilk Beer Pancakes & How to Make Super Fluffy Pancakes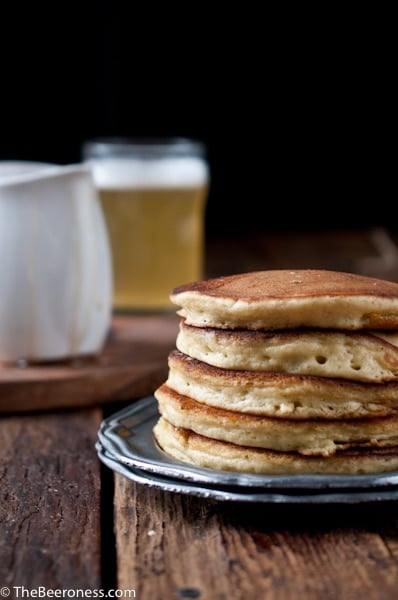 Pancakes are my first food memory.
I'm one of 8 kids (all girls, wrap your head around that) and one of  about 27 cousins (I don't even know the actual number) which made alone time with my grandparents really special.
The spring after I turned 4, I spent a Saturday night in a My Little Pony sleeping bag on the floor of my Grandparents bedroom, falling asleep to a wall mounted TV playing Wheel of Fortune. When I woke up, my Grandpa (Papa) was already gone. He was an artist that had done quite a bit of the original artwork for the Madonna Inn, looked a lot like Desi Arnaz and had a heart of pure gold.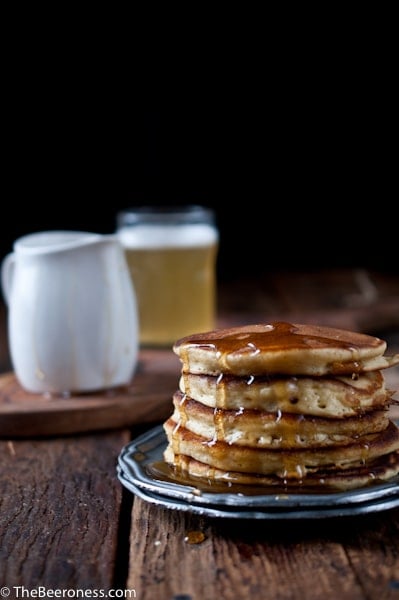 My Grandma packed me into her 1980′s Cadillac with overstuffed seats that felt a lot like recliners and headed for the San Luis Obispo community center's Pancake Sunday. My Papa was the "featured chef" and the hall was packed. My Grandma shuffled me past tables of seniors, wide eyed and waving at the tiny blond 4 year old. I was like a celebrity, I was Harry Tregarthen's granddaughter and I was a "baby" to these ladies who just wanted to pick me up and squeeze my cheeks.
My Grandma and I joined a round table with four other older ladies. "Your Papa makes the best pancakes, you know," one of the ladies was actually talking to me, instead of about me, that was new for me as a 4 year old, "That's why this place is so busy. Last weekend, when Sal was cooking, only half full. Today, standing room only!" I didn't know what "standing room only" meant, but I knew it was good.
"They must be good pancakes!" It's all I could think to say, but the thing about being 4 is that as long as you form a coherent sentence and say it with enthusiasm, people laugh. And they did, these ladies were my crowd and I was on fire.
"Do you know the secret ingredient is?" She asked, clearly as excited with the banter as I was. "Sugar?!" I said, because I'm 4, and that's pretty much my life.
I hit again, they were rolling. I could have mic dropped. Once she caught her breath the older lady let me in on the secret, "7-up! Can you believe it? Instead of milk!" I didn't know how to make pancakes, or even that milk was a part of the process but I did like 7-UP. He was brilliant, I couldn't believe it. He had put soda in pancakes?! At 4 years old, before I had even seen a recipe, let alone followed one, my Papa taught me that you should experiment. Break the rules, do your own thing.
It wasn't until years later that I realized that it was the carbonation that did it. The bubbles in a carbonated beverage gave a light and fluffy texture to the World Class Pancakes. I've graduated from soda to beer, but the effect is still the same. To bring that a step further, I whip the egg whites separate to give an ultimate light and fluffy texture with a slightly crispy outside.
Buttermilk Beer Super Fluffy Pancakes
Ingredients
2 eggs, divided
½ tsp cream of tartar
½ cup beer (wheat beer, pale ale, brown ale work best)
¼ cup buttermilk (or heavy cream)
1 tsp vanilla extract
1 cup flour
2 tbs sugar
1 tsp baking powder
½ tsp baking soda
3 tbs butter
Directions
Set out a stand mixer (or a bowl and a hand mixer), a small bowl and a large bowl.
Separate the eggs, putting the whites in the stand mixer and the yolks in the small bowl.
Add the cream of tartar to the egg whites and beat on high until stiff peaks form, about 5 minutes.
Add the beer, buttermilk, and vanilla to the egg yolks, beat until well combined.
In the large bowl stir together the flour, sugar, baking powder and baking soda.
Add the yolk mixture to the dry ingredients and stir until combined.
Gently fold the egg whites into the pancake batter.
Add the butter to a preheated griddle (preheated to 350) or large skillet over medium high heat, push around until melted.
About ¼ cup at a time, pour the pancake batter on the preheated surface. Allow to cook until bubbles form in the center, flip and allow to cook until golden brown on the underside.
https://domesticfits.com/buttermilk-beer-pancakes-make-super-fluffy-pancakes/
Copyright �© TheBeeroness.com