Japanese Beer Pancakes
Japanese Beer Pancakes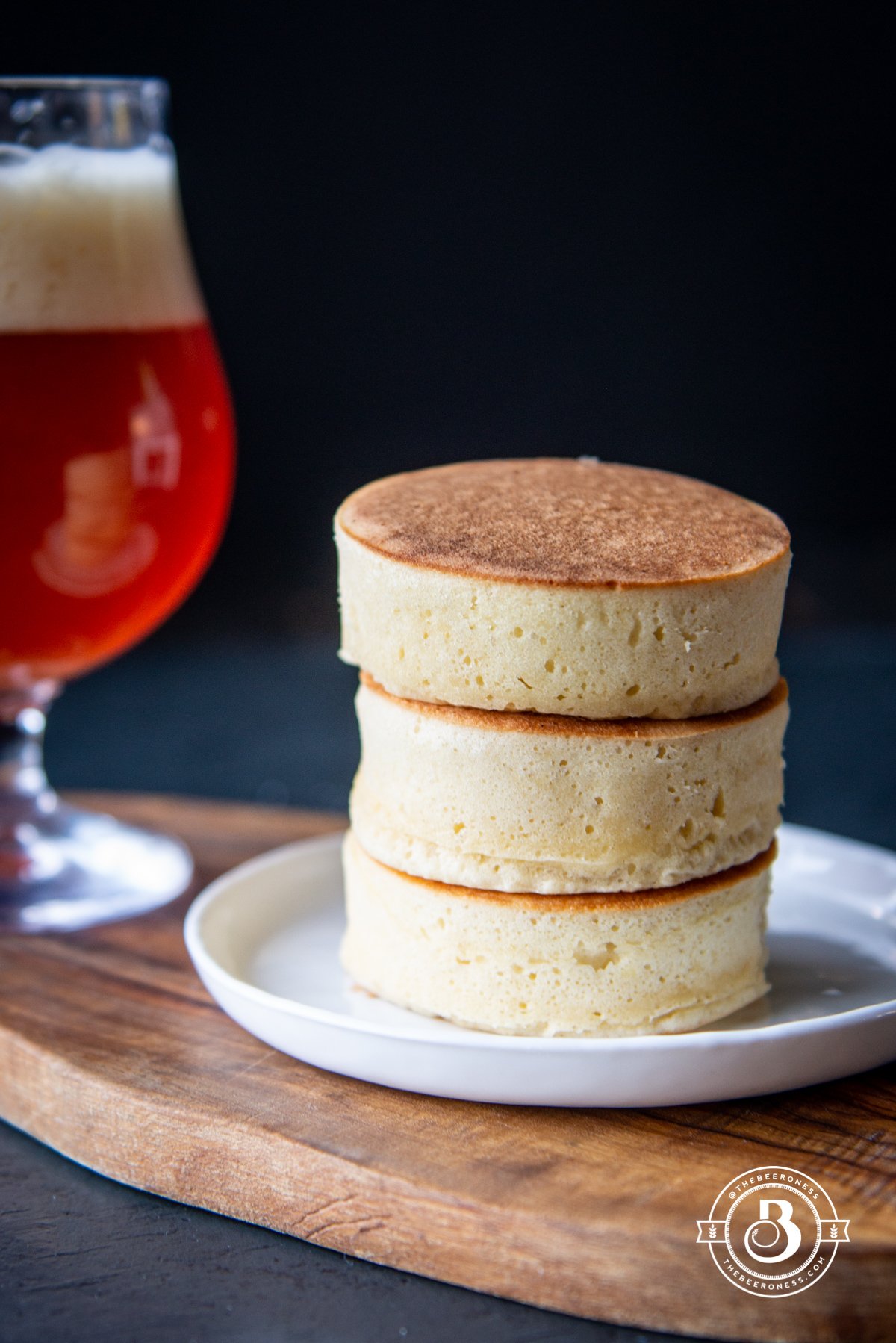 I tried to make this as easy as possible for you. Because I know that although I really like to spend all day in the kitchen, you probably don't. The first run-through I tried a blender because it's how I make crepes. I was hoping the blade would blend the egg whites enough to be fluffy. It doesn't, don't try it. But the blender batter rose really well and the pancakes were beautiful, but they were tough. You don't need that.
Then I wondered if I really need to make you whip the egg whites. How necessary is it in this recipe? SO I just mixed all the ingredients in a bowl and hoped it would be fine. And they were. The were just…fine. Better than the blender method but not as good as they could be. You don't need that either.
On round three, I made them with meringue whites and they were by far the best version. I know you might be looking at this recipe thinking, "but do I really NEED to whip the egg whites? Like, how much does it matter?" a lot. A. Lot. Trust me, I'm as lazy as the next guy and I wouldn't ask you to do it if it didn't matter. Who needs more work and more dishes? Only a person who wants really good pancakes.
I even tested ring-mold-alternatives because I wasn't sure if you owned a ring mold. Most people don't, honestly. And I have some options for you. Biscuit cutters will work, and so will all-metal cookie cutters. The only one I had was in the shape of a gingerbread man, and it was unseasonably adorable. A mason jar lid will work, but it's not ideal, you will have short pancakes. But you will have pancakes, and as they say, short pancakes are better than no pancakes. They say that, I swear.
Japanese Beer Pancakes
Ingredients
1

cups

(120g) all purpose flour

½

teaspoon

baking powder

1

tablespoon

cornstarch

¼

cup

(50g) plus one tablespoon (15g) sugar

3

large eggs

separated

½ teaspoon

cream of tartar

½

cup

(122g) whole milk

¼

cup

(60g) pale ale

½

teaspoon

pure vanilla extract

½

teaspoon

salt

Syrup or whipped cream for serving
Instructions
Set out two medium-sized mixing bowls.

In one bowl stir together the flour, baking powder, cornstarch, and ¼ cup sugar.

In the other bowl add the egg whites. Put the yolks into the bowl with the flour.

Add the milk, beer, and vanilla extract into the flour/yolk bowl. Stir until just combined.

Add the salt and cream of tartar to the egg whites and beat on high with a hand mixer until stiff peaks form. Add the remaining tablespoon sugar and beat until well combined (adding sugar to the egg whites makes them more stable and able to hold up to being folded into the batter).

Fold the egg whites into the flour mixture.

Spray the inside of a round ring mold* with cooking spray, add to a skillet over medium/low heat or a griddle set at 275°F.

Pour the batter into the mold until it's 2/3 full. Cook until the batter on top looks mostly dry. Flip while still in the mold until the bottom is golden brown. Remove from heat, remove mold.

Re-spray the mold with cooking spray and repeat until all batter is used.
Notes
*If you don't have a ring mold, try a biscuit cutter, a metal cookie cutter, or even a mason jar lid. A mason jar lid is short and the pancakes won't be as tall but it can work if you have nothing else to use.
These need to be cooked slow and low or the bottom will burn before they are cooked through.