Beer and Brown Sugar Pancakes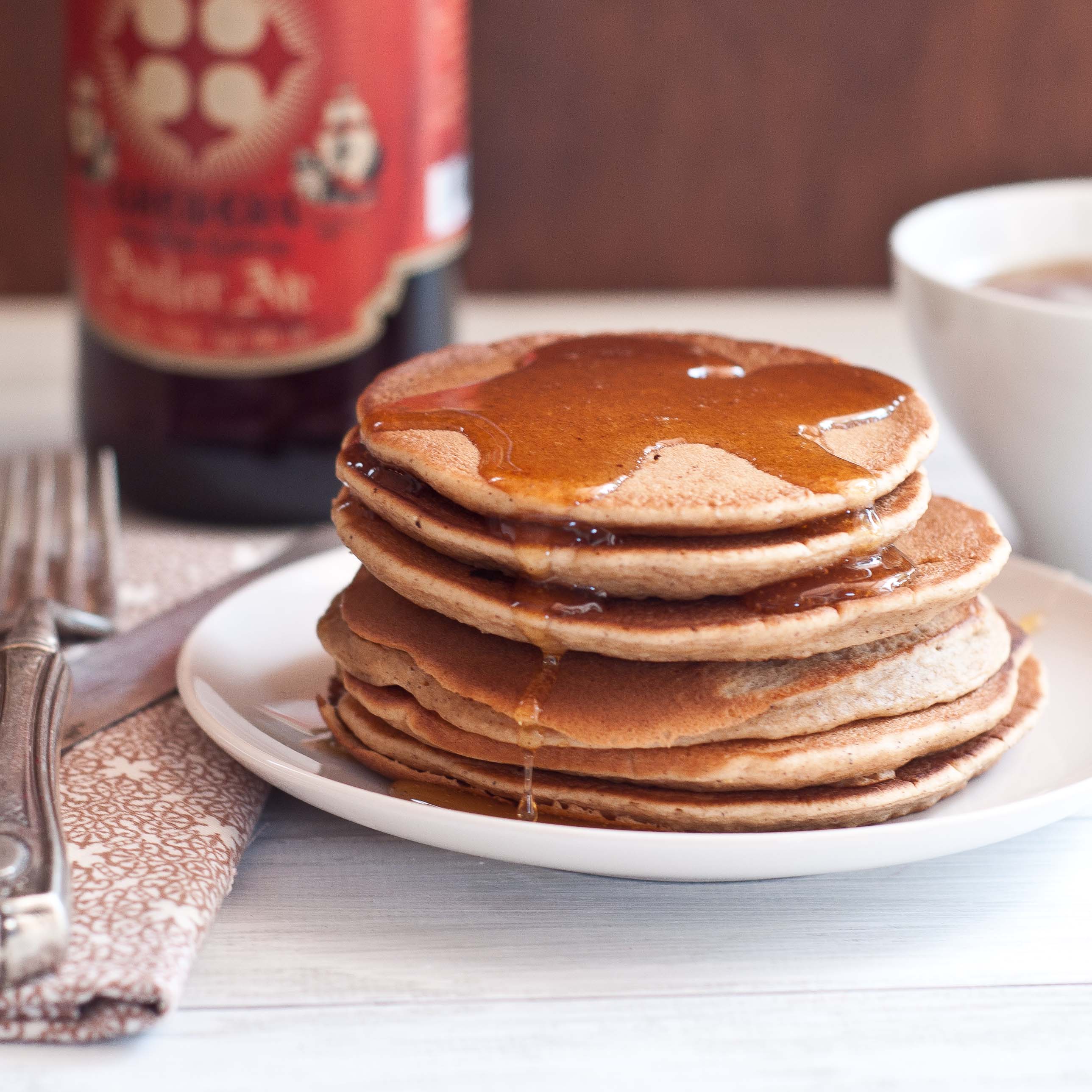 I'm in the process of developing a beer scale for the recipes I write. A scale that lets you know how much beer flavor comes through upon the final result. From the low end being, "Mild Hints of Beer Flavors" to the high end of "Strong Bold Forward Beer Taste."
Some people want to be smacked in the mouth with the flavor of beer, while others want the flavors to fly under the radar, yielding a treat they serve to unwitting non-beer lovers. This pancake recipe falls right in the middle. Beer that is tastable, but mild.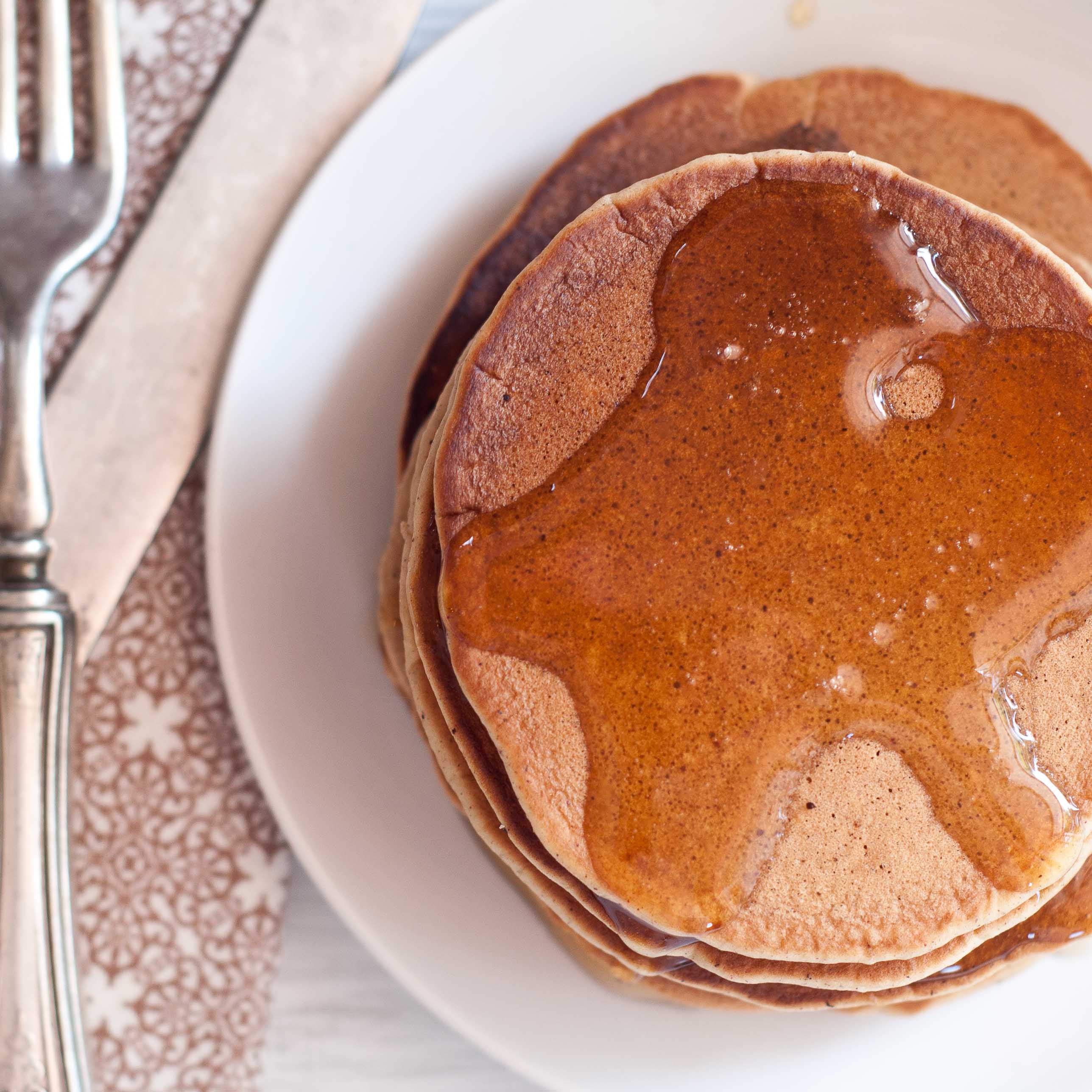 The difficulty with a scale such as this is that the type of beer you use has a direct result on the "beery-ness" of your final product. While the most important aspect of choosing a beer for your recipes is matching flavor profiles between your beer and the recipe, the second aspect is finding the right level to suit your desired level of beer taste.
There are a few tricks you can use to adjust the levels of beer taste to suit your needs. If you want to increase the amount of beer you taste, simply adding more beer may not work due to the fact that you will be increasing the amount of liquid in the recipe by doing so. If the recipe calls for "1 cup of beer" then try putting two cups of beer in a pot on the stove and cooking until it has reduced to 1 cup. This will remove water from the beer and intensify the beer flavors. One thing to keep in mind is that beer is often used as a leavening agent and cooking your beer prior to adding it to a recipe can remove those effects.
If you want to decrease the beer taste, substitute some of the beer for a non-beer liquid such as broth, water or juice, depending on the recipe. Or, if the beer is being used as a leavening agent (as in this pancake recipe) try to substitute with carbonated soda water.
If you want to increase the flavor of beer, look for beers that have a strong "malt forward" or "hop forward" taste notes, but beware of too hoppy beers (Such as IPA's) because when reduced, they are very bitter.
Cooking and baking with craft beer is a journey, there will be a certain level of experimentation, success and failures that you should expect when trying forage ahead in a field that is growing with huge popularity, but with very few who have gone before us. In a lot of ways, this is uncharted water. We should learn from every batch, making note of what works and what doesn't. Thanks for joining along the road.
For this recipe, I choose Mission Amber Ale because it has notes of caramel and malt, but with a balanced hop flavor. If you want to make this recipe and can't find Mission Amber Ale, look for an amber with notes of caramel, maple, brown sugar, cloves, or cinnamon with low or balance hop notes.

Beer and Brown Sugar Pancakes
1 cup all purpose flour
1/3 cup brown sugar
1 tsp cinnamon
1 tsp baking powder
1 egg plus 1 additional yolk
2 tbs canola oil
1/2 tsp vanilla
1 cup Amber Ale Beer
(makes 10-12)
In a bowl add the flour, brown sugar, cinnamon, and baking powder, whisk to combine.
In a small bowl, add the egg, the additional yolk, vanilla and the oil whisk until well combined.
Make a well in the dry ingredients, add the egg mixture and beer to the center and whisk to combine.
Heat a skillet or griddle until hot. Spray with butter flavored cooking spray or brush with melted butter. Pour about 1/4 cup of the batter onto the hot griddle. Once bubbles appear in the middle of the pancakes and the edges start to look dry, flip the pancakes and cook on the other side until cooked through, about 5 minutes total (2.5 minutes per side).
*For this recipe, plain Grade A Syrup just didn't seem to be enough for me. I put 3/4 cup of syrup and 1/2 cup of the Amber Ale in a pot on the stove over high heat for about 10 minutes and it thickened and reduced to a caramely syrup that was perfect.