Ricotta Beer Pancakes with Blueberry Basil Syrup
Ricotta Beer Pancakes with Blueberry Basil Syrup
Evening pancakes are the best ones, but —hear me out— not for dinner. Sure, obviously pancakes for dinner are amazing, but I think we are missing the super obvious meal we should be having pancakes for. Dessert. Which, I realize, I just referred to as a MEAL but I stand by it.
Pancake desserts should be a thing and I think it's up to us to normalize this. Picture this (don't close your eyes to picture it because then you won't be able to read what I'm saying, but seriously, do it later) your favorite person calls you up (or more likely, texts you, let's be honest), and says, "Hey, want to come over tonight to hang out, drink beer, and eat pancakes?" Obviously, you are VERY excited about this because it's something new. NO ONE HAS EVER ASKED YOU THAT AND NOW YOUR LIFE IS COMPLETE.
See, I told you, it's a great idea. Your mission is clear: Dessert Pancakes and Beer Night. Get on it.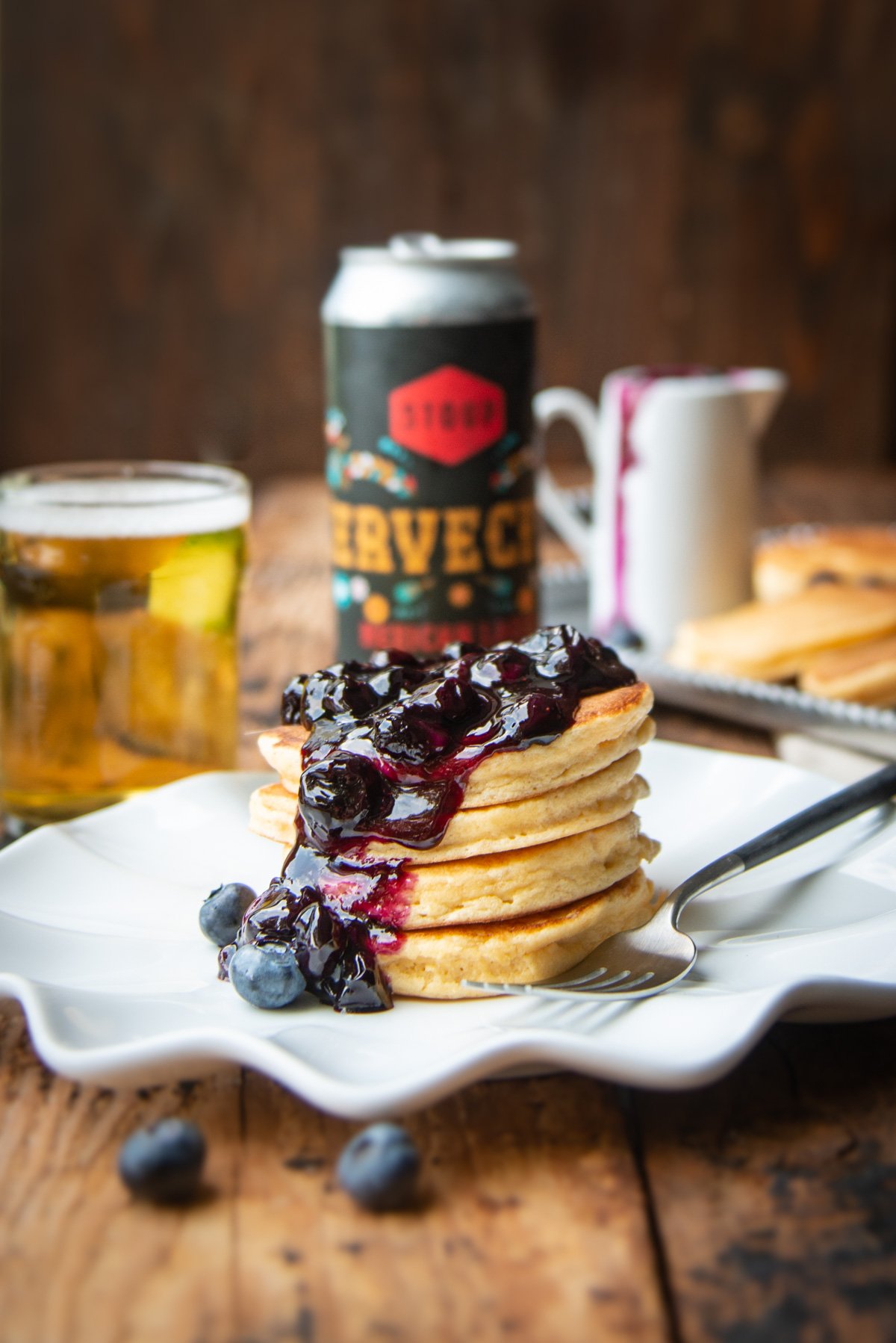 Ricotta Beer Pancakes with Blueberry Basil Syrup
Ingredients
For the pancakes:
1

cup

(120g) all-purpose flour

½

teaspoon

baking powder

4

tablespoons

(50g) granulated sugar

divided

1

teaspoon

salt

¼

cup

(60g) whole milk

½

cup

(120g)beer

pilsner, pale lager, wit beer (maltier rather than hoppy)

1

cup

(240g) ricotta cheese

1

teaspoon

vanilla extract

2

large eggs

separated
For the syrup:
½

cup

(100g) sugar

3

tablespoons

water or beer

1 ½

cups

(255) blueberries

¼

teaspoon

vanilla extract

½

teaspoon

minced fresh basil leaves

½

teaspoon

salt
Instructions
Add the flour, baking powder, 2 tablespoons sugar, and salt into a mixing bowl, stir to combine.

Add the milk, beer, ricotta cheese and vanilla.

In a separate bowl add the egg whites, putting the yolks in the bowl with the flour mixture.

Mix the flour mixture until just combined.

Beat the egg whites until firm, while the mixer is running, slowly add the remaining 2 tablespoons sugar.

Fold the egg whites into the flour mixture.

Heat a pan or griddle over medium high heat, spray with cooking spray or coat with butter. Add ¼ cup batter in circles on the hot surface. Once the edges start to look dry, flip pancakes. Cook until underside is golden brown.

Add all the syrup ingredients to a pot over high heat. Boil, stirring occasionally, until thickened. Remove from heat, allow to cool slightly before serving.

Top the pancakes with syrup before serving.