Brown Ale Farro Risotto with Roasted Mushrooms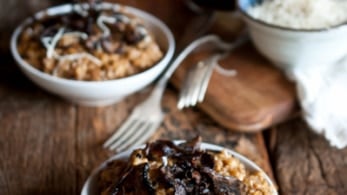 There is one thing I can't stop doing every time I travel.
And not just when I get to leave the country, but even when I just leave the state. I just need to wander around a market. A locals only place, stocked with whatever people who live in the neighboring streets like to eat. Once while in Costa Rica, in a small and run down town, I found myself in a small market that had just lost all power.
"It happens," the shop owner told me, "We just stay open, hope the light from the door can reach to the back." I made a mental note not to buy any thing perishable, but did leave with 3 bags of coffee and an unidentifiably spice that I later used on roasted vegetables.
Sometimes these little adventures just bring me back to an ingredient that I forgot that I loved. My recent trip to a local market in a neighborhood heavily populated with Italian imigrants lead me to buy a bag of farro. I love this little grain, much more than rice, much more than quinoa and I can't understand why it isn't used more often. It doesn't get mushy the way that rice can, it has a nice almost chewy texture, tons of those vitamins/protein/ health benefits that people seem to like, and much more flavor than other trendy grains.
Plus it cooks up really well with beer. Which means it wins.
Brown Ale Farro Risotto with Roasted Mushrooms
Ingredients
For the Risotto:
2

cups

15 wt oz faro

6

cups

low sodium chicken

or vegetable broth

3

tbs

olive oil

½

white onion

chopped

3

cloves

garlic

minced

3

tbs

unsalted butter

divided

1

cup

plus ¼ cup brown ale, divided

¼

cup

heavy cream

2

wt oz

about ¾ cup fresh grated parmesan cheese
For the Mushrooms:
8

wt oz assorted wild mushrooms

3

tbs

olive oil

½

tsp

sea salt

1/2

tsp

pepper
Instructions
Add farro to a large bowl. Cover with luke warm water, let stand for 30 minutes to 1 hour. Drain well.

Preheat oven to 425. Line a baking sheet with aluminum foil. Add the mushrooms, drizzle with olive oil, salt and pepper. Toss until well coated. Roast for 15 minutes, stir and roast for an additional ten minutes. Drain the liquid off the mushrooms, set mushrooms aside.

Place the chicken broth in a saucepan and bring to a low simmer, keeping to warm, but not boiling.

In a separate pot, heat the 3 tbs olive oil over medium heat. Add the onions and cook until softened, but don't allow to brown. Add the garlic and cook until you can smell it, about 20 seconds

Stir in the faro and 3 tablespoons butter, cooking until the farro is completely coated with butter and it smells slightly nutty, don't allow to brown. About 2 minutes.

Add 1 cup of the brown ale and cook until the pan begins to dry, stirring frequently. About 6 minutes.

Add about ½ cup of broth into the farro. Stir frequently until the farro is almost dry, and then add another ½ cup and repeat until the farro is cooked. This process should take about 30 minutes. Don't leave the risotto while it's cooking, the farro on the bottom of the pan burns easily. (if you run out of broth, just use hot water the same way you would broth)

Once your risotto is cooked through (taste it to verify that the farro is cooked and not crunchy), turn heat to low and add the cheese, cream, remaining 3 tablespoons butter and ¼ cup brown ale and salt and pepper to taste. Stir in the roasted mushrooms just prior to serving.