Warm Duck Fat Roasted Potato Salad with IPA Mustard Vinaigrette (with vegetarian option)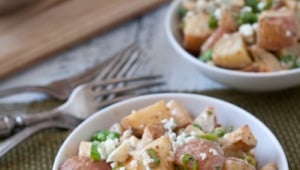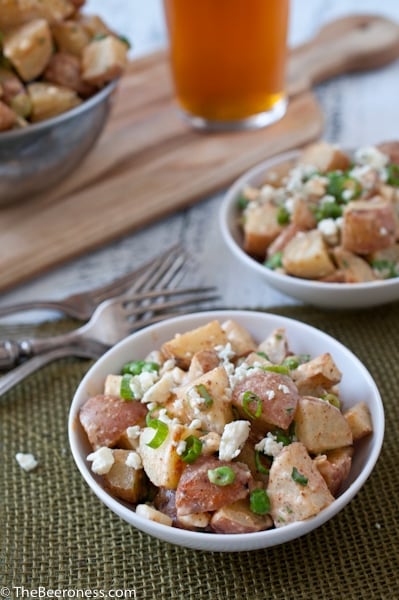 The anemic looking, plastic tub dwelling potato salads of my youth put a pervasive distain in my culinary soul for the union of the words "potato" and "salad." It wasn't until I found a non-mayo based version that I really started to see potential. While I've used sour cream, blue cheese dressing and even bacon garlic aioli, the mustard vinaigrette edition is a fun twist. I also like to roast the potatoes rather than boil them, it prevents the possibility of the over cooked mush and it brings out flavors that might otherwise be washed away in boiling salted water.
For the vinaigrette I used an IPA from a brewery not to far from me, Noble Ale Works out of San Diego. A newer brewery that, rumor has it, just celebrated their second anniversary. Like most brewers I've been lucky enough to come across, this team seems profoundly dedicated to what they do, fiercely loyal to to their community, and in near constant pursuit of the perfect brew.
Big Whig IPA is a fine example of a West Coast IPA, with a bold hoppyness that's balance with a pale male, citrus notes, a bit of caramel and some pine. The accessibility of this beer makes it perfect to add to your summer beer rotation and the light seasonally appropriate flavors make it perfect for a salad dressing.
Warm Duck Fat Roasted Potato Salad with IPA Mustard Vinaigrette (with vegetarian option)
Ingredients
2lbs red potatoes, cut into small cubes
2 tbs duck fat (use olive oil for vegetarian)
1 tsp salt
¼ cup chopped shallots
1 clove garlic, smashed
¼ cup stone ground mustard
1 tbs honey
¼ cup IPA
¼ tsp smoked paprika
½ tsp black pepper
½ tsp salt
1/3 cup chopped green onions
2 weight ounces crumbled Roquefort cheese (about 1/3 cup)
¼ cup flat leaf parsley, chopped
½ cup shelled peas
Directions
Preheat oven to 400.
Heat the duck fat (or olive oil for vegetarian) in a large oven safe skillet (cast iron preferred). Add potato cubes and 1 tsp salt, tossing to coat. Cook until potatoes start to brown, about 5 mintues. Transfer skillet to oven and roast for 20 minutes or until fork tender.
In a blender or small food processor, add the shallots, garlic, mustard, honey, IPA, smoked paprika, pepper and ½ tsp salt, process until well combined, about 2 minutes.
In a large bowl add the potatoes, mustard vinaigrette, green onions, blue cheese, parsley and peas, toss to coat. Serve warm.
https://domesticfits.com/warm-potato-salad-with-ipa-mustard-vinaigrette/
Copyright �© TheBeeroness.com
I use this Duck Fat
 because it's well priced and good quality. A little goes a long way so one jar will last a while. (Affiliate Link)