IPA Sweet Potato Mash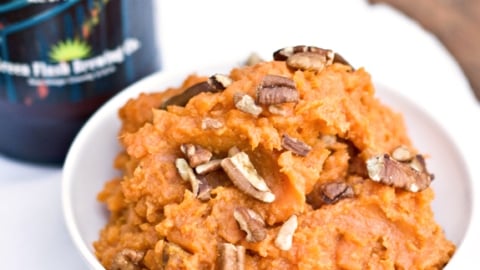 IPA's make difficult cooking subjects. The bitterness is high maintenance. But then a beer comes along that is just so worth the effort of figutring out how to work those flavors into my food.
Like Le Freak, by Green Flash Brewing out of San Diego.
It's a non traditional American IPA meets Belgium style IPA. Not your run of the mill hoppy beer. I love this. LOVED it so much, I drank it mid-morning as I was cooking up this little dish for you all. And, it turns out, sweet potatoes are an amazing vessel for hops. Or maybe the other way around.
IPA Sweet Potato Mash
2 large sweet potatoes, peeled and chopped (about 4 cups)
2 tbs butter, chopped into cubes
1/4 cup maple syrup
1/2 cup brown sugar
1/2 tsp salt
1 tsp cinnamon
1/2 tsp nutmeg
1/4 cup pecans
1/2 cup Green Flash by Le Freak
Preheat oven to 400.
Place your chopped yams in a large loaf pan, sprinkle the top with cubes of butter. Drizzle with the maple syrup, then the beer and then top with the brown sugar.
Bake, uncovered at 400 for about 40 minutes or until the yams are fork tender. Remove from the oven and allow to cool a bit. Drain off most of the liquid (leaving about 2 tbs in the bottom of the pan). Sprinkle with nutmeg, cinnamon, and salt then mash with a potato masher until creamy, add the pecans and stir.
Serve warm.