Beer Meringue Cookies
You and I need to talk about Barleywine for a second. First, it's not wine, It's very much a beer, one that happens to be perfect this time of year. It's a strong beer, with an ABV (alcohol by volume) that's usually north of 10%.
Generally sold in the larger 22-ounce bottles that promote beer sharing, and the flavors are beautiful with the foods we serve during winter gatherings. Barleywine is usually amber or dark brown, gorgeous fruit, spice and vanilla flavors.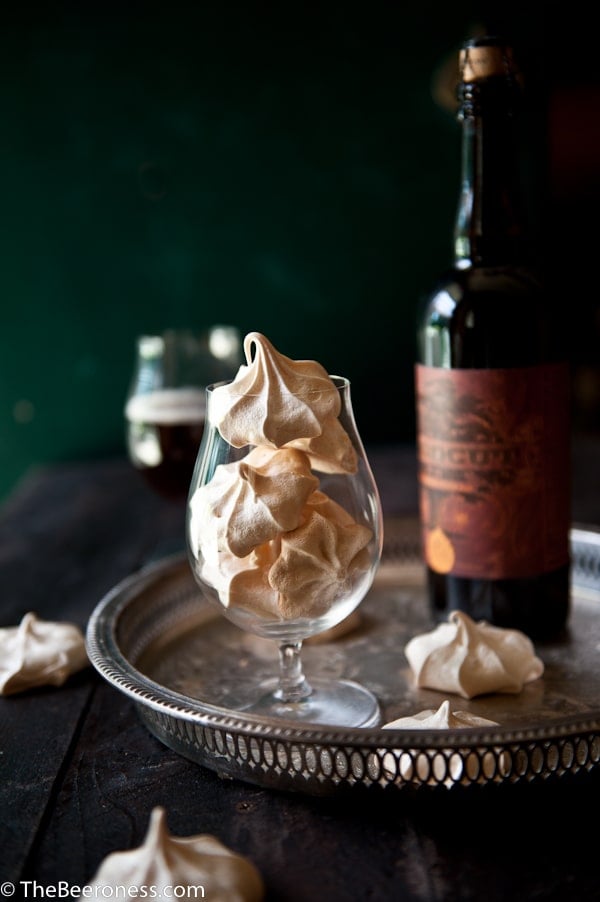 It's not hoppy like those bold summer beers, it's deep, malty and often slightly sweet. It's a bold beer, but one with a character and depth that will surprise your "I don't like beer" friends. Want to turn a bourbon drinker into a craft beer fan?
This is a great start. I used Odell Woodcut 8. A beautiful, rich, dark fruit, vanilla, and oak flavored gorgeous beverage that's perfect to bring in lieu of wine to that holiday gathering.
Barleywine's are not only perfect to serve with a huge spread of roasted meat, pumpkin pies, and candied yams, it's also perfect for cooking with. The flavors are huge, making a little go a long way. Which will incidentally leave you with even more for that snifter glass you should probably be serving this out of.
Beer Meringue Cookies
Ingredients
3

large egg whites

room temperature

pinch

salt

1/3

cup

granulated sugar

1/2

cup

powdered sugar

3

tablespoons

Barleywine beer

or Belgian ale
Instructions
Preheat oven to 200°F at least 30 minutes prior to baking. Line a baking sheet with parchment paper.

Add the egg whites and salt to a stand mixer. Beat on medium-high speed until light and frothy, about 1 minute. While the mixer is running, gradually add the granulated sugar about 2 tablespoons at a time, beating for 2 minutes between each addition. Beat until firm peaks form, about 2 additional minutes.

Add powdered sugar and beer, beat until peaks return.

Spoon meringue into a pastry bag fitted with a ½ inch tip. Pipe 1-inch rounds onto prepared baking sheet, about 1 inch apart.

Bake meringues until dry, about 2 hours. Let cool completely, about 1 hour.