Super Soft Beer Sugar Cookies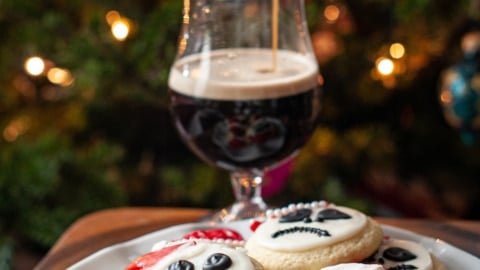 I'm the weird one, I know this, let me count the ways. First, there is this thing about how I hate drinking milk (gag) and believe that beer makes a much better pairing for cookies.
Second, is the fact that I think skeletons make fun and festive holiday decor. Third is that I do not think sugar cookies should be crispy and hard, they should be soft like clouds and pillows and happiness.
I know, it's weird. Here I am, with holiday skeleton cookies, soft as my own willpower, drinking a beer as if this is all normal. This is why Santa skips my house every year, even when I leave beer and cookies. Such a jerk.
Super Soft Beer Sugar Cookies
Ingredients
1

cup

(228g) softened butter

2

cups

(400g) sugar

2

teaspoons

vanilla extract

2

large eggs

¼

cup

(60g) pale ale or pale lager

1/3

cup

(80g) heavy cream

5

cups

(625g) all-purpose flour

2

tablespoons

(26g) cornstarch

½

teaspoon

salt

1

tablespoon

baking powder

2

teaspoons

baking soda

Royal icing for decorating
Instructions
Add the butter and sugar to the bowl of a stand mixer, beat on high until very well combined.

One at a time add the teaspoons of vanilla extract and the eggs, beating well between additions.

While the mixer is slowly running, add the beer and heavy cream.

Stop the mixer, add the flour, cornstarch, salt, baking powder, and baking soda. Stir until just combined, making sure to scrape the bottom to ensure the dough is well mixed.

Divide into 4 sections, form each section into disks and wrap each one separately in plastic wrap. Refrigerate for 12 hours and up to a week (this helps the flour fully absorb the liquid and prevent cookies from spreading and becoming dry).

Preheat oven to 450°F (high heat helps the cookies to bake fluffy and not spread).

Roll out on a lightly floured surface, until about ½ an inch thick. Cut out with a cookie cutter and add to a baking sheet covered with parchment paper.

Bake for 6 to 7 minutes (depending on the size of your cookie cutter).

Remove from oven and pull the parchment paper onto a flat surface to allow the cookies to cool without further cooking on the warm sheet pan.

Repeat until all dough is used.