Blood Orange Beer Pound Cake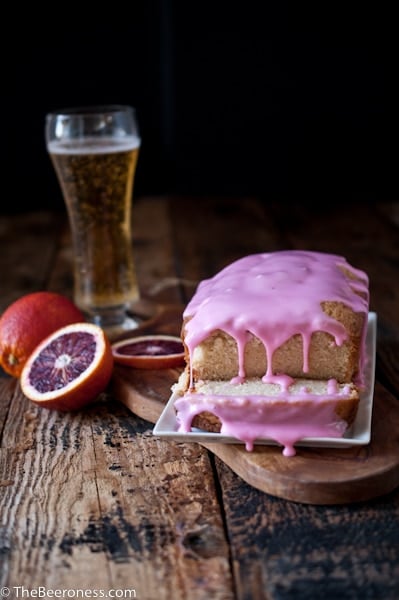 I'm sitting in a coffee shop in a little part of East LA called Silverlake. Near the house that's no longer my home. All of my belongings, except an oversized suitcase and some beer, are packed tightly into a moving truck somewhere along the West Coast.
It occurs to me that I don't really live anywhere right now. My old house is gone, no longer mine, and I have yet to move in to the new place that's waiting for me on Lake Washington. I'm no longer a resident of California and have yet to become a resident of Washington State.
It's a strange feeling, sitting here in my quasi-homeless state, feeling like a Man Without A Country. Simultaneously excited to get to Seattle and start a new chapter of my life, and grieving the loss of my old life. It's not a polarizing feeling, it's both happy and sad. It's both sweet and savory. After all, you should never live a life that you wouldn't be sad to leave behind. And you should never go seeking a change that doesn't both excited and terrify you.
And that's me. As I sit here and finish my cold brewed coffee on a warm day in February in Silverlake. I'm sad, excited and terrified. And I couldn't be happier about it.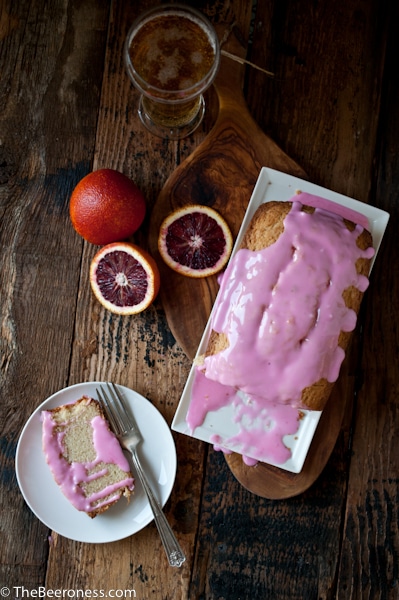 Blood Orange Beer Pound Cake
Ingredients
For the Pound Cake
2

cups

all purpose flour

1 ½

tsp

baking powder

½

tsp

salt

1 ½

cups

sugar

zest from one blood orange

1

cup

of butter

softened

2

large eggs

¼

cup

blood orange juice

¼

cup

wheat beer

1

tbs

olive oil

½

tsp

vanilla extract
For the Blood Orange Glaze:
2

cups

powdered sugar

2

tbs

blood orange juice

2

tbs

beer
Instructions
Preheat oven to 325.

Stir together the flour, baking powder and salt, set aside.

In the bowl of a stand mixer add the sugar and zest, beating until well combined.

Add the butter and mix on high until well combined and pale yellow, about 3 minutes.

Beat in the eggs one at a time.

Add the orange juice, beer, olive oil, and vanilla beat until combined (some curdling is expected after you add the beer).

Sprinkle the flour mixture over the wet ingredients and stir until just combined.

Grease and flour a 1.5 qt loaf pan.

Pour batter into prepared loaf pan.

Bake at 325 for 1 hour to 1 hour 15 minutes or until the top is golden brown and springs back when lightly touched.

Allow to cool completely before slicing.

To make the glaze, stir together all glaze ingredients in a bowl until well combined. Add additional beer or juice to thin, if desired.

Pour glaze over the cake before slicing. Refrigerate to set, if desired.
I'm on the road now! I'd love to have you along for the ride.
I'll keep you updated here: