Stout Chocolate and Vanilla Beer Cream Pie with Rum Whipped Cream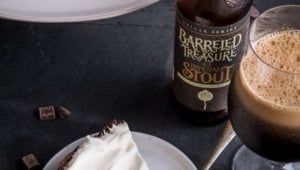 Stout Chocolate and Vanilla Beer Cream Pie with Rum Whipped Cream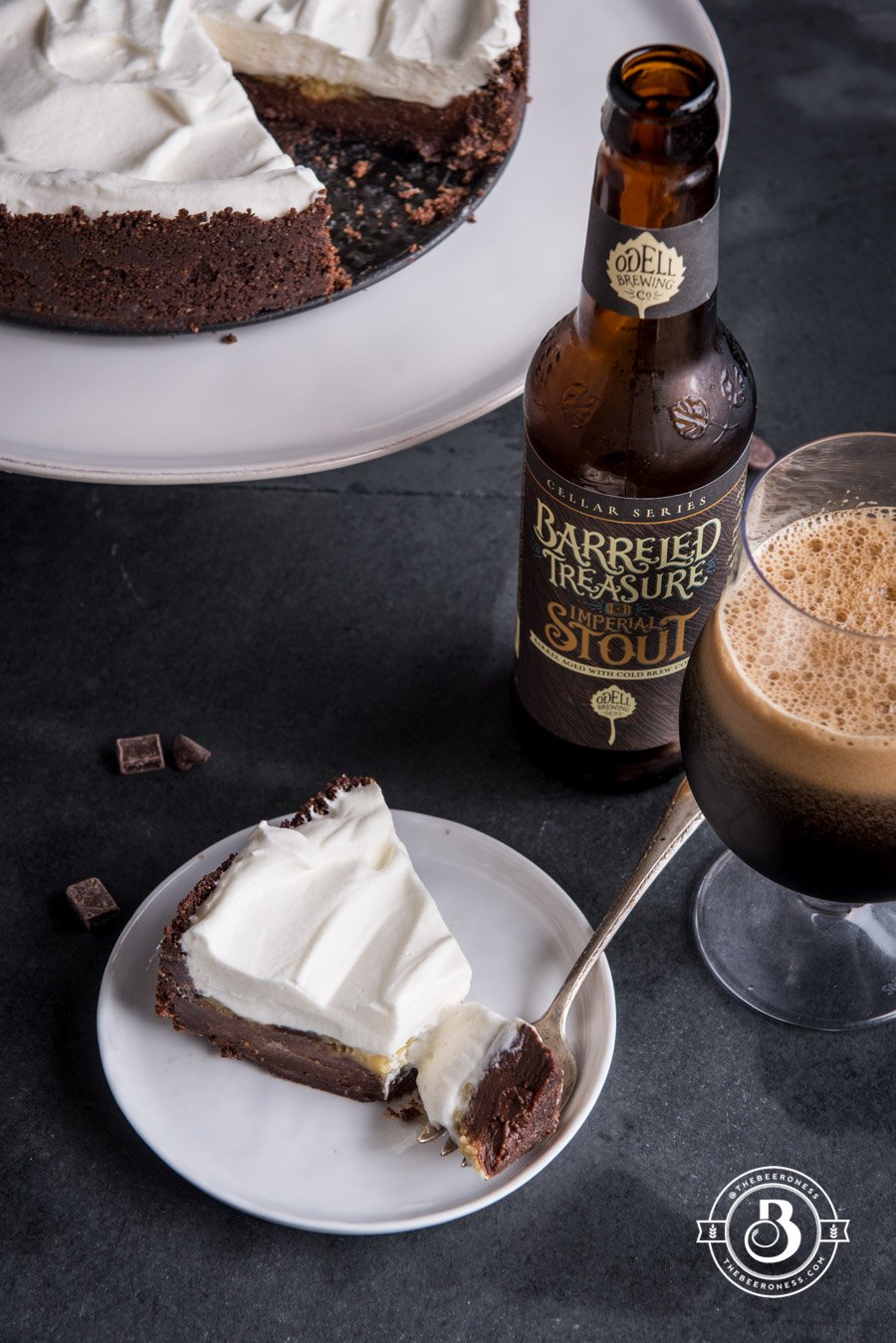 Friends, you need to make a decision. Let's say you're on a deserted (dessert-ed?) island and you can only have one pie, what would it be? Don't get too caught up with that fact that you're on an island you don't NEED pie, you need matches and a hatchet and shelter, just go with it. It's a pie island and you can have as much pie as you want. But only one kind, what do you pick?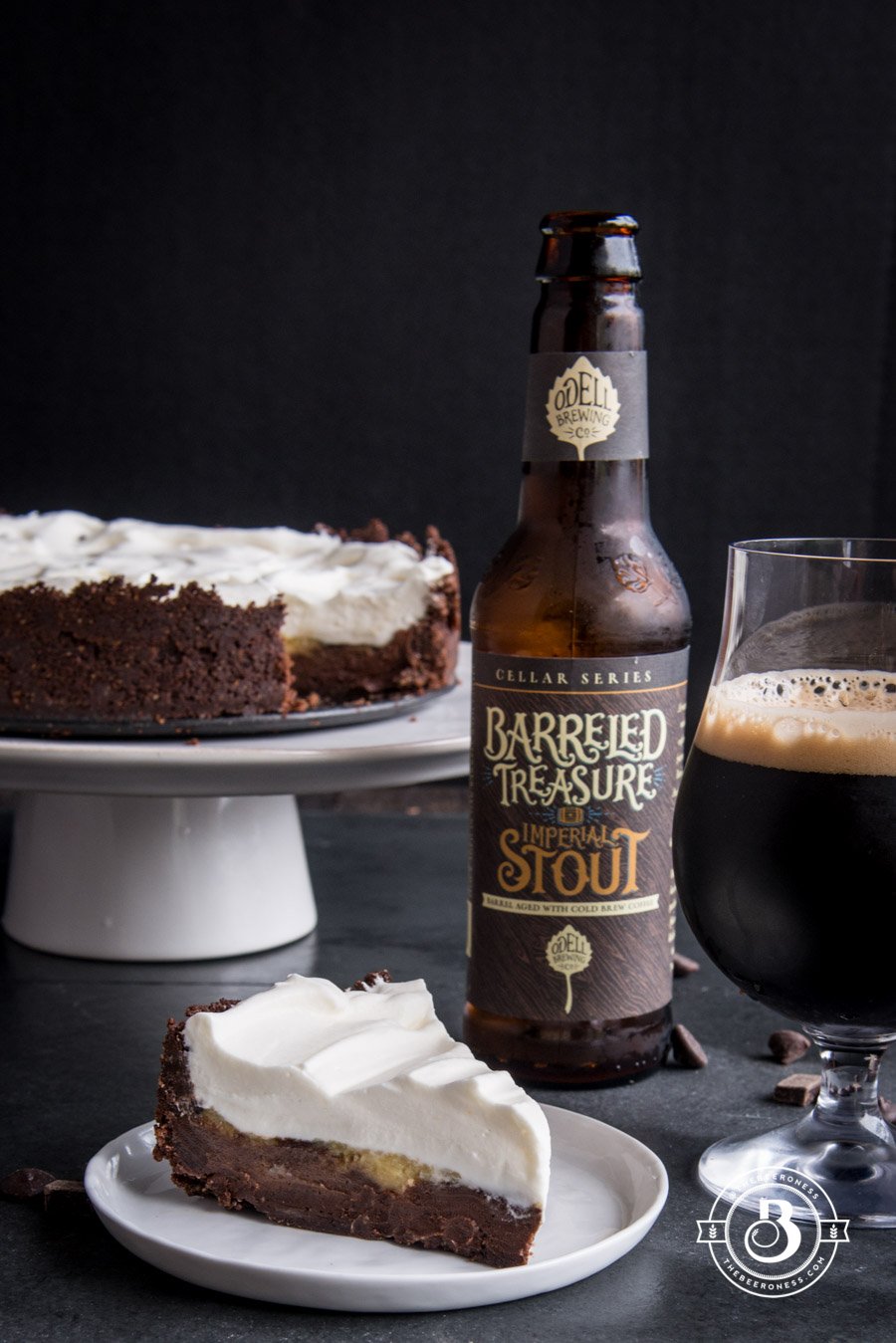 At first, I might think of apple pie, it's a classic and I love it. Or cherry? I love cherry. But if it's one and only forever, I'd probably settle on chocolate after much hesitation and deliberation with the pie island procurement staff becoming irritated with me. BECAUSE IT'S CHOCOLATE.
So I decided that for the holidays I must make a chocolate pie, and it must be made with beer, and this beer was outstanding. Luckily for me, I have a few of these Odell Brewing Barreled Treasure stouts left and they will most certainly be saved for holiday dessert service. Where I will serve several pies and you don't have to choose just one. You can be the guy who has three slices of pie at once, as long as you have them with this beer.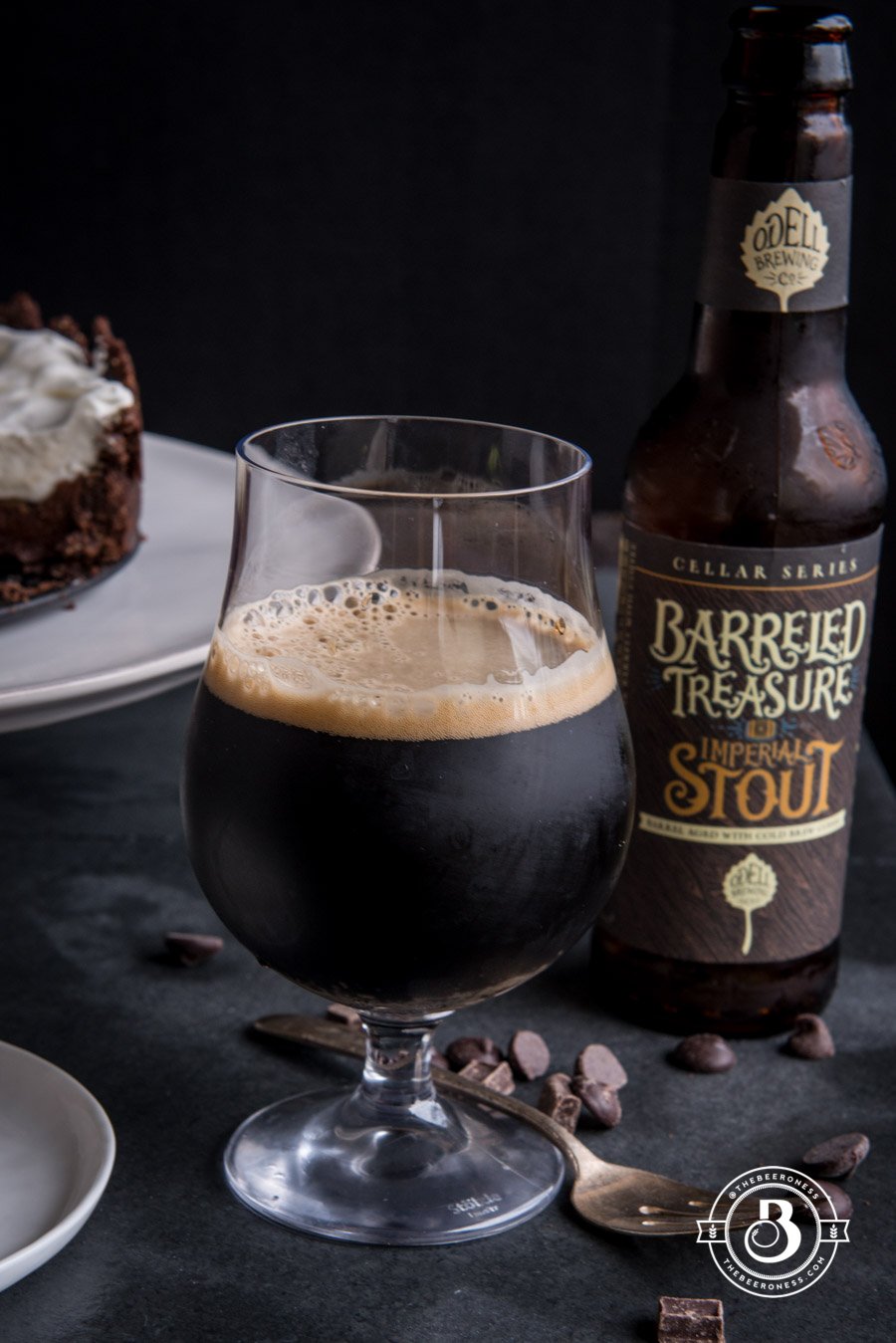 Also, it needs to be said that adding hazelnuts to my chocolate graham cracker crust is the best decision I've made all year.
Stout Chocolate and Vanilla Beer Cream Pie with Rum Whipped Cream
Ingredients
Crust:
9

full sheets chocolate graham crackers

¼

cup

(30g) roasted hazelnuts

2

tablespoon

(30g) brown sugar

3

tablespoons

(45g) melted butter
Chocolate layer:
10

oz

dark chocolate

60% cacao

½

cup

(120g) heavy cream

1/3

cup

(78g) stout beer
Vanilla Cream Layer:
1 ¼

cup

300g of heavy cream

½

cup

(118g) beer

(pilsner, lager, pale ale)

2

teaspoons

vanilla

5

egg yolks

1

cup

(200g) of sugar

1

teaspoon

salt
Whipped Cream Layer
1

(240g) cup

heavy cream

¼

(30g) cup

powdered sugar

2

oz

spiced rum
Instructions
Preheat oven to 325°F.

Add the graham crackers, brown sugar, and hazelnuts to a food processor, process until well combined. While the food processor is running, add the melted butter, process until combined.

Starting with the sides press well into the bottom of a 9-inch springform or pie pan. Press well using the bottom of a heavy glass or measuring cup.

Add all the ingredients for the chocolate layer into a microwave-safe bowl. Microwave on high for 30 seconds, stir and repeat until melted and combined (alternately, this can be done in the top of a double boiler).

Pour into the crust in an even layer. Refrigerate until set, about 15 minutes.

Make the vanilla layer: Add the cream, beer, and vanilla to a pot over medium heat. Heat until bubbles start to form at the edges and just starting to simmer.

In a large bowl whisk together the egg yolks, sugar, and salt until well combined. While whisking, slowly add the cream mixture until well combined with the yolks (don't add the hot cream too quickly or it will turn into scrambled eggs).

Add the mixture back into the pot, bring to a simmer, stirring constantly until thickened, about 10 minutes.

Pour over the chocolate layer in an even layer. Bake at 325°F for 35 minutes or until the edges have started to puff, the pie will still be very jiggly. Refrigerate until set, at least 3 hours. Pie is best made the day before.

Add all the whipped cream ingredients to the bowl of a stand mixer, mix on high until soft peaks form, add to the pie in an even layer. Refrigerate until ready to serve.