Easy Homemade Caramel Ice Cream Sandwiches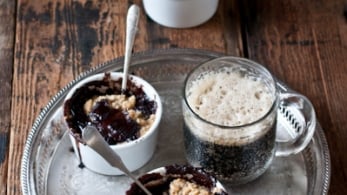 Three Ingredients, No Ice Cream Maker, Crazy Delicious Ice Cream Sandwiches was the first name for this recipe, although that did seem a bit long for a recipe that's so short.
If you know me at all, you'll know that I'm not a girl that goes for the Quick & Easy recipes, but sometimes I hear of a recipe that just seems too tempting not to try. I stole this recipe for an 80 year old woman I know. She made a version of these (that involved Cool-Whip) for a bingo game she was hosting, and told me all about how easy they were, and how everyone loved them. Easy, you say? None left, you say? I must try these easy and delicious treats, although I will be skipping that blue and white plastic tub.
She was right: easy, delicious and none left. The moral of the story is always listen to your elders.
And eat ice cream.
Chocolate Stout Mousse Brownies
Ingredients
For the Crust:

3/4 cup flour
¼ cup cocoa
½ tsp salt
1/3 cup powdered sugar
6 tbs unsalted butter

For the Filling:

8 tbs butter (1 stick)
8 wt ounes bittersweet chocolate (62% cocoa content) about 1 ½ cups
5 eggs separated
¼ tsp cream tartar
1/3 cup sugar
1/3 cup stout
2 tbs cornstarch
2 tbs flour
Directions
Preheat oven 375.
In a food processor add the flour, cocoa powder, salt and powdered sugar, pulse a few times to combine.
Add the butter cubes and process until well combined.
Spray a deep dish 8x8 inch baking dish (for 9x13, double the recipe) with cooking spray.
Dump crust in the prepared dish, press firmly into an even layer.
Place 8 tablespoons of butter, stout and chocolate in the top of a double boiler (or a metal bowl set over a pot of water) over medium heat. Stir frequently until melted, remove from heat.
In the bowl of a stand mixer add the egg whites and cream of tartar, building up speed, beat on high until soft peaks form.
Move whites to a large bowl.
In the stand mixer bowl (no need to clean between jobs), add the egg yolks, sugar, cornstarch, and flour. Beat on high until light and slightly fluffy.
Slowly pour the chocolate mixture into the egg yolk mixture, beating until completely combined, scraping the bottom to make sure the mixture is well incorporated.
About 1/3 at a time, gently fold the egg whites into the chocolate mixture using a spatula. Stir until egg whites are well combined with the chocolate mixture. Add filling in an even layer on top of the crust.
Bake at 375 for thirty minutes or until the top has puffed and looks dry. Remove from oven and allow to cool to room temperature before cutting.
https://domesticfits.com/easy-homemade-caramel-ice-cream-sandwiches/
Copyright �© TheBeeroness.com