Easy Homemade Caramel Ice Cream Sandwiches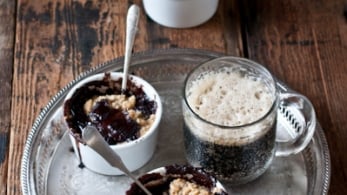 Three Ingredients, No Ice Cream Maker, Crazy Delicious Ice Cream Sandwiches was the first name for this recipe, although that did seem a bit long for a recipe that's so short.
If you know me at all, you'll know that I'm not a girl that goes for the Quick & Easy recipes, but sometimes I hear of a recipe that just seems too tempting not to try. I stole this recipe for an 80 year old woman I know. She made a version of these (that involved Cool-Whip) for a bingo game she was hosting, and told me all about how easy they were, and how everyone loved them. Easy, you say? None left, you say? I must try these easy and delicious treats, although I will be skipping that blue and white plastic tub.
She was right: easy, delicious and none left. The moral of the story is always listen to your elders.
And eat ice cream.
Easy Homemade Caramel Ice Cream Sandwiches
Ingredients
2 cups heavy cream, chilled
2/3 cup prepared caramel sauce, room temperature
12 standard sized graham crackers
Instructions
In the bowl of a stand mixer add the cream, whip on high until soft peaks start to form, slowly add the caramel sauce, mixing until well combined.
Spread the caramel whipped cream in a thick layer between two graham crackers, scraping off excess with a butter knife.
Place ice cream sandwiches on a large plate or baking sheet. Freeze until set, about 1 hour.