Southern Style Barbecue Beer Shrimp and Grits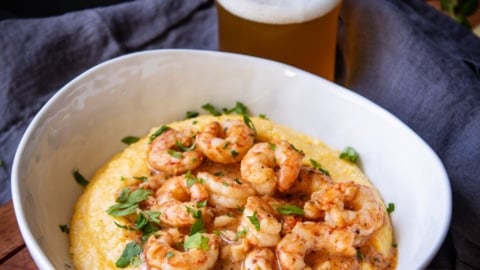 Southern Style Barbecue Beer Shrimp and Grits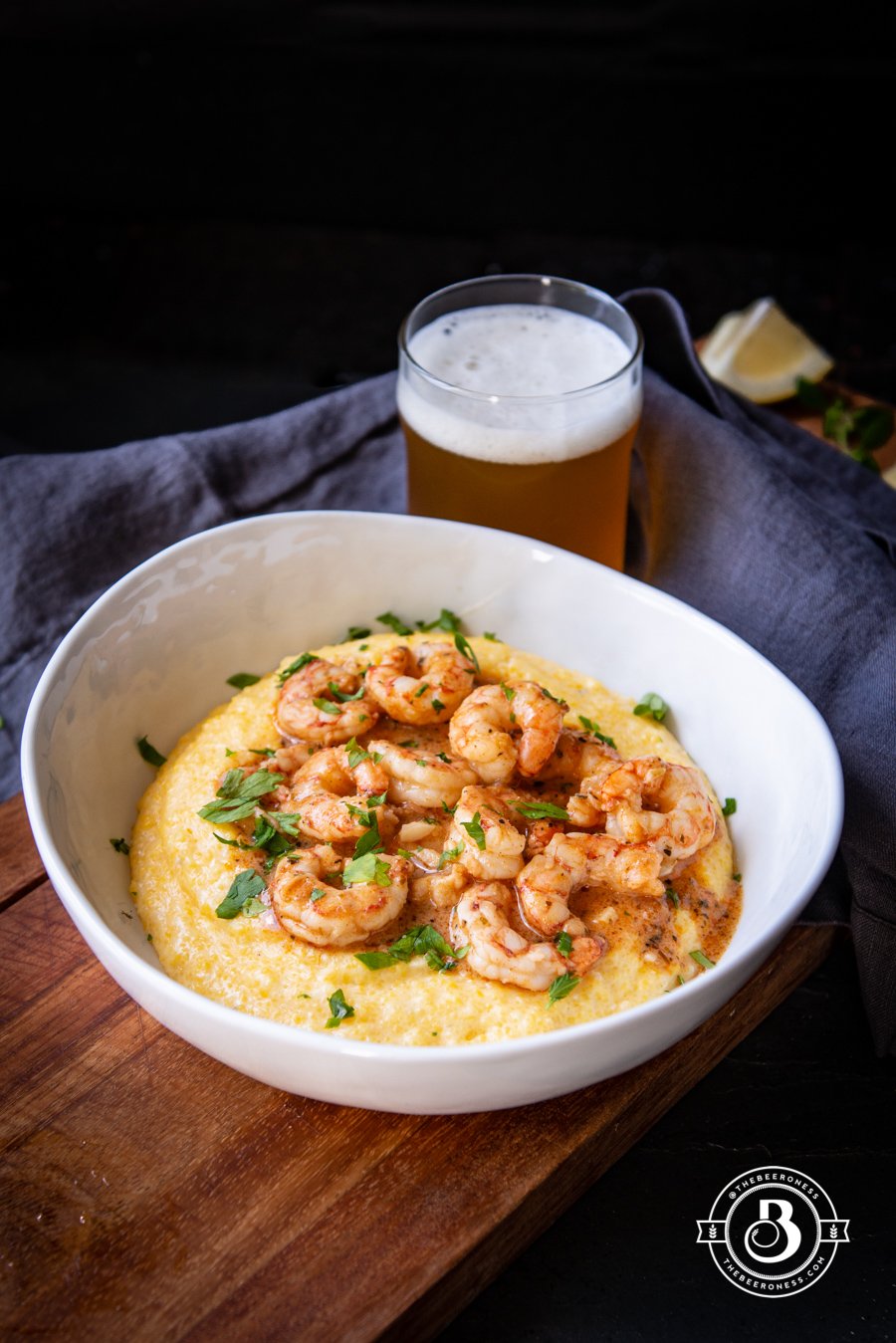 I'm gonna let you in on something. People send me recipes all the time, and I ignore them. Beer bread! Yes, I'm well aware. Beer can chicken! Done it. Rissotto but with beer! Mucho familiar. This goes on and on until the end of time.
When you spend more hours than your basic levels of sanity will allow creating compelling recipes that include beer, you've explored all the far reaches of cooking with your favorite fermented beverages. But every once in awhile, someone will send me something that I feel an overwhelming need to make.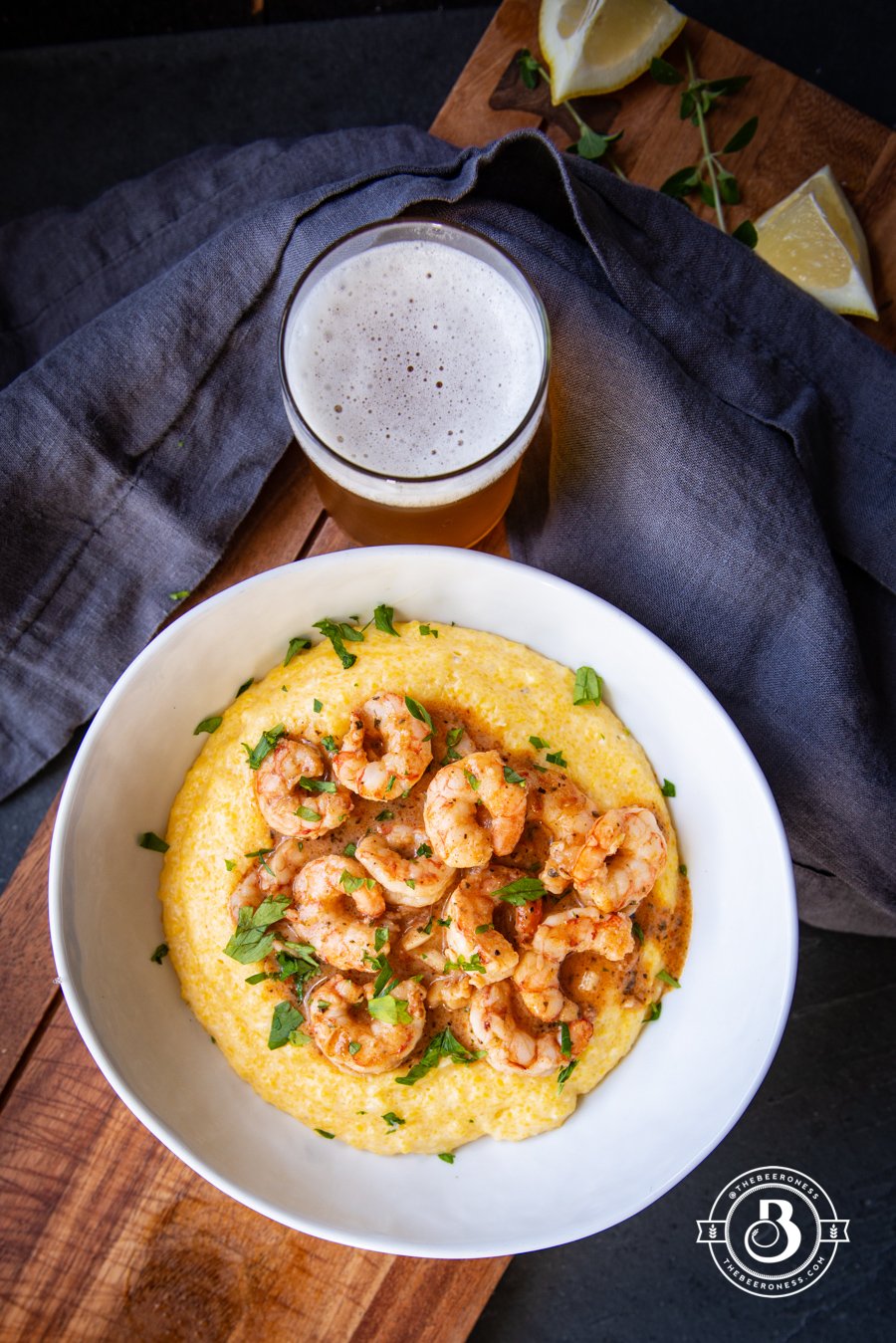 A good friend sent me a link to this recipe from Seattle chef Matt Lewis with the message, "This was the best thing I ate in college." And obviously this is a glowing review, but what makes it even more so is that she's Southern. When a Southerner sends you another Southerns recipe for shrimp and grits, YOU MAKE IT.
And it was fantastic. So obviously, now it's your turn to make it.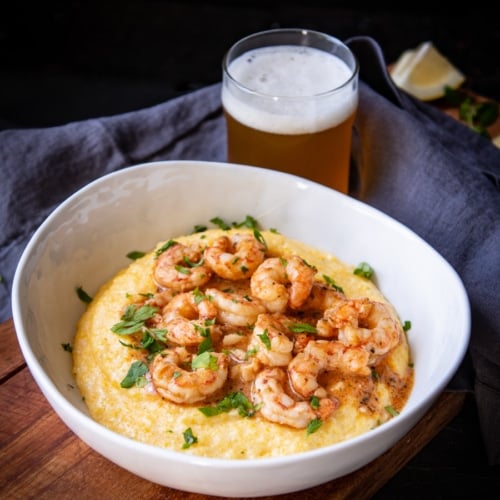 Southern Style Barbecue Beer Shrimp and Grits
Ingredients
For the grits:
¼

cup

(57g) unsalted butter

½

cup

(25g) diced white onion

2

cups

(312g) dry corn grits

6

cups

(48oz) chicken broth or stock

1 ½

cups

(342g) half-and-half

1

cup

(130g) shredded cheddar

1

tablespoon

hot sauce

1

teaspoon

salt plus additional to taste

this will depend on how salty your broth is
For the shrimp:
1

teaspoon

cornstarch

1

teaspoon

garlic powder

½

teaspoon

chili powder

½

teaspoon

onion powder

½

teaspoon

dried basil

½

teaspoon

dried oregano

¼

teaspoon

cayenne pepper

¼

teaspoon

black pepper

¼

teaspoon

smoked paprika

¼

teaspoon

sweet paprika

3

tablespoons

(42g) butter

1

lbs

raw shrimp

peeled and deveined (strongly recommend red shrimp*)

1

shallot blub

minced

3

cloves

garlic

minced

1/3

cup

(65g) beer (light lager, wheat beer, pilsner)

1

teaspoon

hot sauce

3

tablespoons

(42g) lemon juice

2

teaspoon

Worcestershire sauce

2

tablespoons

fresh parsley

chopped

Salt and pepper to taste
Instructions
In a large sauce pan melt the butter. Add the onions, cooking until softened, about 5 minutes. Add the grits, cooking until coated in butter and starting to smell slightly like popcorn.

Stir in the broth, reduce heat to a low simmer. Cook for 10 minutes, stir in the cream and continue to cook until grits have softened, about an additional 10 minutes.

Stir in the cheese, hot sauce and salt.

In a small bowl stir together the cornstarch and spices (first 10 ingredients in the shrimp list), set aside.

Melt the butter in a large sauce pan. Add the shallots, cook until starting to soften, add the shrimp, toss until starting to cook. Stir in the garlic. Sprinkle with the spice mixture, stir to combine. Add the beer, hot sauce, lemon juice, and Worcestershire sauce, simmer until thickened.

Ladle the grits into 4 bowls, top with shrimp and sauce, sprinkle with parsley.
Notes
*Red shrimp, or Argentine red shrimp, is sweeter, milder and have a taste closer to lobster. They don't turn rubbery when fully cooked, they stay soft and tender. The flavor and texture are far superior to other varieties and makes it well worth the time it takes to seek them out. Because they often come from South America, they are often found in the frozen section.