Sriracha Bloody Beer with Chili Sugar Bacon + New Years Resolutions For Beer People
Sriracha Bloody Beer with Chili Sugar Bacon + New Years Resolutions For Beer People
>
>
We do this too often. Spinning a resolution in a sacrifice that will ultimately give way to our guilt over lack of follow through. It's not your fault, it's the resolution. You can spend all year giving up coffee, carbs, sugar, or sleeping in, but that's not what we should focus on at the dawning of a brand new year. It's not supposed to be torture, it's meant for celebration. So don't put yourself in a culinary time out, or throw yourself into a debt related guilt prison, give yourself a gift. Grow yourself and your interest. Save the torture and regret for Lent. If you're a beer person, you've got some options. But you already knew that, you're way more creative than those vodka soda people.
1. Get certified in beer. Make it a goal to study hard, read up, and earn yourself a Cicerone Certificate, which is a certification that proves to the world that you actually know beer. And if anyone questions you, you will now have the proof you need to silence your opposition.
2. Brew your own. If you've been wanting to try your hand at homebrewing, there is no better time to start. Buy a starter kit, join a homebrew club, and realize that your first batch will suck, possible explode in the fridge, and then the next one will suck less. If that doesn't scare you off, then you'll make a fantastic brewer someday. After you stop sucking at it (don't worry, everyone sucks at first).
3. Go to a beer festival. There is no better way to connect with the craft beer community than to drink with us. Nearly every state has a Craft Beer Week, there are ale fests, stout fest, holiday beer fests, fresh hop fests, summer ale fests, (and on and on), in every state. Find one locally or go to a giant gathering of craft beer lovers from all over the world like The Great American Beer Festival.
4. Invest in glassware. You'll be shocked at the flavor difference between your favorite beer when you drink it from shaker pint (or, god forbid, a mason jar) and when you sample it from a glass made specifically for that beer style. If you appreciate beer, and especially if you invest in good bottles, you'll love serving it the proper way. Although the names of a few of these glasses are a bit suspect, I love the line of glassware from Crate & Barrel (my favorites: stout glass, half pints, IPA glass, wheat beer glass, craft beer glass).
5. Learn beer terms. Grab a great intro to craft beer book like The Naked Pint: An Unadulterated Guide to Craft Beer
, Beer Pairing: The Essential Guide from the Pairing Pros
by Julia Herz and Gwen Conley or The Beer Wench's Guide to Beer: An Unpretentious Guide to Craft Beer
by Ashley V. Routson and learn how to speak the craft beer language (affiliate links).
6. A new brewery every month. Most cities have more than enough established breweries or new start ups to take care of twelve months of brewery hopping. Stop in, grab a flight, and don't forget to chat up the staff, beer people are the friendliest kind.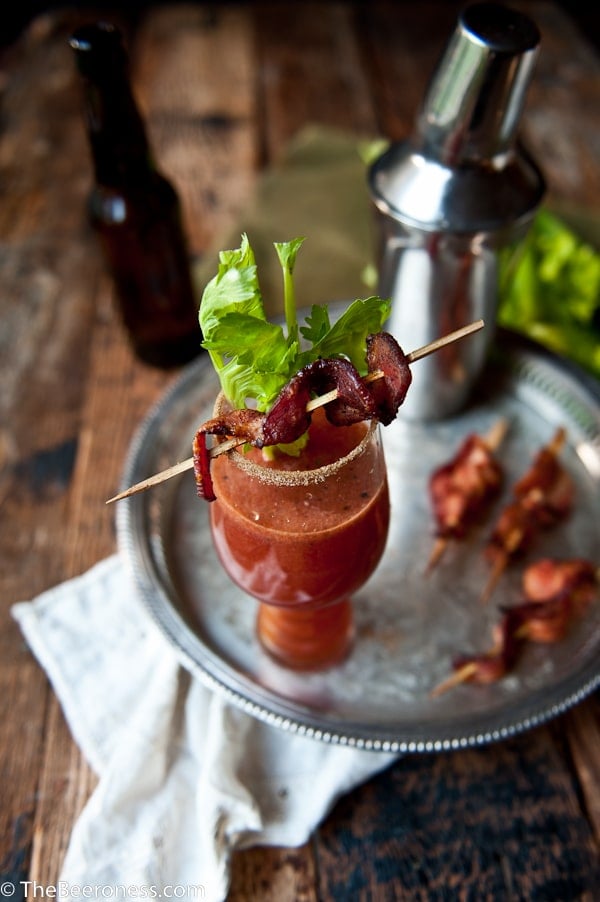 Sriracha Bloody Beer with Chili Sugar Bacon
Ingredients
Garnish:
2

Celery ribs

2

strips thick cut bacon

½

tsp

chili powder

2

tsp

brown sugar
Cocktail:
1

cup

Calamato or tomato juice

1

cup

IPA beer

1/2

tsp

celery salt

plus additional for glass rims

1

tsp

Sriracha

1/2

tsp

Worcestershire sauce

2

tsp

brine for a jar of spanish olive

1/4

tsp

cream style horseradish

1

tbs

lime juice

about 1 medium lime

1

tbs

lemon juice

about 1/2 medium lemon

1/2

tsp

black pepper

Ice
Instructions
Preheat oven to 350.

Thread the bacon through oven safe skewers.

Sprinkle with brown sugar and chili powder.

Place on a wire rack over a baking sheet.

Bake until bacon is crispy, about 15 minutes.

Rim glasses with celery salt. Add all cocktail ingredients to a shaker half full of ice, swirl to combine. Strain into prepared glasses, garnish with celery and bacon skewer.