Sourdough Beer Doughnuts with Nutella Mousse Filling
Sourdough Beer Doughnuts with Nutella Mousse Filling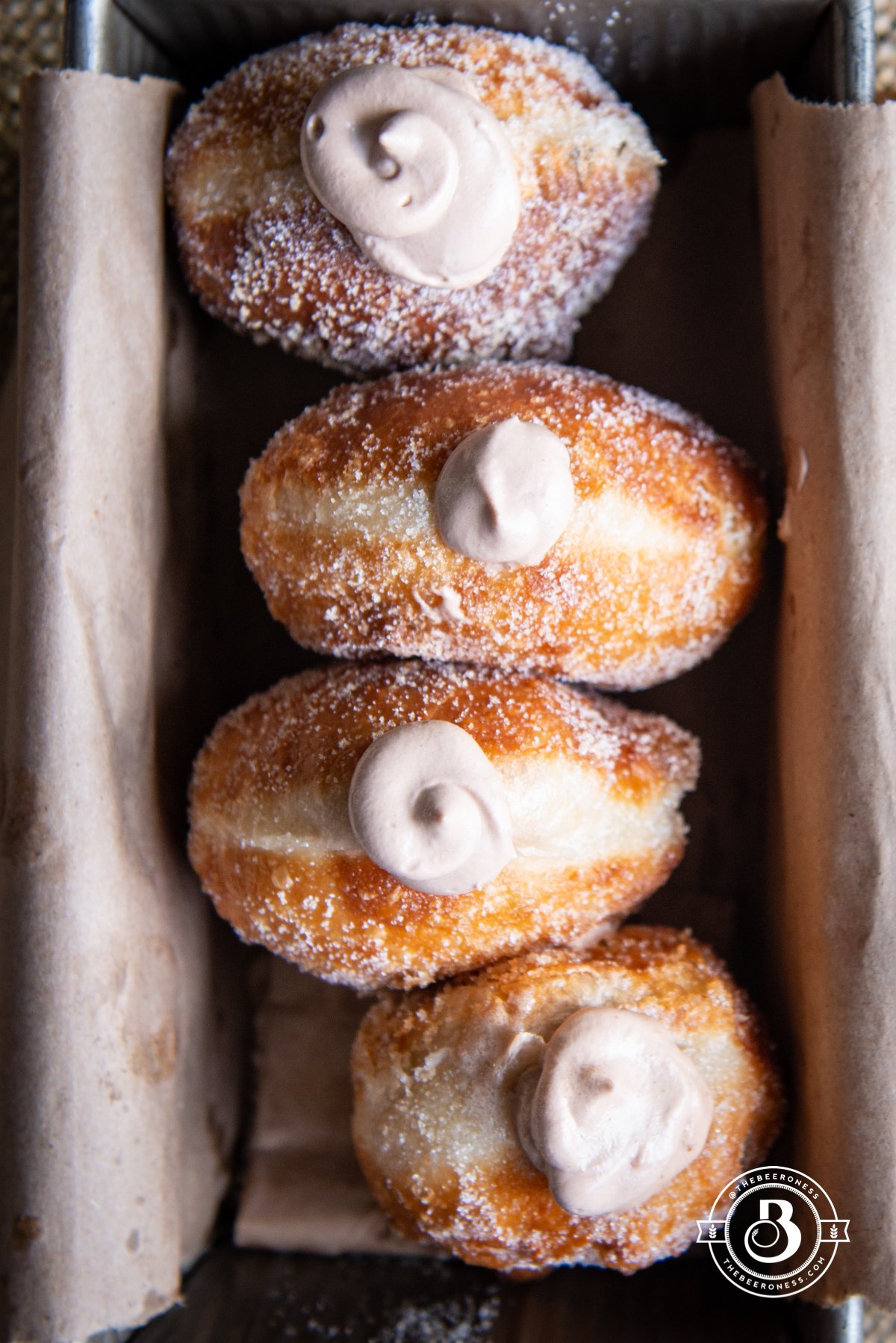 Doughnuts are my thing. My last meal thing, my birthday treat thing. Cake is great, but it's not as good as doughnuts. It's sort of becoming a thing on my birthday, finding nearby doughnuts wherever I happen to find myself. Even when I was here, I was able to find some which was quite the birthday miracle in such a remote location.
There is one thing I always look for when it comes to doughnut perfection. Ok, that's not true, there are several things. But first and foremost, when a doughnut is yeasted (or raised) it needs to have that tan line in the center. That's probably not the correct term, but that's what I call it, the doughnut tan line. That white belt around the doughnut means the dough was light enough to sit on top of the oil, if it's missing it means the dough was too dense and the thing sank, that's sub-optimal.
I also believe that raised and filled doughnuts are the apex of doughnuts. Cake doughnuts are just fried muffins with the exception of Old-Fashioned. You can fight me on this but I will win. Afterwards, we can share a beer with some proper raised and filled doughnuts and all will be well again.
Sourdough Beer Doughnuts with Nutella Mousse Filling
Ingredients
For the Doughnuts:
¼

cup

(57g) beer (pale ale, pilsner)

¼

cup

(57g) heavy cream

½

cup

(113g) sourdough starter

2

cups

(240g) flour

1

large egg

¼

cup

(50g) sugar

1

teaspoon

vanilla extract

3

tablespoons

(43g) softened butter

½

teaspoon

salt

Granulated sugar for rolling
For the filling:
½

cup

(114g) heavy cream

2

teaspoons

powdered sugar

2

tablespoons

Nutella

room temperate
Instructions
To make the doughnuts:
Bring the beer and heavy cream to just above room temperature (not too hot or it will kill your starter), add to the bowl of a stand mixer fitted with a dough hook.

Stir in the starter until completely dissolved in the liquid.

Add the flour, egg, brown sugar, and vanilla, mix on high until well combined then add the softened butter and salt.

Beat on high until the dough gathers around the blade, about 5 full minutes. The dough will be soft and slightly sticky.

Add to a well-oiled bowl, cover tightly with plastic wrap and leave at room temperature until tripled in size, between 12 and 18 hours.

Cut off small portions a little smaller than a golf ball (between 50g and 60g). Roll into tight balls and add to a lightly floured baking sheet. Cover tightly with plastic wrap to avoid the dough balls forming a dry crust.

Allow to rest until doubled in size, between 4 and 8 hours.

Remove the plastic wrap to allow the balls to dry just a bit to make handling them a little easier. Heat oil in a deep fryer or pot with a deep-fry thermometer clipped on the side until the oil reaches 350°F (adjust heat to maintain temp).

One or two at a time gently drop the dough balls into the hot oil (make sure to handle carefully to avoid disrupting the air bubbles inside) until golden brown on the underside. Turn over gently (I use a chopstick) and cook until the other side is golden brown and the doughnuts are cooked through.

Allow to cool on a stack of paper towels. Roll in sugar once cooled.
To make the filling:
Add the heavy cream and powdered sugar to the bowl of a stand mixer. Beat on medium-high speed until the mixture starts to thicken. One tablespoon at a time drop the Nutella into the mixer, mixing until well combined.

Add filling to a large piping bag with a metal tip and a pea-sized opening.

One at a time makes a small hole in the side of the doughnuts with a small knife or a chopstick.

Press the metal tip into the hole in the side of the doughnuts, pipe the filling into each doughnut adding about 2 tablespoons of cream to the center of each doughnut.

Serve immediately, doughnuts are best eaten the day they are made.
Notes
If the doughnuts do not have a white line around the center once cooked, they are too dense and need to be allowed to rise a little longer.