Classic Glazed Beer Doughnuts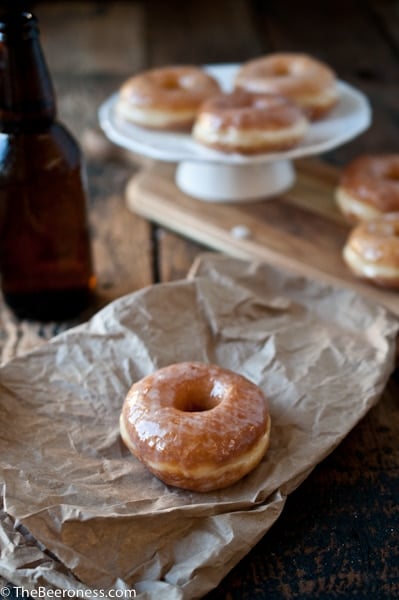 We need to chat, you and I. About the Cooking With Beer odyssey I've firmly placed myself on and the reasons, both practical and provocative, that I've remained such a Craft Beer Cooking Devotee. While I know that the reason you're drawn to these brew-infused foods may just be the ability to lay down a tray of treats and proudly proclaim, "I put beer in this!" there is in fact, a very functional side to beer baking.
Leavening is the hallmark reason to use beer in your bread. And cakes, and doughnuts for that matter. It gives your baked goods a light and tender texture that just can't be touched by the water or milk. Making that beer in your grubby paws a great addition to anything that needs a lightness to it. These doughnuts are a great example, the dough turned out extremely light and tender, giving you the impression that it was completely acceptable, nay…imperative, that you eat four. Ok, five. Doughnuts, those deep fried little vixens, can often be dense and tough, but just wait until beer has its way with that dough and it'll never be the same.
Although that isn't to prevent you from placing a large plate of homemade Classic Glazed Beer Doughnuts in front of a table full of friends and saying, "I put beer in this!"
Classic Glazed Beer Doughnuts
Ingredients
Doughnuts
3

cups

bread flour

¼

cup

granulated sugar

1

packet rapid rise yeast

2 ¼ tsp

¾

cup

wheat beer

1/2

teaspoon

vanilla

3

large egg yolk

room temperature

¼

cup

heavy cream

room temperature

1

tsp

salt

4

tbs

butter

softened

oil for frying
Glaze
1 ½

cups

confectioners sugar

1/4

cup

IPA beer
Instructions
In the bowl of a stand mixer fitted with a dough hook add the flour, sugar and yeast.

Add the beer to a microwave safe bowl, microwave on high for 20 seconds, test temperate and repeat until beer reaches between 120 and 130 degrees F.

Add the beer to the stand mixer, mix until most of the flour has been moistened.

Add the vanilla then the yolks, one at a time. Add the cream, salt and softened butter.

Building up speed, beat on high until the dough comes together and gathers around the blade.

The dough will be very soft.

Add dough to a lightly oiled bowl, cover and allow to sit at room temperature for 1 hour or until doubles in size.

Punch down the dough and knead lightly to remove any air bubbles. Place dough in the fridge and allow to rest for 1 hour.

Roll dough out on a lightly floured surface to 1 inch thickness. Cut doughnuts out with a 3 ½ inch biscuit cutter with 1 inch circle holes.

Place doughnuts on a baking sheet that has been covered with parchment paper. Loosly cover with a towel.

Allow to rise at room temperature until doubled in size, about 30 minutes.

Fill a large heavy bottomed saucepan with canola oil until about 4 inches deep. Add a deep fry thermometer and bring oil to about 360 degrees, adjusting heat to maintain temperature.

Working in batches, fry the doughnuts on each side until golden brown, about 1-2 minutes per side. Remove from oil and allow to cool on a wire rack.

To make the glaze, whisk together the powdered sugar and the IPA beer until well combined. One at a time dip the doughnuts in the glaze.

Allow glaze to set before servings.
Adapted from: Classic Glazed Doughnuts, Epicurious