Rosemary Beer Chicken and Skillet Potatoes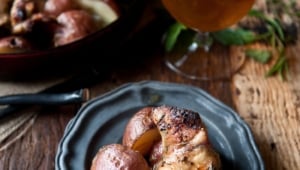 Rosemary Beer Chicken and Skillet Potatoes. Just one pot and dinner is done. 
I once tried to help a homeless woman get an apartment.
She'd wondered into the lobby of the building I was working at in Beverly Hills. She was sweet, well over 70-years-old, and seemed quite healthy for the life she was living. I was given the task of "dealing" with her and decided that she was far more fascinating that paperwork that I'd previously been laboring through.
She handed me a stained envelope of papers, ID cards, receipts and bus passes, "I'm too old for this," She collapses in a leather chair near the window, "I think it's time for me to have a place to live."
I got her a cup of coffee and asked her questions, most of which were purely to satisfy my own curiosity. She'd been homeless for 30 years, since her mid 40's, she was once a waitress, then a secretary. She has a daughter who now lives in Chicago, they don't talk. I didn't pull at that thread. She spent most of her days in the Library, reading mystery novels, or at the park watching the people. She made homelessness seem almost charming.
I made some calls. Local shelters, community centers, soup kitchens. I googled searched the city looking for housing. After an hour, I struck gold. I found a HUD funded apartment complex that had a vacant unit that was designated for a formerly homeless senior citizen. I ran to the lobby to tell her the news.
"An open apartment? Where is it?' She was much less thrilled than I was.
"It's on Adams and La Brea."
"Mmmm, child…. Honey…. I'd rather be homeless than live east of the 405." She slowly eased herself out of the chair and walked right out the door. Not even a goodbye.
You'd think I'd be irritated, or frustrated, but I found it so entreatingly hilarious that I called everyone I knew who lived in Santa Monica. To this day I'm asked to tell the story any time I'm at a party in the home of anyone who lives WEST of the 405.
Rosemary Beer Chicken and Skillet Potatoes
Ingredients
2

tbs

fresh rosemary

chopped

3

tbs

olive oil

divided

1

tbs

stone ground mustard

1

tbs

honey

½

tsp

salt

½

tsp

pepper

1

cup

beer

pale ale, brown ale, hefeweizen

4

boneless skinless chicken thighs

1.5

lbs

small red potatoes

quartered
Instructions
Add the rosemary, 2 tablespoons olive oil, mustard, honey, salt, pepper and beer to a large bowl or baking dish. Add the chicken, refrigerate for at least 30 minutes and up to 12 hours.

Preheat oven to 375.

Heat the remaining 1 tablespoons olive oil in a cast iron skillet until hot but not smoking. Add the potatoes, cook until browned on cut sides, but not cooked through, about 5 minutes, remove from heat.

Place the chicken on top of the potatoes, pour ½ cup of the chicken marinate over the chicken.

Bake at 375 until chicken and potatoes are cooked through, about 25 minutes.