Garlic Parmesan Skillet Beer Potatoes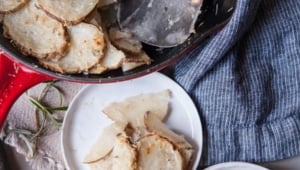 Garlic Parmesan Skillet Beer Potatoes
"If you do it right, you'll life several lifetimes before you're done." She was 80-years-old, only frail on the outside, and telling me about the life she lived decades ago. One where she was a young activist living in 1960's San Francisco. That life, she said, was one that still makes her feel vibrant and rebellious even in her compression socks and sensible shoes.
She shows me pictures, her wildly unkempt hair flowing out of the frame. She says that if I do it right, I'll look back on this moment with the photo in her hand and her words filling her small kitchen and think to myself, "That was a different life."
That was about 7 years ago, and she was right. She'd served me scalloped potatoes that she's baked in a skillet and showed me all the age-worn photos that she could find of that past life she once lived. The one that fills her head as she falls asleep.
"You don't always have to be a good girl, you can rattle the cage sometimes, dear. Sometimes those are the best choices to make."
She was also right about that. Skillet potatoes remind me of her, and the advice she'd given. Maybe someday when I'm 80 I'll make some wide-eyed-farm-girl some potatoes and tell her to rattle cages.
Garlic Parmesan Skillet Beer Potatoes
Ingredients
2-3

large

2lbs russet potatoes, thinly sliced

3

tablespoons

32g all-purpose flour

3

cloves

garlic

grated with a microplane

1

teaspoon

2g chopped fresh rosemary

1

teaspoon

6g salt

1

teaspoon

3g pepper

1

cup

124g parmesan cheese, grated with a microplane, divided

¼

cup

58g wheat beer

3

tablespoons

45mL heavy cream
Instructions
Preheat the oven to 375.

Add the sliced potatoes to a large bowl. Sprinkle with flour, garlic, rosemary, salt, pepper, and most of the parmesan cheese (reserve ¼ a cup for the top). Toss until well coated.

Layer the potatoes in a circular pattern in a 9-inch cast iron skillet.

Drizzle the potatoes with the beer and the heavy cream. Sprinkle with remaining cheese.

Bake for 28-30 minutes or until the potatoes are fork tender. Heat the broiler, add the skillet under the broiler until the cheese is golden brown, about 5 minutes.

Serve warm.