Orange Brewlius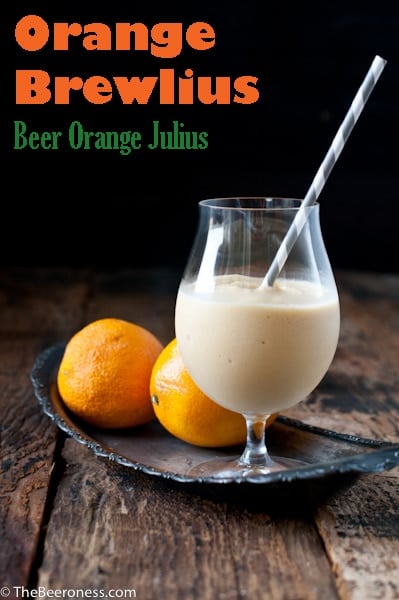 Can I be dramatic for a second?
And not in that I Almost Died in Morocco story kind of way, this is more the twisted inner workings of Jackie kind of way. It'll only take a second.
I sleep about as well as homeless prostitute (that's bad, by the way). If I can fall asleep, it's never for very long. Sleep is as evasive as a greased pig at the county fair, if I can catch it, it's slips away from me pretty easily. Most of this is due to my crazy brain waking me up with dreams like this, or for unnecessary demands and insignificant request.
-You have to send that W9!
-Shut up and go to sleep. I'll do it in the morning.
–The trademark hasn't gone through yet!
–I want to beat you. Shut your hole. there is nothing I can do about right now.
It happens every night, all night long. Sometimes Crazy Brain has recipe requests, and they are always bizarre.
-You have to make a chocolate bread pudding tart!
-Are you carb deficient? Go the EFF to sleep.
–Beer cheese tater tot nachos!!
-Are you high?
But occasionally it's really on to something. Like a few nights ago when I was rudely awakened from a sound sleep with the request for a beerified mall walkers treat.
–ORANGE BREWLIUS!
-SHUT– oh, wait. I like that. Remind me of that at a more appropriate hour.
So here I am, to inflict on you the spoils of my horrible and erratic sleep in an attempt to put my crazy mind at rest. Or maybe I'm just reinforcing bad behavior, either way, this was delicious. I used Ommegang Abbey Ale, a great beer that would actually do well to pair with your Thanksgiving dinner. Although I decided to sully it in a copy cat recipe of a large chain smoothie maker.
I hope the head brewer forgives me.
Orange Brewlius
Ingredients
7

fl oz orange juice

½

cup

Belgian ale

2

tbs

heavy cream

2

tablespoon

powdered sugar

1/2

teaspoon

vanilla extract
Instructions
Pour the orange juice into ice cube trays. Place in the freezer until frozen, about 2 hours.

Put the orange juice ice cubes and the remaining ingredients in a blender.

Blend until frothy.

Enjoy.