Orange Lime Belgian Wit Cream Tart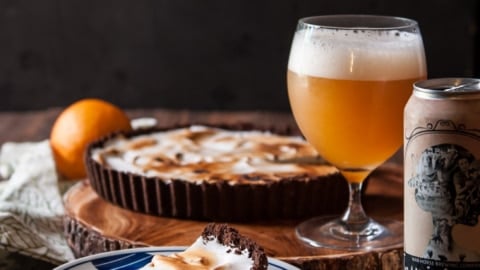 Orange Lime Belgian Wit Cream Tart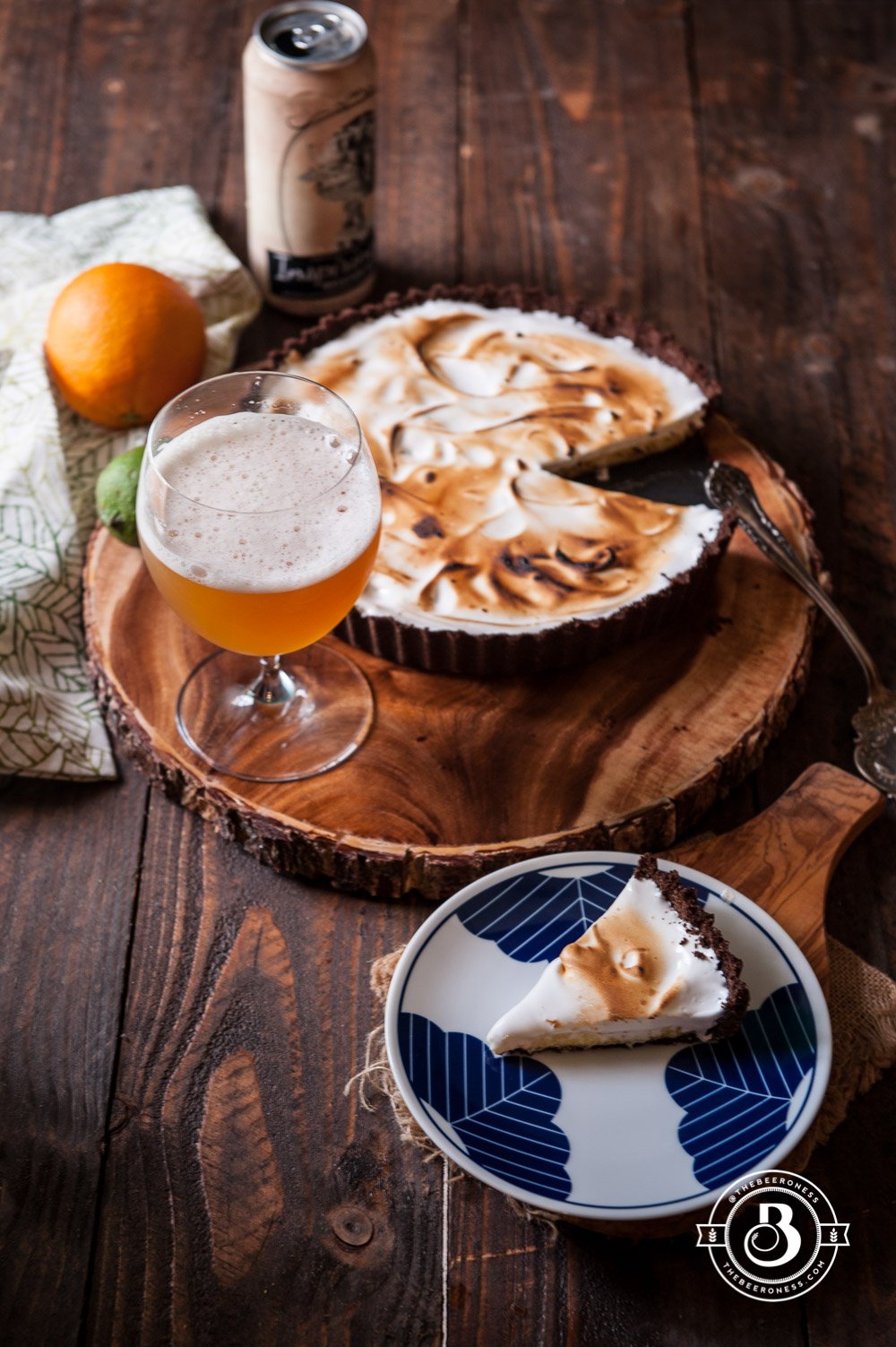 I know you've done this, I know you can relate.
My phone rang Tuesday morning, 4th of July, at 6:30 am. Seriously? Who died? Why would anyone call me (late sleeper, night person that I am) at 6:30 am? The area code triggers a memory in the fog of my early morning brain. Then it hits me, then I realize that I'd committed to a radio interview in Chicago during drive time, live on air. Damn it. I forget to set an alarm, Monday night had been hideous, and I'd fallen asleep before I was able to wake myself up in time for coffee and the requisite half hour to clear the sleep from my brain.
I answer, using the voice I know you've used before, too. That one that is so pathetically trying to pretend that it isn't still dreaming. You try, as hard as you can, with all that you are able to muster, and it's nowhere close. It's still so shockingly obvious that you've answered the phone still tangled in sheets, your words still as pillow-creased as the side of your face.
This was me. On air. Live. Luckily I've been given a gift that has served me well over the years: an unparalleled ability to bullshit my way through just about any situation. I once faked an entire presentation in college. I'd forgotten about it and was called up with three minutes to prep. I grabbed my folders and strutted to the front of the class. The presentation (I decide on the ten steps up to the front of the class) was on the psychological impact of confidence, that pretending that you know what you are doing convinces people that you actually do. I had statistics (faked), terms (I made up on the spot), and real-world scenarios. I ended the presentation with, "And for the most convincing evidence of this: I just made that all up. And you believed me because I acted as if it was all entirely true." Because although I'm great at navigating my way through conversations in which I know little to nothing, I'm not a liar. I got an A. Which only further reinforced the use of this skill set.
Tuesday morning this came in handy. The part of my brain that's good at talking me through just about anything took over, and I went on autopilot. To be clear, I didn't make anything up, I spoke truthfully about a topic I know quite a bit about. I just did so while nearly asleep at dawn.
It seemed to work out, the host sent me an email saying he loved the segment. Thank God. I hate letting people down, and I love talking about beer. SO I decided that a celebratory dessert was in order, no bullshit, just great beer.
I used Inspired Belgian Wit from War Horse Brewing out of New York. The orange and coriander flavors are beautiful in this tart, and the beer was brewed to support the Women's Hall of Fame, which is probably full of quite a few women who are able to think quickly on their feet. Or in their bed at 6:30 am.
I used this Kitchen torch, because it's amazing, easily one of my favorite kitchen tools. (affiliate link)
Orange Lime Belgian Wit Cream Tart
Ingredients
Crust:
9

full sized chocolate graham crackers

1 full sleeve

2

tablespoons

brown sugar

¼

cup

melted butter
Filling:
1

large naval orange

juiced

3

large limes

juiced

4

egg yolks

reserve whites

1

cup

granulated sugar

1

cup

heavy cream

2

tablespoons

cornstarch

½

teaspoon

salt

¼

cup

Belgian wit beer

Topping:

2

reserved egg whites

from the filling

1

cup

granulated sugar

¼

cup

Belgian Wit beer

½

teaspoon

cream of tartar

pinch

salt
Instructions
Preheat oven to 350F.

Add the graham crackers and sugar to a food processor and process until just crumbs. While the food processor is running add the melted butter and process until well combined. Add to a 9-inch tart pan. Starting with the sides, press into shape. Press the crust very well until even and compacted.

Bake at 350 for 12 minutes. Remove from oven and allow to cool.

In a saucepan off heat combine the orange juice, lime juice, egg yolks, 1 cup sugar, heavy cream, cornstarch, salt and beer, whisk until well combined.

Add to medium heat, whisking until thickened, about 10 minutes. Remove from heat, allow to cool slightly.

Pour the filling into the crust, refrigerate until chilled, about 3 hours.

Place a small sauce pan with a few inches of water over medium heat. Add a large metal or glass bowl over the top, check to make sure the bottom of the bowl does not touch the water.

Add 2 egg whites, 1 cup sugar, ¼ cup beer, cream of tartar and salt, beat continuously with a hand mixer until the mixture has thickened and tripled in size. Adjust the heat to maintain a simmer. The mixture should be thick and marshmallow like but still spreadable.

Pour evenly over the top of the tart, refrigerate until chilled.

Brulee the topping with a kitchen torch if desired.