Miniature Cheesecake Pan Review & Miniature Lemon Goat Cheese Cheesecake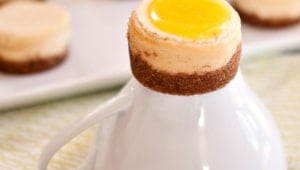 Cheesecake is a very dangerous thing to make.
Not in the way that Creme Brulee is dangerous, with the open flame and molten sugar that you just want to touch before it's dry giving yourself the worst sugar burn of your life and using words that should never be said in public. 
But in more of a, I-totally-don't-care-if-this-will-make-me-gain-137-pounds-if-I-eat-the-whole-thing, kind of way.
But I love it. LOOOOOOVE it.
And then there is this mini cheesecake pan. It's a fabulous little invention that offers tiny, portion controlled mini-cheesecakes. Let's be honest, they aren't good for you, but eating one won't make you gain 137 pounds.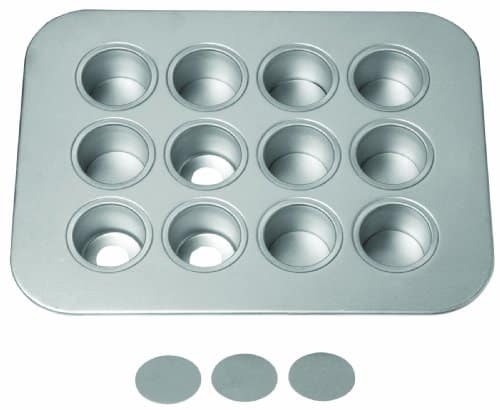 (Photo from:Chicago Metallic)
Here is the low down on this little pan, the one that made these adorable cheesecakes:
Chicago Metallic Mini Cheesecake Pan, 12 Cavity
Specifics:
Brand: Chicago Metallic
Dimensions: 1.75″ h x 10.75″ w x 14.00″ 
12-cavity mini cheesecake pan made of heavy-duty aluminized steel
Each cavity comes with pop-up bottom disc for simple dessert removal
Measures 13-8/9 by 10-3/5; each cavity measures 2 by 2 by 1-1/2 inches; 25-year limited warranty
Pros:
Creates adorable, small Cheesecakes that bake quickly and provide the right amount of dessert for a small group.
The metal disk inserts make it easy to remove the cheesecakes from their pan, without the use of a cupcake papers which tend to ruin the over all effect.
 The shape is much more attractive than those mini-cheesecakes bake in muffin tins.
Perfect for parties. 
Cons:
Although the product states that it is dishwasher safe, that does not seem to be the case. The small metal disks are almost impossible to get clean in the dishwasher, and the metal pan does not seem to respond well either. Making hand washing a must for this pan.
The Cheesecakes were a bit smaller than I would have liked.
The excessive use of the word "Cavity" on the product materials along with the word "Cheesecake" conjures up disturbing images of Dessert with Jeffery Dahmer. 
Overall:
I really liked this pan and the options that it provides. Although the size was much smaller than I had expected (slightly larger than a mini muffin) the amount of batter needed was small as well, making it easy to throw together without a pound of cream cheese. This also leaves the option of making your basic, go-to, regular sized New York Cheesecake recipe, splitting it up into three different batches and adding different flavors to each, giving your guests three options instead of one. Variety is always a plus.
I love it and will probably use it until it falls apart. You can buy one here. 
Lemon Goat Cheese Mini Cheesecakes
Crust:
3/4 cup crushed graham crackers
3 tbs melted butter
2 tbs brown sugar
Cheesecake:
1 8 oz Package of (full fat) Cream Cheese (room temperature, very important)
2 oz Goat Cheese (room temp as well)
1/2 cup sugar
1 egg
1 tsp vanilla
1 tbs lemon zest
Lemon curd:
1 egg yolks
1/4 cup sugar
2 tsp lemon zest
1/2 cup lemon juice
1/2 tsp corn starch
2 tbs butter
Preheat oven to 375
In a food processor, add the graham crackers and brown sugar, process until nothing is left but crumbs. Add the butter and process until it resembles wet sand, adding more butter or graham crackers if necessary to achieve the right consistency. 
Place metal disks into place in the bottom of each slot. Spray with butter flavored cooking spray.
Place about 1 tbs of crust into the bottom each Cheesecake slot. Press verywell into place until compacted. 
Place the cream cheese and goat cheese in the bowl of a stand mixer and beat on high until well combined. Add the sugar beat on high until creamed. Add the egg, vanilla, and zest and beat until well combined, scraping the bottom of the bowl to make sure all ingredients are well combined. 
Spoon the batter on top of the crust, filling the cheesecake slots until almost full. 
Bake at 375 for 12-15 minutes or until the cheesecakes no longer giggle in the middle when the rack is shaken. This is not a situation where "a tooth pick inserted in the middle comes out clean."
Allow to cool for 20 minutes before attempting to remove from pan. 
Once cool, press upward in the hole on the bottom of the pan. Disk should remove easily. 
While the cheesecake is cooking, make the curd.
In a bowl, whisk together the egg yolks, sugar, zest, corn starch and lemon juice until well combined. 
Add to a pan over medium heat along with the butter and whisk constantly until thickened, about 8-10 minutes. Remove from heat. Allow pan to cool a bit, about ten minutes, and then place in the refrigerator to chill for about 20 minutes or until cool and thick. 
Once the curd has cooled, top the mini cheesecakes with about 1-2 tsp of curd. Chill until ready to serve.