Fig and Goat Cheese Galette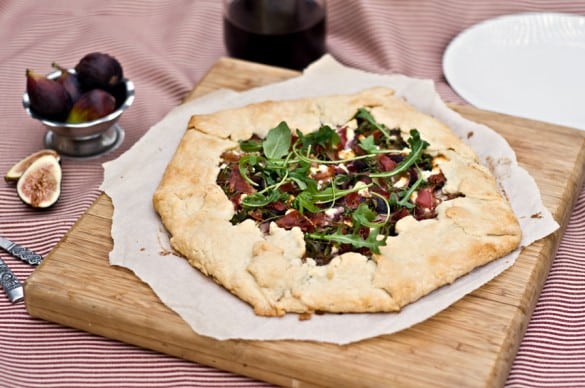 Galettes are such an amazing food. Like a tart or a pizza, only much more elegant and easier to make. This dough came out so beautifully, with a buttery flakiness that could be eaten all on its own. There is a very good chance that this Fall will be filled with galettes, sweet and savory.
Fig and Goat Cheese Galette
CRUST
2 cups flour
1 tsp salt
1 tsp sugar
1 1/2 sticks of butter
1/3 cup ice cold water
FILLING
1/2 cup ricotta cheese
1 tsp salt
1 tsp pepper
6 figs, sliced
1 tbs raw honey
2 tbs minced red onions
1/2 cup arugula
2 oz goat cheese, crumbled
1 oz prosciutto, chopped.
1 tbs melted butter
In a food processor, combine 1 1/3 cup flour, salt, sugar and butter, process until well combined. Add the remaining flour and process again until combined. Transfer to a bowl and add the water with a wooden spoon (don't add the water while the dough is in the food processor or your dough will be brittle and cracker-like). If the dough isn't moist enough, you can add more water, a tsp at a time until the consistency is right. Form dough into a disk, wrap with plastic wrap and chill in the refrigerator for 2 hours.
Preheat your oven to 375.
Once the dough is chilled, roll into a "rustic" circle. The great thing about a Galette is that an odd shape looks charming, don't worry about making it too perfect. Transfer to a baking sheet or a pizza stone covered with parchment paper. Spread the ricotta in the middle, leaving about 2-3 inches on all sides bare. Top with salt and pepper. In a bowl, combine the figs, honey and onions, toss to coat. Add the figs to the top of the ricotta, then add the arugula, goat cheese and prosciutto.
Fold the edges into the middle
Brush the crust with melted butter and bake at 375 for 40-45 minutes or until golden brown. I added additional arugula and goat cheese to the top before serving, but this is completely optional.