Mini Drunken Pumpkin Coconut Pies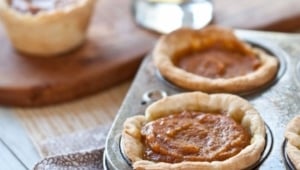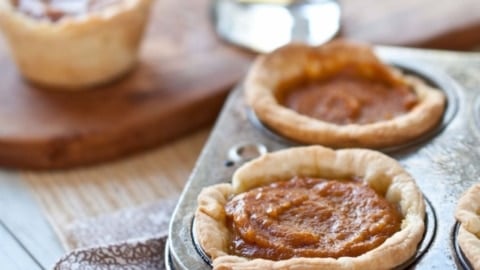 Have you ever served on a jury?
I have. A few years ago I was put on a federal case at the Los Angeles court house. The defendant was a smarmy little man who was, without a doubt, about a thousand percent guilty of smuggling 3 million dollars worth of Ecstasy into the country using teenage drug mules.
For two weeks I had to watch him represent himself, after firing his public defender, and very poorly and arrogantly cross examine those miserable teenage girls who had come to testify against him as well as anyone else who took the stand. At one point, the detective who had spent the better part of the previously year building a case against him took the stand to defend the piles and piles (quite literally) of evidence against him, most of which was collected in his home.
"well,do you have picture of me with these alleged drugs? or with the alleged thugs?"
The detective responded with, "First, the drugs are not alleged they are real and right on that table. Second, No, I did not take a picture of you with any drugs, or thugs, or in a box or with a fox. Doesn't make you any less guilty."
I laughed so hard, and for so long it required a shushing for the judge. I was LOUDLY shushed by the oldest man I had ever seen still earning a living. A man who fell asleep twice the first day of trial.
Later that day, after I had composed myself, I looked over to see Old Man Judge flipping through a sketch book of artfully drawn pictures of naked women. I was probably the only one who could see the cartoon style smut, I was seated in the far top seat of the Jury Pit, closest the judge. Ok, I'm sure "Jury Pit" isn't the right term, but it was either that or  "Judicial Dugout." Please, let me know if you know the real term.
The first thing I think is, "You MUST be old, your porn is hand drawn!" The second thought was, "I can't believe he doesn't have to pay attention to this, but I do."
At the end of a very long 2 weeks, we found Smarmy Drug Dealer very guilty, and I found later that he confessed to it all.
Why am I telling you ALL of this? Because, other than the pen and ink peep show, the most surprising thing about serving on a jury is how exhausting it was. I was SO tired at the end of the day, after doing nothing more than just sitting there forcing myself to listen to terms like bifurcate and per curiam.
And as I start to write this cookbook and I spend the entire day forcing creativity to get out of my brain and into my KitchenAid, I am exhausted at the end of the day. Really, not as surprising a 90-year-old man asleep on the job atop parchment inscribed with a nude Botticelli-esque drawing. But still, I wasn't really expecting it.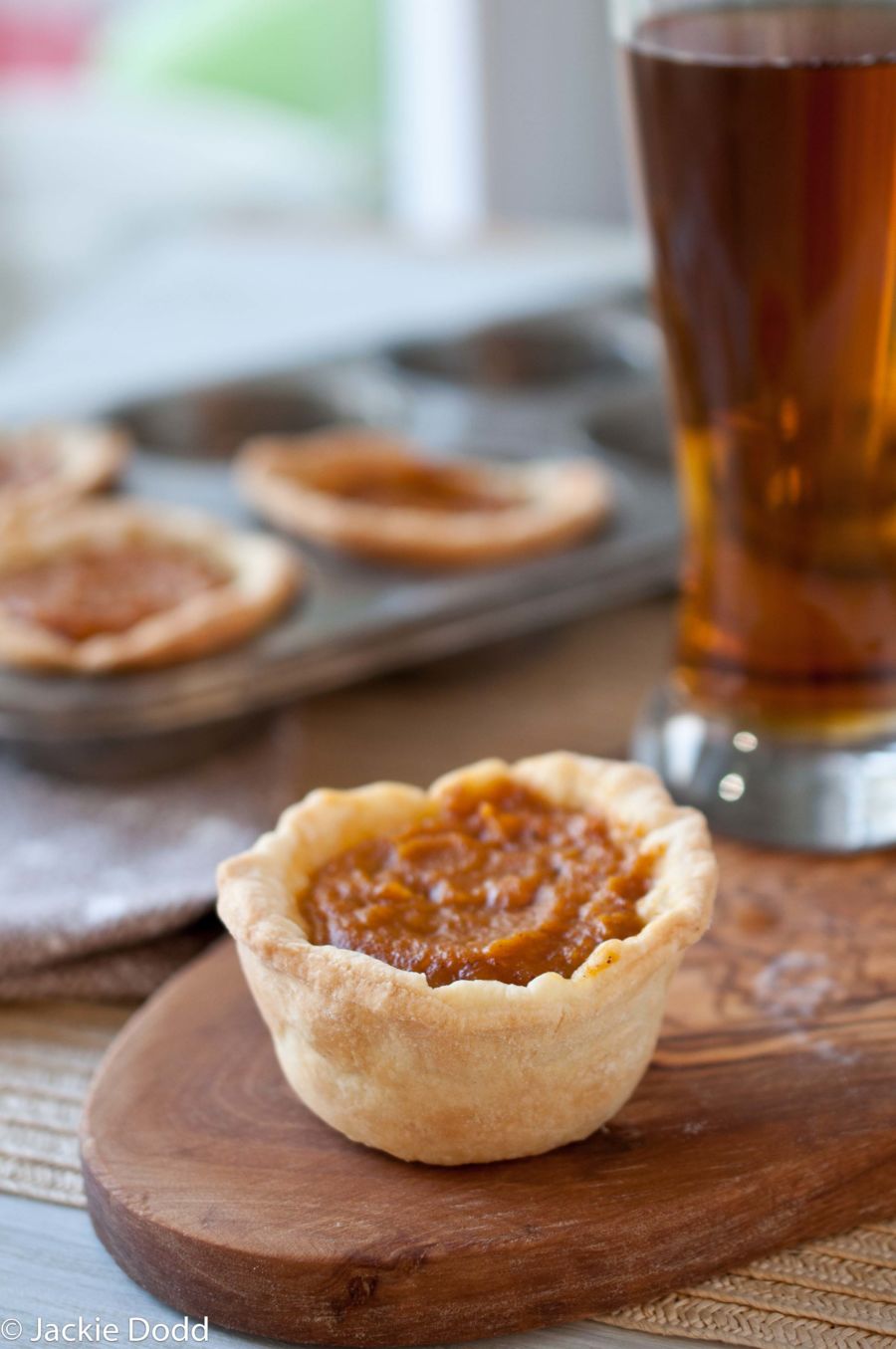 Mini Drunken Pumpkin Coconut Pies
Ingredients
For the Dough

1 1/3 cup flour
1/4 tsp salt
1 tbs sugar
1 stick cold butter, cut into cubes
2 tbs ice cold beer (high ABV works best)

For the filling

2 cups pumpkin puree (if using canned, make sure it is not pumpkin pie filling)
2 eggs
3 tbs flour
1/2 cup coconut milk fat, scraped off the top of a can of full fat coconut milk
2/3 cup brown sugar
1 tsp cinnamon
1/2 tsp nutmeg
1/4 cup pumpkin ale
1 tsp coconut extract (can sub vanilla extract)
Directions
In a bowl, add the flour, salt and sugar, mix to combine. Add the butter cubes and rub into the flour with your fingers, or a pasty cutter, until well combined. It will resemble coarse meal. Add the beer and mix until combined, adding more until all the flour is moistened and the dough is able to form a ball. Form into a disk, wrap tightly in plastic wrap. Refrigerate for at least an hour.
Preheat oven to 350. Roll out dough on a lightly floured surface. Cut dough into 4 inch circles, a large margarita glass works wonderfully for this.
Spray the wells of 12 to 14 muffin tins with butter flavored cooking spray. Place each circle into a well and gently press into shape, allowing for a bit of an overhang.
In a bowl, add all of the filling ingredients, whisk until well combined. Pour into mini pie crusts. Bake at 350 for 18-22 minutes or until the filling has set and no longer jiggles when the pan is shaken.
https://domesticfits.com/mini-drunken-pumpkin-coconut-pies/
Copyright �© TheBeeroness.com