Pumpkin Ale Cornbread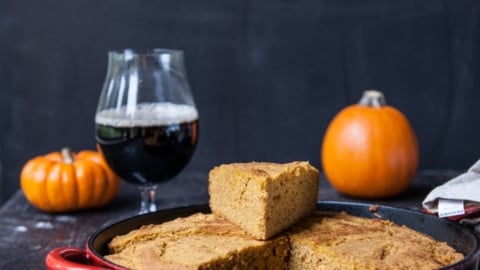 Pumpkin Ale Cornbread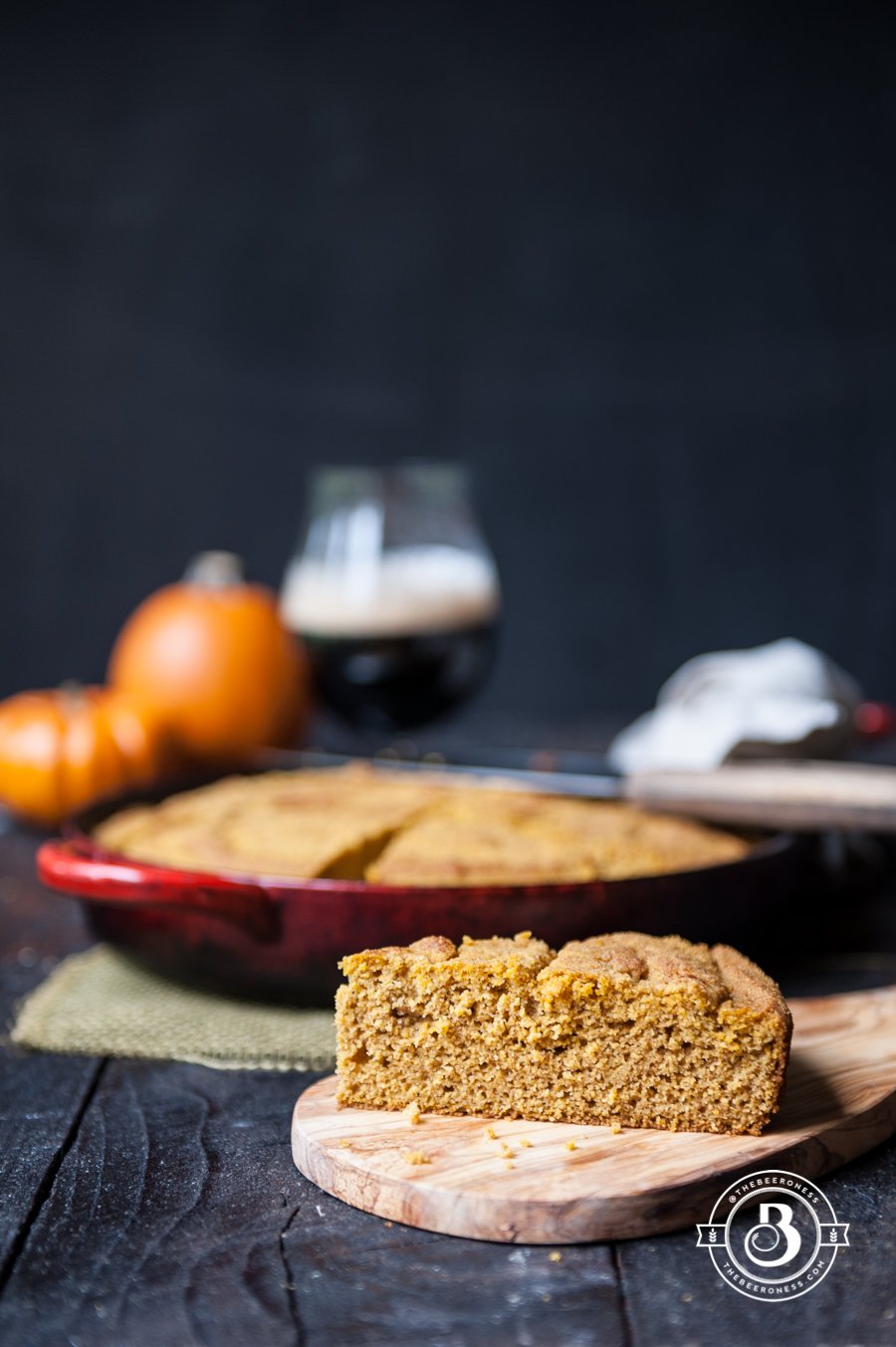 There is a moment in the year that every food becomes both necessary and then irrelevant.
Ice cream becomes a necessity, and absolute brilliant idea, sometime around mid-May when the weather spikes up past 80 degrees for the first time in months. When the sweaters get shed like downy feathers, and scarves feel more like a noose than a comfort, a cold bowl of sweet creamy dessert feels like salvation. And then the tide turns. A few months later, a season and a half has past, and that shed outerwear becomes vital to survival and desserts become warmer and crispier.
Then there are those foods that never turn. There is no pendulum swing. They are always welcomed, always have a place on the plate.
This is cornbread. There are summer barbecues and paper plates sagging under the weight of sticky-messy ribs and baked beans, begging for the crumbly square of cornbread to take up the space in the corner. When the summer gives way to the fall you have steaming pots of chili. There are spicy, rich, beans-or-no-beans pots of fight-over-the-right-way-to-make-it bowls that are perfect for everything from football viewing to lazy Sunday suppers.
Cornbread is as season-less as beer. It's always a good idea.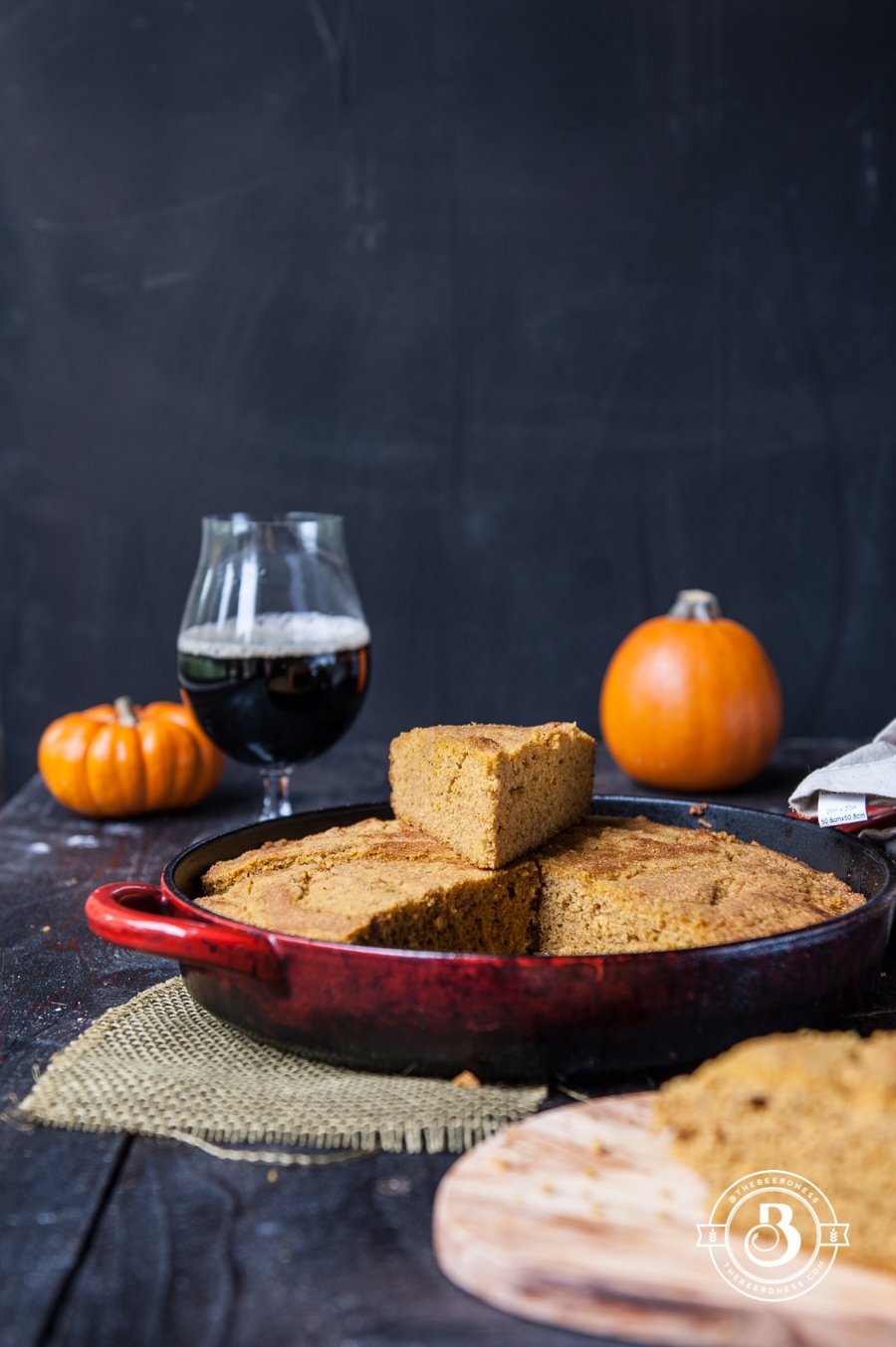 Pumpkin Ale Cornbread
Ingredients
1 ½

242g cups cornmeal

½

cup

60g all-purpose flour

2

tsp

8g baking powder

1

tsp

6g baking soda

1

3g teaspoon salt

1/3

cup

75g brown sugar

2

tsp

6g pumpkin pie spice

1

cup

244g pumpkin purée

¼

cup

66g heavy cream

¾

cup

184g brown or pumpkin ale

3

tbs

38g olive oil

2

eggs

2

tbs

unsalted butter
Instructions
Preheat oven to 400 with a cast iron skillet in the oven.

In a large bowl stir together the cornmeal, flour, baking powder, baking soda, salt, brown sugar and pumpkin pie spice.

In a small bowl stir together the pumpkin puree, heavy cream, beer, olive oil, and eggs.

Make a well in the dry ingredients, pour in the wet ingredients and stir until just combined.

Carefully remove the hot pan from the oven, add the butter. Swirl around the pan until the butter is melted and the pan is well coated. Pour the excess butter into a small bowl.

Pour the batter into the pan in an even layer, pour the excess melted butter on the top.

Bake until the top springs back when lightly touched, 16-18 minutes.

Remove from oven, slice, serve warm.