Chocolate Stout Ice Cream Sandwiches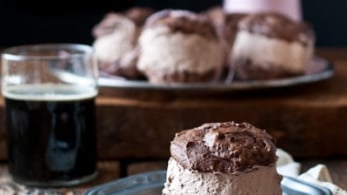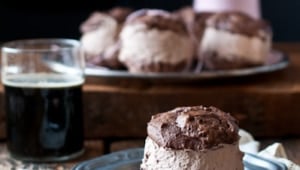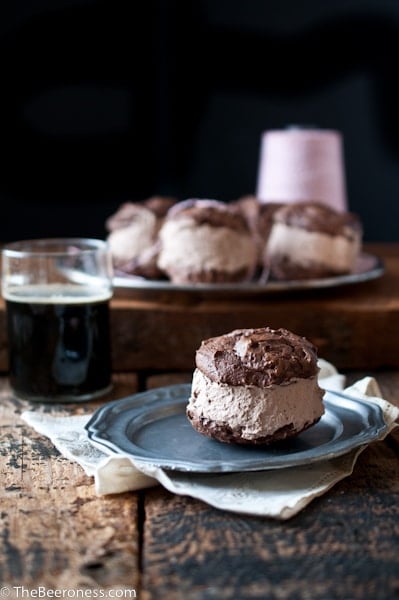 This is more of that inherent rebellion I told you about.
I'll take a stout any day, but am more drawn to them in the middle of August when everyone else is reaching for those session IPAs. Ice cream is fine, but when it's freezing outside, it's the most appealing. When the summer heat hits triple digits, I like to make soup. Spicy soup that makes me sweat. I want to drink coffee at midnight and put beer in pancakes at 8am. As you can see, this can be a bit of an issue.
In my book Stout Ice Cream sandwiches in December is a middle ground. You get those seasonally appropriate stouts, cookies that seem to make their rounds this time of year and some ice cream to remind you that one day summer will come to us again.
Speaking of this ice cream, it really isn't ice cream. It's an ice box version that takes 5 minutes to make, no ice cream maker needed, and stays fairly stable at room temperature. So it's like rebellious ice cream, that won't melt at room temperature but tastes like it took you all day. I can get behind that.
Chocolate Stout Ice Cream Sandwiches
Ingredients
For the Cookies:
1

egg plus 1 additional yolk

½

tsp

vanilla

1/3

cup

brown sugar

1/3

cup

white sugar

1/4

cup

flour

1/4

cup

unsweetened cocoa powder

1

tsp

espresso powder

1/8

tsp

salt

4

oz

62% Dark chocolate

broken into chunks

¼

cup

stout
For the Ice Cream:
1

cup

heavy cream

3

tbs

cocoa powder

¼

cup

powdered sugar

3

tbs

imperial stout
Instructions
In the bowl of a stand mixer, add the egg, yolk, vanilla and both kinds of sugar. Whip on high for ten minutes to create a frothy meringue like texture.

In a separate bowl, add the flour, cocoa powder, espresso powder and salt. Stir until combined.

In a microwave safe bowl, add the chocolate and the stout. Microwave on high for 30 seconds, stir and repeat until melted.

Mix the chocolate into the eggs until combined.

Sprinkle the flour, cocoa powder and espresso powder over the chocolate/egg mixture, stir until just combined. Place in the fridge and allow to chill until set up enough to scoop, about 30 minutes. Preheat oven to 375

Line baking sheets with parchment paper. Using a cookie scoop, drop equal amounts of dough evenly space on the cookie sheet.

Bake for 9-11 minutes, don't over bake. Allow to cool.

In the bowl of a stand mixer add the whipped cream, powdered sugar and cocoa powder. Beat on high until stiff peaks form, slowly pour the 3 tablespoons stout into the mixer, beat until beer is incorporated into the whipped cream.

Spoon the whipped cream into the cookies. Refrigerate until firm, about 30 minutes and up to 24 hours. Allow to sit at room temperature for 10 minutes before serving.