Lemon Cream Pie with Raspberry Beer Sauce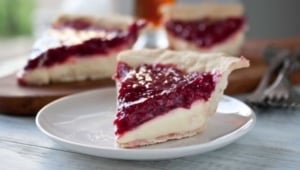 I made you a summery pie with a Double IPA
 Don't be scared, this double IPA plays nice, I promise. I'm hesitant with double and triple IPA's, over hopping a beer can result in a poorly balanced, pinchy tasting, bitter-in-a-bad-way beer that leads to my hesitation to sample the D & T IPA's. That's a shame, there are so many great tremendously hopped beers in our country.
Knuckle Sandwich is a fabulous entry in the DIPA category, given to us by Bootleggers, which has restored my faith in the genera. It has balance! I love malty notes in a beer, which this gives us beautifully as a framework to showcase those hops. It has great high notes of hops and citrus, but it also has the low notes of bread and malt, giving it some mad range.
Bootleggers is turning 5 this month, a newer brewery in Fullerton, California. You all know how I like to root for the Home-Brewer-Turned-Brewery-owner and this brewery could turn me into a cheerleader, especially if they keep making beer like this.
(By the way, Bootleggers, you should add this to your regular rotation, remove the Special Release designation and make sure to ship me a case when you get a chance.)

Lemon Cream Pie with Raspberry Beer Sauce
Ingredients
Crust (you can also substitute a gram cracker crust):
1 ½

cups

all purpose flour

½

tsp

salt

1

tbs

sugar

8

tbs

of butter

cold, cut into cubes

2

tbs

ice cold beer

high ABV works best
Lemon Cream Filling:
2

tbs

lemon zest

¾

cup

lemon juice

2

tbs

corn starch

5

egg yolks

2/3

cup

sugar

5

tbs

butter

2/3

cup

heavy cream
Raspberry Beer Sauce:
12

wt ounces raspberries

1

cup

powdered sugar

2

tbs

corn starch

½

cup

IPA
Instructions
In a food processor, add 1 cup of flour (reserving the other ½ cup) salt, sugar and pulse to combine. Add the butter cubes and process until combined. Add the remaining ½ cup of flour, process until well incorporated.

Transfer to a bowl, add the beer and mix until combined. Dough will be very soft.

Form into a wide flat disk, wrap in plastic wrap and chill for at least 2 hours.

While the dough is chilling, make the curd. Add the lemon zest, lemon juice, cornstarch, yolks, and sugar to a saucepan off the heat. Whisk until well combined. Add the butter cubes and add to medium heat, stirring constantly until thickened, about 12 minutes. Pour into a medium bowl, chill until just below room temperature, about 1 hour.

Preheat the oven to 350.

Once the dough has chilled, roll out on a lightly floured surface, transfer to a 9-inch pie pan, press into shape. Remove the excess.

Prick the bottom several times with a fork. Line with a sheet of parchment paper, fill with pie weights or dried beans.

Bake at 350 for 18-22 minutes or until crust is golden brown. Remove from oven and allow to cool to room temperature, remove the pie weights or beans.

Add the heavy cream to the bowl of a stand mixer, whip on high until soft peaks form, about 3 minutes. About ½ a cup at a time, gently fold the lemon mixture into the whipped cream. Once all of the lemon mixture has been mixed into the cream, pour into the cooled crust. Chill until set, about 1 hour.

In a pot over medium high heat, add the raspberries, powdered sugar, cornstarch and beer. Stir frequently until thickened, about 10 minutes. Allow to cool to room temperature. Pour evenly over the lemon cream layer, chill until set about 1 hour. Keep chilled until ready to serve.