Loaded Beer and Bacon Corn Chowder
Loaded Beer and Bacon Corn Chowder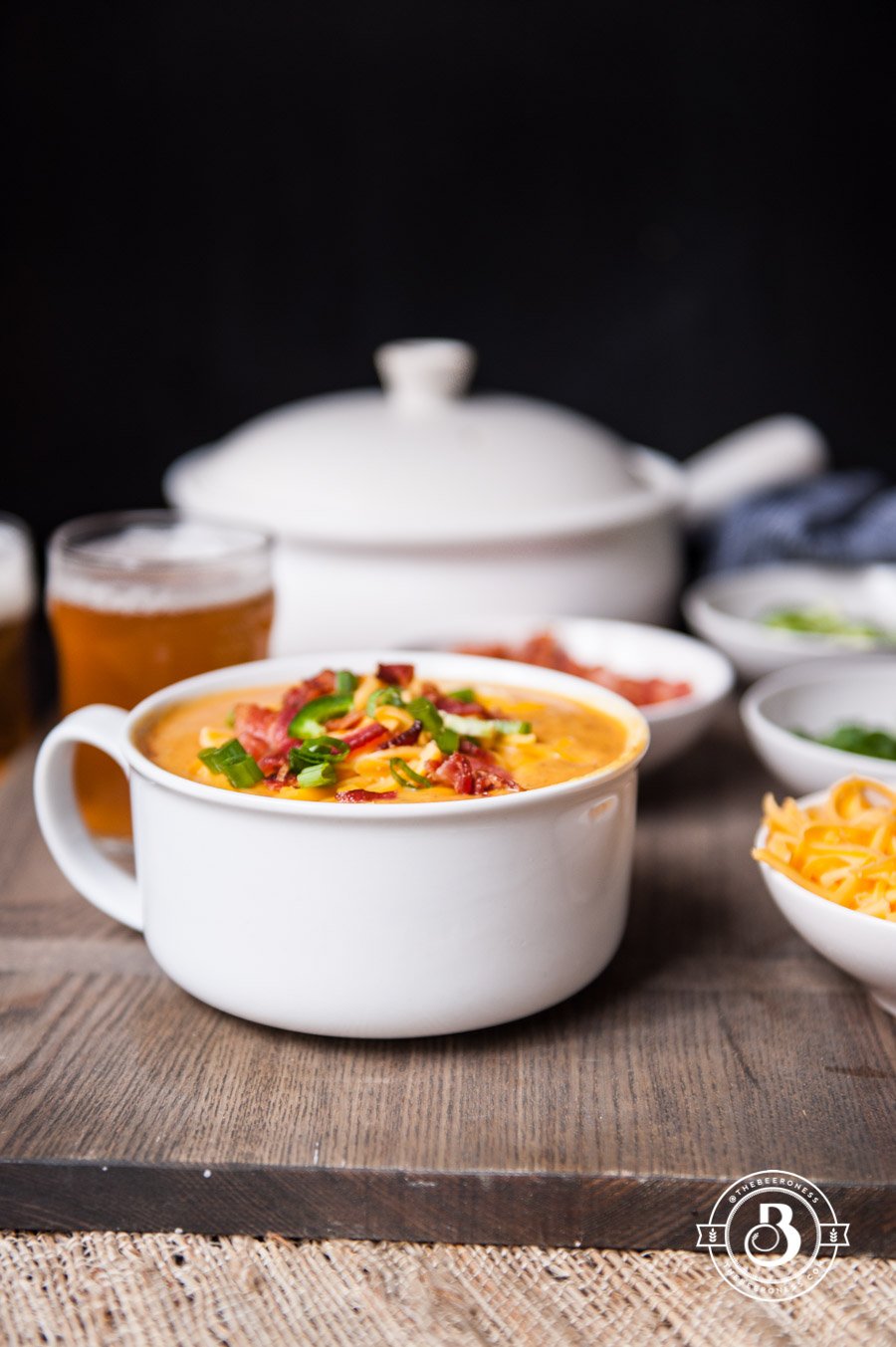 Don't give me that look.
I am fully aware that in most parts of the world, it's still summer. There is still frolicking in flip-flops and water activities to be done in the two weeks before fall officially sets in. But where I live, the rain-soaked-90's-music-mecca, I already have the heater on and the wellies out.
Soup is my consolation prize for rainy days in early September. To be honest, that's not the entire truth. I like it more than I thought I would, more than I even wanted to. The Los Angeles girl who dreaded moving here is shocked at how much I like the weather. Officially, I miss California. That's the bi-line when I talk about how much I love Seattle. I do harbor a love for the rainy days that punctuate an otherwise sunny week in August. I'm in awe of the fall, the drizzly days, the morning mist, the leaves changing color by the hour. It's magical.
If I'm being honest, this soup is less of a consolation for a lack of sun, and more of a celebration of the next season coming and how it's forced me into a love for the Pacific Northwest weather.
Loaded Beer and Bacon Corn Chowder
Ingredients
½

lbs

sliced bacon

½

white onions

chopped

½

cup

55g peeled and chopped carrots

1

cup

8oz pilsner beer (or summer ale, wheat beer)

3

ears of corn kernels

1

large

390g garnet sweet potato, peeled and diced

2

cups

16oz chicken broth

½

cup

100mL half & half

1

teaspoon

4g garlic powder

1

teaspoon

4g chili powder

1

teaspoon

6g salt

½

teaspoon

1g smoked paprika

4

ounces

shredded cheddar cheese

5

green onions

chopped

1

jalapeno

diced
Instructions
Cook the bacon in a large Dutch oven over medium heat until crispy.

Remove from pan, pour off all the bacon grease except 2 tablespoons.

Once the bacon has cooled, chop and set aside.

Add the onions and carrots, cook until softened and starting to caramelize, about ten minutes.

Add the beer, scraping to deglaze the bottom of the pot.

Add the corn (reserve one cup of kernels for the end), sweet potatoes, and broth. Bring to a gentle simmer, cooking until the sweet potatoes are fork tender.

Using an immersion blender, blend until smooth. Stir in the half and half, remaining corn, garlic powder, chili powder, salt and smoked paprika. Stir over medium heat until warmed. Adjust spices to taste.

Ladle into bowls, top with cheddar, green onions, chopped bacon, and jalapenos.