Coconut Curry Belgian Ale Chicken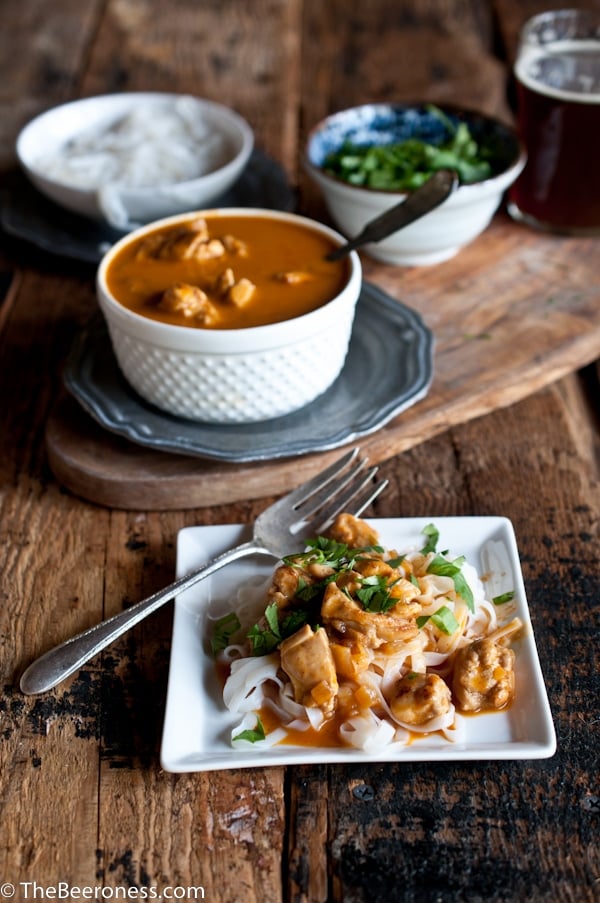 This blog has always been about pushing craft beer forward. The importance of the flavors that come with good beer, and how to explore those in a new way. From the beginning you got that and you stood next to me, exposing people to craft beer through food by sharing the recipes I've posted.
And today, we got a win. Just hours ago Saveur, a leader in field of culinary exploration, announced the finalist for the Best Food Blog Awards. Out of the 1.3 million food blogs world wide, The Beeroness was nominated along with just 5 others as one of the Best Original Recipe Blogs.
That's us. You, me, good food and great beer. It's a huge step when it comes to showing the world how important good beer is. It's  a huge indicator that "cooking with beer" is no longer seen as beer can chicken made with a pale macro lager. It's important flavors and practical applications. It's us pushing beer onto the same playing field as wine.
Let's show people that craft beer is a culinary force to be reckoned with.
Vote for The Beeroness for The Best Original Recipes in the Saveur Food Blog Awards. It takes about a minute to register before you can vote. It's a vote for craft beer, and what it does to food. It's a way to show people who dynamic beer can be.
Coconut Curry Belgian Ale Chicken
Ingredients
2 tbs olive oil
½ cup chopped white onions
4 large bonesless skinless chicken thighs, cut into small cubes
½ cup Belgian ale
13.5 fl oz coconut milk
3 tbs thai red curry paste
1 tbs fish sauce
1 tbs lime juice
pinch cayenne pepper
¼ cup cilantro, chopped
3 tbs roasted peanuts, chopped
Rice or Rice noodles for serving
Directions
In a large skillet or wok heat the olive oil over medium high heat. Add the onions and sauté until soft and slightly brown, about 3 minutes. Add the chicken, cooking until browned on all sides.
Add the beer, scraping to deglaze the pan.
Lower the heat, add the coconut milk, curry paste, fish sauce, lime juice and cayenne pepper. Simmer until thickened, about 10 minutes.
Serve over rice or rice noodles, garnish with cilantro and peanuts just prior to serving.
https://domesticfits.com/coconut-curry-belgian-ale-chicken/
Copyright �© TheBeeroness.com