Grilled Beer and Buttermilk Chicken with Sriracha Glaze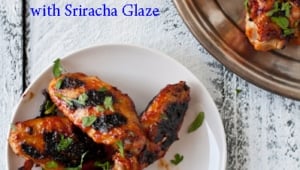 The above picture is  pretty strong illustration of what I did nearly the entire weekend. Along with spicing up my beer wings, I also made a Sriracha butter for grilled corn. In other news,I ran out of Sriracha.
Maybe it's the new grill that found it's way into my backyard, or maybe it was eyeing this chicken recipe, or this one, but I really wasn't able to think about anything but beering up some chicken and giving it a good grilled char.
I'm also trying to figure out how to grill a pie, but more on that later.
Grilled Beer and Buttermilk Chicken with Sriracha Glaze
Ingredients
For the Chicken:

2 cups Buttermilk
12 ounces IPA beer
2 teaspoons kosher or sea salt
1 teaspoons smoked paprika
¼ teaspoons cayenne
½ teaspoons cumin
1 tablespoon brown sugar
1 white onion, sliced
2 lbs chicken drumsticks and wings
Cilantro, minced (optional)

For The Glaze:

¼ cup Sriracha
1/3 cup brown sugar
1 teaspoons salt
2 cloves garlic, minced
¼ cup tomato paste
½ cup IPA beer
2 teaspoons fish sauce
1/3 cup mirin
Instructions
In a large bowl whisk together the buttermilk, 12 ounces beer, salt, smoked paprika, cayenne, cumin, and brown sugar. Add the onions and chicken to the marinade. Cover and place in the refrigerator for at least 6 hours and up to 12.
Just prior to grilling, make the glaze. In a saucepan over medium high heat, whisk together all the glaze ingredients. Bring to a boil, stirring frequently, until thickened, about 8 minutes.
Remove the chicken from the marinade, discard marinade.
Place the chicken on a preheated grill, brush with glaze, cook for about 2 minutes, flip and brush with glaze. Continue to flip and brush with glaze every 2-4 minutes until chicken is cooked through, about 20-25 minutes (depending on the size of your chicken). Transfer chicken to a serving platter and sprinkle with cilantro.
https://domesticfits.com/grilled-beer-buttermilk-chicken-with-sriracha-glaze/