Chocolate Belgian Ale Pull-Apart Breakfast Loaf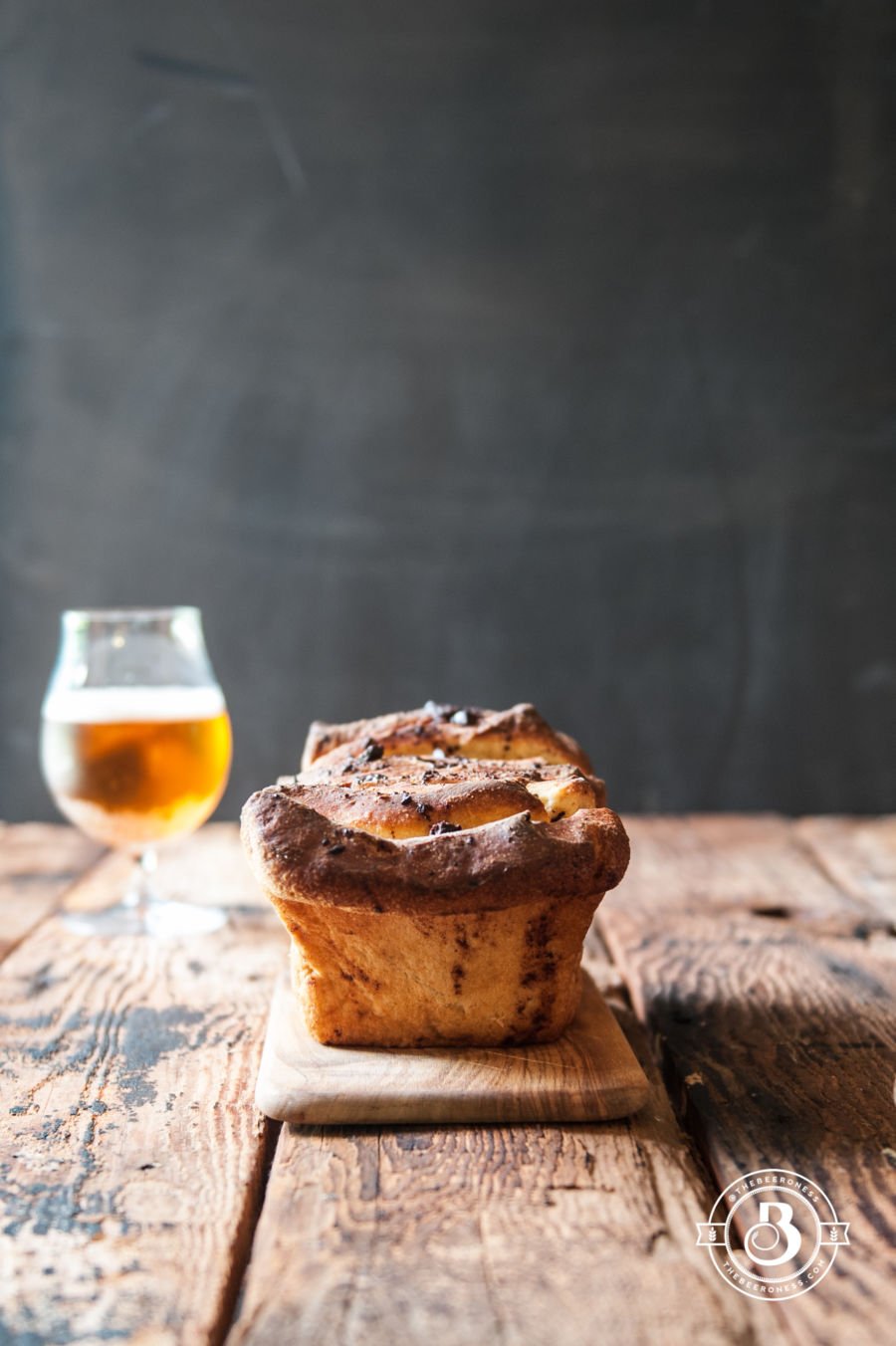 I made you something.
It took me a year.
Right after I made the big move from Los Angeles to Seattle, I spent the better part of last year holed up in my tiny wooden house writing my second cookbook,The Craft Beer Bites Cookbook. It's the follow-up to my first book, The Craft Beer Cookbook (affiliate link), 
This new cookbook is a book dedicated to the community that craft beer creates.
Craft Beer Bites is 100 recipes for appetizers and party food all made with craft beer. It's a book made for gatherings, for sharing great food and hard to find bottles. For bringing people together and reminding us what made us all a community in the first place.
Craft beer is built in community, in pubs and bottle shops, small packs of people just as excited to be together as they are to explore the beer at the center of the table. We need food for these get-togethers. And that's what this book is about.
I hope you love it as much as I do.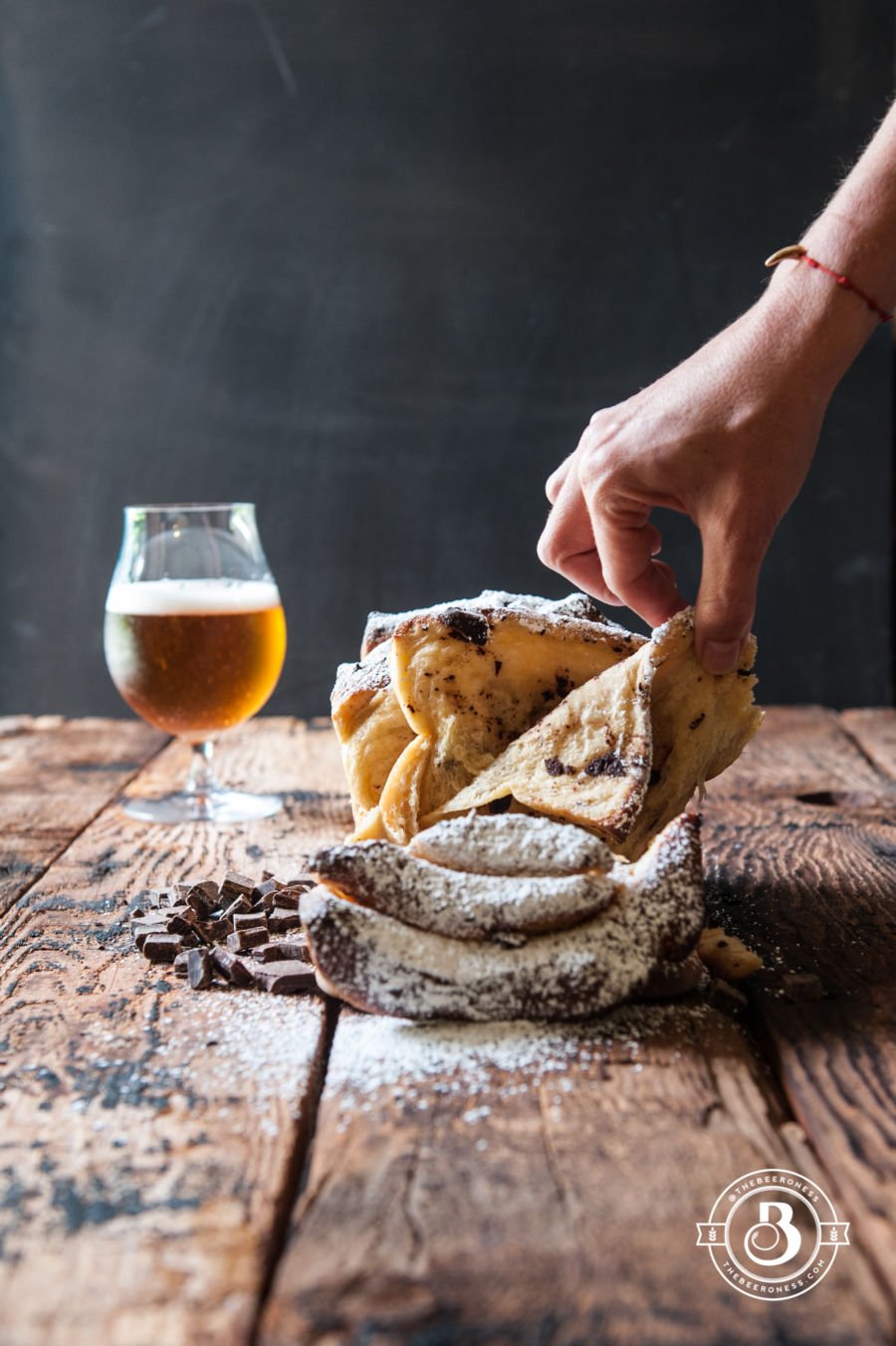 Chocolate Belgian Ale Pull-Apart Breakfast Loaf
A delicious breakfast loaf that can be made ahead, and the perfect dish for brunch get togethers.
Ingredients
2 ½ cups (320g) all purpose flour
¼ cup plus 1 tbs granulated sugar, divided
1 packet rapid rise yeast (2 ¼ tsp)
¾ cup wheat beer
1/2 teaspoon vanilla
3 large egg yolk (room temperature)
¼ cup heavy cream (room temperature)
1 tsp salt
3 tbs softened butter
3.5 wt oz chocolate, chopped
Powdered sugar, optional
Instructions
In the bowl of a stand mixer fitted with a dough hook add the flour, ¼ cup granulated sugar and yeast.
Add the beer to a microwave safe bowl, microwave on high for 20 seconds, test temperate and repeat until beer reaches between 120F and 130F degrees.
Add the beer to the stand mixer, mix until most of the flour has been moistened.
Add the vanilla then the yolks, one at a time. Add the cream and salt.
Building up speed, beat on high until the dough comes together and gathers around the blade. The dough will be very soft.
Add dough to a lightly oiled bowl, cover and allow to sit at room temperature for 1 hour or until doubled in size.
Add dough to a lightly floured surface, roll into an 18 x 24 inch rectangle.
In a small bowl stir together the softened butter and the remaining 1 tablespoons sugar.
Spread the dough with the butter.
Cut the dough into strips about 3 inches wide. Cut each of the strips into 4 to 5 rectangles, each should be about the size of a deck of cards. You should have between 12 and 15 pieces. Sprinkle the pieces with the chopped chocolate, then stack up each one on top of another in a tower. Lay the stack into a loaf pan, like placing books on a shelf.
If making the loaf the night before, cover and allow to rise in the fridge for 12 hours. Reheat the oven to 350F, allow the loaf to come to room temperate while the oven is pre-heating. Bake at 350 for 18-22 minutes or until golden brown.
If making the day of, preheat oven to 350F, allow to sit at room temperate until doubled in size, about 20 minutes .Bake at 350 for 18-22 minutes or until golden brown.
Remove from loaf pan, sprinkle with powdered sugar prior to serving.
https://domesticfits.com/chocolate-belgian-ale-pull-apart-breakfast-loaf/