Chipotle Beer Cheese Oven Fries
Football fries: Chipotle Beer Cheese Oven Fries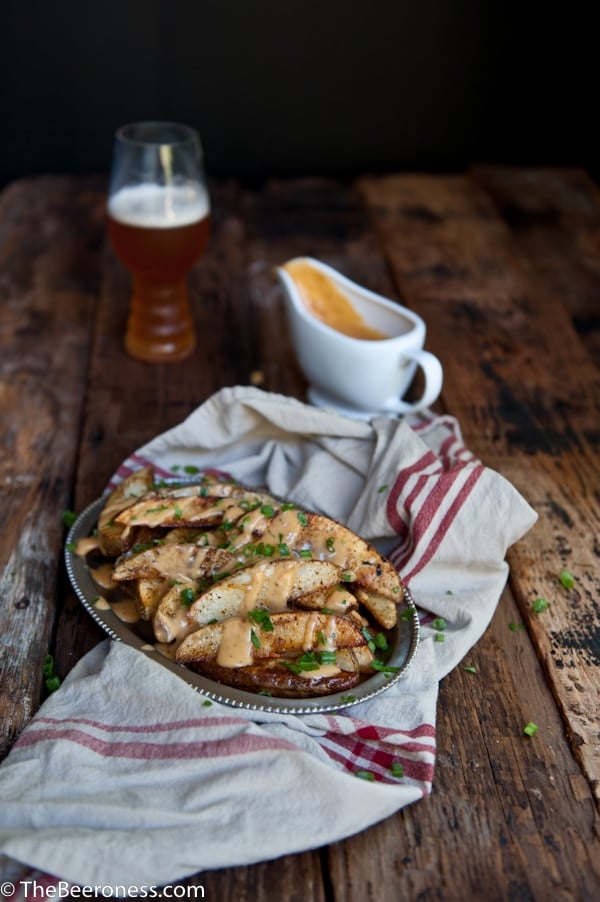 When I was 17 I decided to sell vacuums door-to-door. It was a great plan, I'd met a guy who had made a few thousand dollars in just one day, it seemed like easy money.
After a quick intro seminar in an office park in a bad area of town, they loaded up a floor model into the back of my car and gave me a folder of pre-screened targets that I had appointments with. My first stop was a nice apartment overlooking the water. I nervously waited for the door to open as I practiced my opening line in my head a few times.
The door swung open and an attractive 22-year-old guy was on the other side of the door. The look on his face mirrored my own: you're not what I was expecting. He eagerly invited me in, offering me a drink, clearly unaware of my underage status. I declined, trying to stick to the script. I didn't get paid unless this guy buys an overpriced cleaning machine, and I needed money.
I start the routine I'd been taught, demonstrating the equipment, quoting stats and specs, and trying to get him to pay more attention to the vacuum than my jeans. Mid-pitch, he stops me, "I have an Ikea couch and my TV is held up by a shipping crate, do you really think I can afford a $600 vacuum? It's not going to happen."
I explained that I had to call my boss to tell him how it was going, but I had to wait at least 30 minutes after my arrival. I asked him to give me more time. He hesitated. "Look, how about this. We'll play one game of poker, if I beat you, you buy the thing. If not, I'll leave before I have to make the call."
A few minutes later he emerged from his kitchen with a pack of cards and a box of matchsticks he wanted to use as poker chips. Due to a lack of furnishing, we sat cross-legged on the floor of his living room as I dealt hold 'em and watched him suck down a second scotch. Fifteen minutes later, I had all the match sticks. For a second time.
"I just beat you twice," I said as I motioned towards the overpriced vacuum.
"I still can't afford it. But can I take you out this weekend?"
"Are you going to buy a vacuum?" Which was really a poor choice of words, I just wasn't sure how to respond to his advance.
"You're making me buy that thing before I can take you out?"
"No, I'm not going out with you either way. But….it's a really good vacuum."
He laughed. "Look, I'll help you load it up. There really is no chance that I'll buy this thing. How about we walk over to that cafe across the street and I'll buy you dinner for your trouble."
I hesitated, I didn't want him to think it was a date, he clearly noticed.
"It's not a date! I owe you something for your time and the fact that you're oddly skilled at poker, and I feel bad just sending you away. Just let me buy you dinner."
I agreed, but I also ordered the cheapest thing on the menu, cheese fries, to remind him that there wasn't any chance this was more. They were fantastic. I canceled all other vacuum-related meetings, returning the stupid thing in the morning. Cheese fries and winning at poker isn't a bad night, but it never earned me any money.
Chipotle Beer Cheese Oven Fries
Ingredients
1

tsp

salt

1

tsp

pepper

1

tsp

onion powder

1

tsp

garlic powder

½

tsp

smoked paprika

½

tsp

chili powder

2

lbs

russet potatoes

cut into wedges

3

tbs

canola oil

2

tbs

cornstarch

¾

cup

beer

1

cup

shredded Cheddar

do not use pre shredded

¼

cup

heavy cream

2

chipotle chili

plus additional to taste

2

tbs

Butter

¼

cup

green onions

chopped

¼

cup

cilantro

chopped
Instructions
Preheat oven to 425.

In a small bowl stir together the salt, pepper, onion powder, garlic powder, smoked paprika, and chili powder.

Add the potatoes to a small bowl, sprinkle with spices, toss to coat.

Add the oil to a baking sheet.

Add the potatoes to the baking sheet in one even layer, with one of the cut sides down.

Bake for 12 minutes. Turn the potatoes over so the other cut side is down.

Bake for an additional 12 minutes or until the potatoes are golden brown and fork tender.

While the potatoes are baking, make the cheese sauce.

Add the cornstarch, beer, cheese, cream, and chipotle to a blender or food processor. Process until smooth.

In a pot over medium high heat, melt the butter. Add the cheese sauce, cook until thickened and warmed.

Plate the potatoes, drizzle with cheese sauce. Sprinkle with cilantro and green onions.