Beer Velvet Cake
 Beer Velvet Cake. No food dye, all win. 
Let's talk about red velvet for a second. It's a cultural phenomenon with inspired spin offs that include vodka, candles, coffee, and a myriad of other head tilt inducing concoctions that lead me to wonder why exactly this dessert deserving of all this hype.
Sure, I've had my share. I've made countless recipes passed on by friends as "The Best" variation. I've talked to devotees that swear it's the best cake they've ever had, requesting it for every birthday. I've had cupcakes, doughnuts, and even pie, but I'm always left wondering.
When the recipe leads me to the step that calls for two (yes TWO) bottles of red food coloring, I pause. It's not so much the potentially toxic nature of the inclusion of such an ingredient, (for a rundown of why red food coloring is bad read this). As a recipe developer, I wonder if there is a reason for the addition of this ingredient that I'm possibly overlooking. Why is it called for in such a massive quantity?
Was there a reason I'm not aware of? Rumor has it that it just goes back to good 'ole fashion American capitalism. I've been told this is food folklore, I've been told it's true, but even Food & Wine Magazine reports that the inclusion of two bottles of red food dye has been linked to a man in Texas trying to sell more red food dye.
Fact or fiction one thing is undeniable: the red food coloring does not add anything to the taste or texture of the cake and could potentially distract from it.  But what will add to the flavor and texture of your cake? Beer. Beer is a natural leavening agent that adds a fantastic, slightly lighter texture all while gifting your cake with the beautiful flavors of roasted grains.
For this cake, I used the recipe that most variations lead back to: The Waldorf Astoria Red Cake, with the traditional white roux frosting. The only substitution I made was beer for red food dye, which, I have to say, gave me the best velvet cake I've made.
Beer always wins.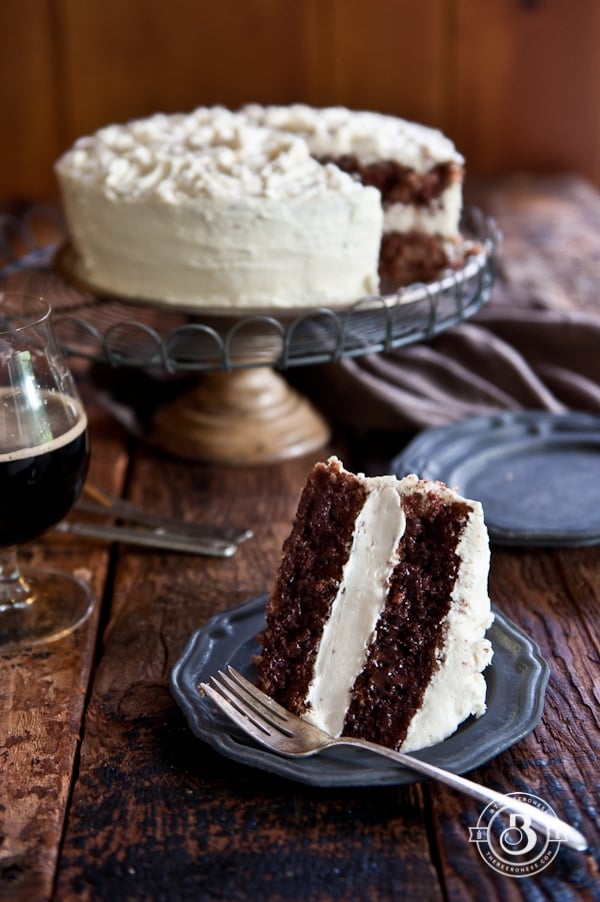 Beer Velvet Cake
Ingredients
Cake:
1/4

cup

chocolate stout beer

2

tbs

unsweetened cocoa powder

2

tsp

vanilla extract

1/2

cup

vegetable shortening

1 1/2

cups

granulated sugar

2

large eggs

1

tsp

salt

2 1/2

cups

sifted cake flour

1

cup

buttermilk

1

tsp

distilled white vinegar

1

tsp

baking soda
White Roux Frosting:
1/3

cup

all-purpose flour

2

cups

milk

2

cups

unsalted butter

softened

2

cups

granulated sugar

2

tsp

vanilla extract
Instructions
Preheat oven to 350°F.

In a small bowl whisk together the beer, cocoa powder and vanilla until well combined.

In the bowl of a stand mixer add the shortening and sugar, beat until well combined.

Add the eggs one at a time, beating well between additions.

Add the beer mixture and the salt, beating until well combined.

Alternating between flour and buttermilk, add both a bit at a time while the mixer is at low speed. Don't over beat.

In a small bowl stir together the baking soda and vinegar. Gently fold into the batter.

Grease and flour two 9 inch cake pans.

Divide the batter evenly between the two pans.

Bake until a toothpick inserted in the center comes out clean, between 25 and 30 minutes.

Allow to cool completely.

In a pot over medium high heat, warm the milk.

Gradually whisk in the flour, stirring until very thick, about 5 minutes.

Transfer to a bowl, cover and allow to rest until cooled, about 1 hour.

Add the softened butter to a stand mixer, beat on high until light and fluffy. Add the sugar and vanilla beating until well combined. Add in the white roux, beat until fluffy and resembles whipped cream, about 15 minutes.

Frost the cake adding generous amounts of frosting between layers.