Pub Cookies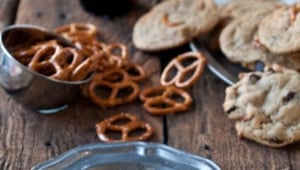 I want to put a beer cooking trick up your sleeve. A secret skill to help maneuver the beer cooking universe with deft dexterity. I like to call this a Beer Extract, made by reducing that bottle of beer to a small but mighty beer syrup that fits nicely into a recipe that wants some beer flavor but is without the capacity to handle large volumes of beer right out of the bottle.
It's easy, really. Just simmer the beer long enough to remove the water, leaving all those other great flavors in a compact bite of beer essence. When a recipe, like these Pub Cookies, can only take a little bit of liquid and you want a bit o' that beer flavor to come through at the end, all you need to do is reduce the beer to remove the water and you're all set.
While this might not bring you the large amounts of beer taste you might want, there is a subtle malty finish to the end flavor, along with those pretzels that always seem to love to tag along for the beer flavored ride.
Pub Cookies
Ingredients
12

ounces

imperial stout or porter beer

3/4

cup

butter

cut into cubes

2/3

cup

brown sugar

1/2

cup

white sugar

1

egg plus 1 yolk

1

tsp

vanilla extract

1

cup

all purpose flour

3/4

cup

bread flour

this will make them chewy

1

tsp

cornstarch

1/2

tsp

baking soda

1/4

tsp

salt

1

cup

dark chocolate chips

60%

2/3

cup

mini pretzel twists

broken into pieces

¼

cup

honey roasted peanuts
Instructions
In a pot over medium high heat add the beer and cook, stirring occasionally, until reduced to about 1 tbs, about 8 to 10 minutes.

In the bowl of a stand mixer, add the butter and both types of sugar, beat until well creamed. Add the egg and the yolk, beat until well combined. Add the 1 tbs of beer, and vanilla extract and beat until well combined, scraping the bottom to make sure all the ingredients are well combined.

In a separate bowl, add both types of flour, cornstarch, baking soda and salt. Mix well. Add dry ingredients to the stand mixer and mix on medium/low speed until just barely combined, don't over mix. Add the chocolate chips, pretzel pieces, and peanuts, and stir until incorporated.

Cover a baking sheet with parchment paper, scoop golfball sized scoops of dough, roll them into round balls and place on the baking sheet, cover with plastic wrap and chill for at least 4 hours.

Preheat oven to 350.

Bake for 18-22 minutes or until light golden brown, don't over bake. (If you don't chill the dough, or if you make smaller sized cookies, the cooking time will be much shorter. Start to keep an eye on your cookies after about 12 minutes.)