Beer Chicken Satay with Almond Stout Dipping Sauce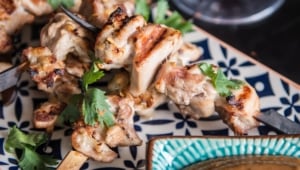 Beer Chicken Satay with Almond Stout Dipping Sauce
I have recently discovered, to my abject horror, that I vastly prefer almond butter to peanut butter. Why so horrified, you ask? Because it is, in my conservative estimation, about one thousand times more expensive. And I am cheap. Have I told you this? That I have not one, but three favorite thrift stores, each one has it's own unique category of items I prefer it for (food props, random vintage furniture, weird but fun jewelry). This is a true fact.
Then there comes along these items that overpower my will to conserve. Like $30 bottles of beer, and jars of roasty nut butter. No, no, that $13 dollar jar of almond butter makes total sense! And then I eat it and I'm convinced, money can be saved elsewhere because I can't go back, not now. It's so much better!
Sure, some people will DIE if they eat peanuts and that's a fine reason to forgo the eating of such nuts. But there is also the added benefit of superior taste and texture, so it's a win/win. From now on, all satay sauce should just be made with almonds, it's safer. And more delicious.
Go forth and eat your almonds with a fine roasty stout and chicken hot off the grill.
Beer Chicken Satay with Almond Stout Dipping Sauce
Ingredients
Chicken Skewers:
1

tablespoon

soy sauce

2

garlic cloves

grated with microplane

1

cup

8 oz full-fat coconut milk from a well shaken can

1

teaspoon

grated fresh ginger

¼

teaspoon

fish sauce

1

teaspoon

sesame chili oil

1

lbs

chicken thighs

cut into cubes

½

cup

beer (pilsner, pale ale, lager)
Satay sauce:
¼

cup

64g smooth almond butter

1

tablespoon

soy sauce

1

teaspoon

sesame chili oil

½

teaspoon

red pepper flakes

1

teaspoon

fish sauce

1

tablespoon

coconut milk from a tin

1

tablespoon

brown sugar

2

tablespoons

stout beer
Instructions
Stir together all the chicken skewer ingredients (except the chicken), add the chicken. Cover and refrigerate for 1 hour and up to 24.

Preheat the grill to medium high.

Thread the chicken through skewers. Add the chicken skewers to the grill, cooking on both sides until cooked through, about 5 minutes per side.

Stir together the satay sauce ingredients.

Serve the chicken alongside the satay sauce.