Browned Butter Shortbread Salted Beer Caramel and Espresso Chocolate Bars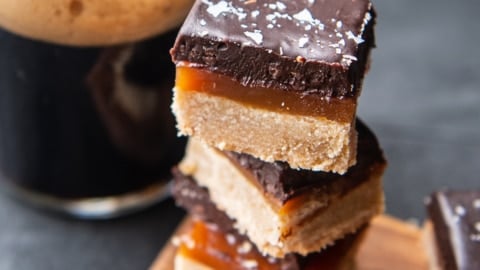 Browned Butter Shortbread Salted Beer Caramel and Espresso Chocolate Bars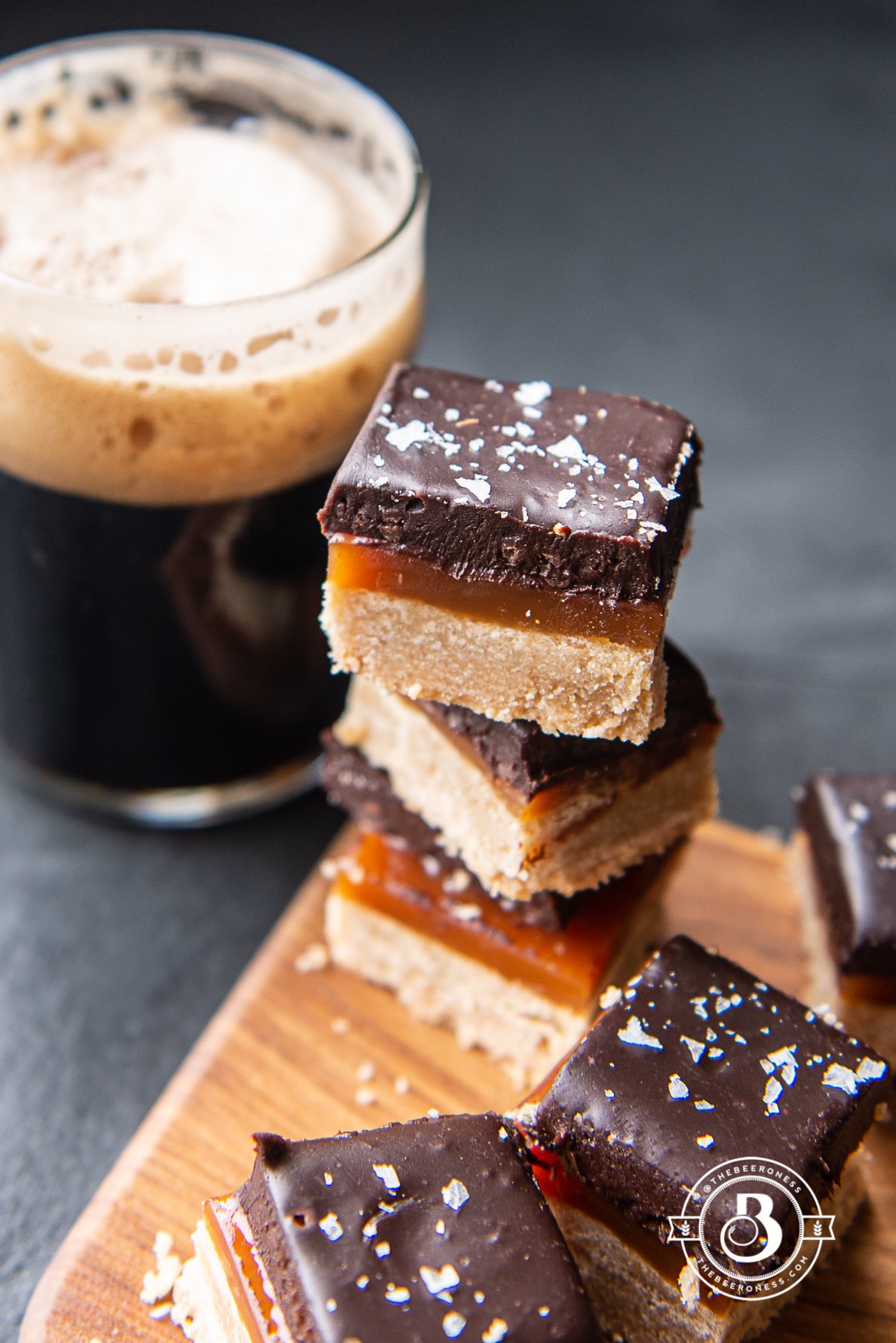 We're almost there, in the homestretch now. We are close to the end of the strangest year that ever was and we all deserve a treat to celebrate. We made it, we've survived, mostly intact, only partially traumatized. Spend the next handful of days letting yourself enjoy anything you want, and reminding yourself that when it's all said and done, you did a pretty damn good job getting through it all.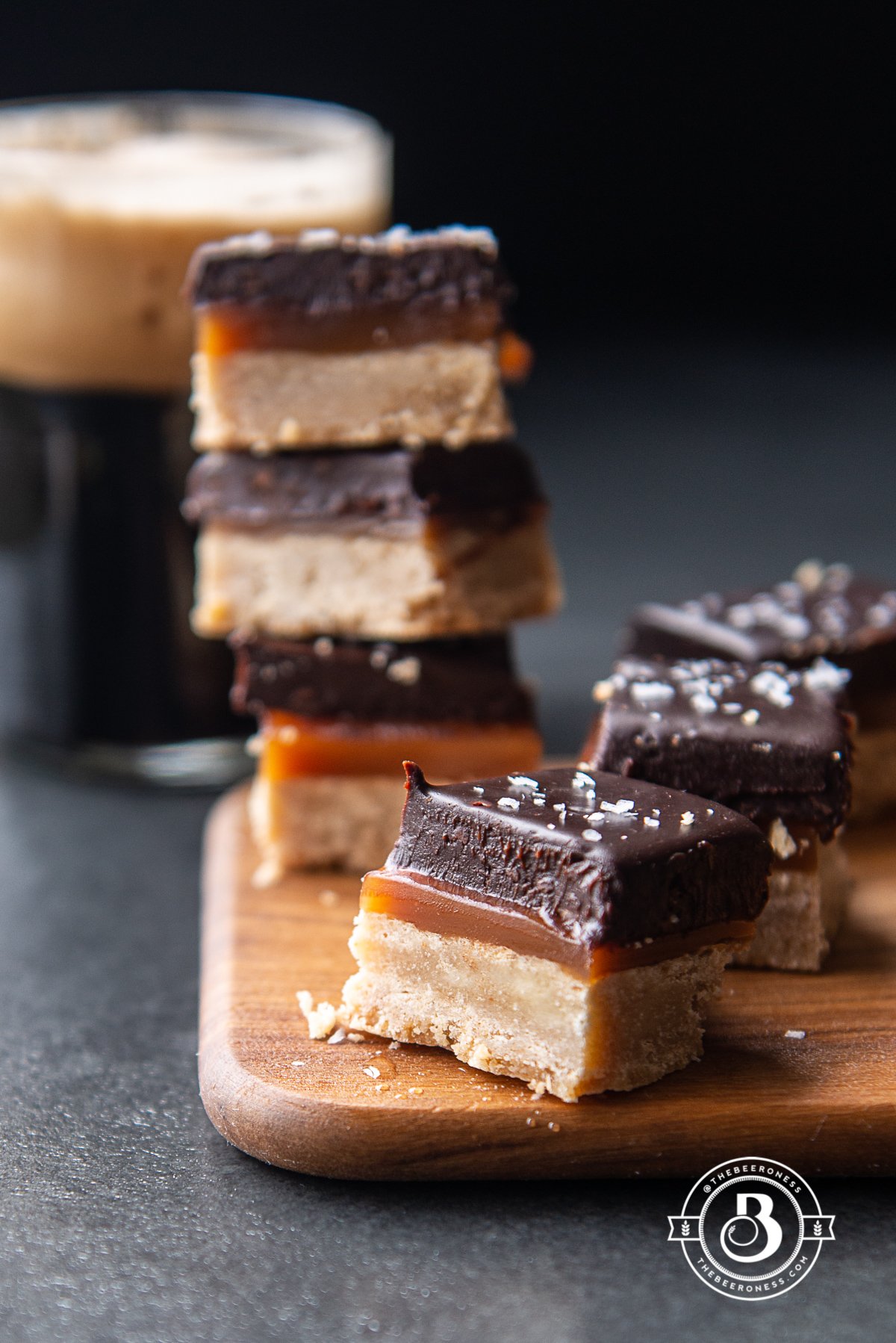 Did you murder anyone? No. Did you mostly feed your kids or pets or both? Yes. Did you shower most but not all the days? We think so. Then you did good. Good is the new amazing. So celebrate with something you want to eat or drink and let's just all decide to make next year a better year where we are grateful for things we took for granted in 2019. And, you know, still feed the creatures and resist murder.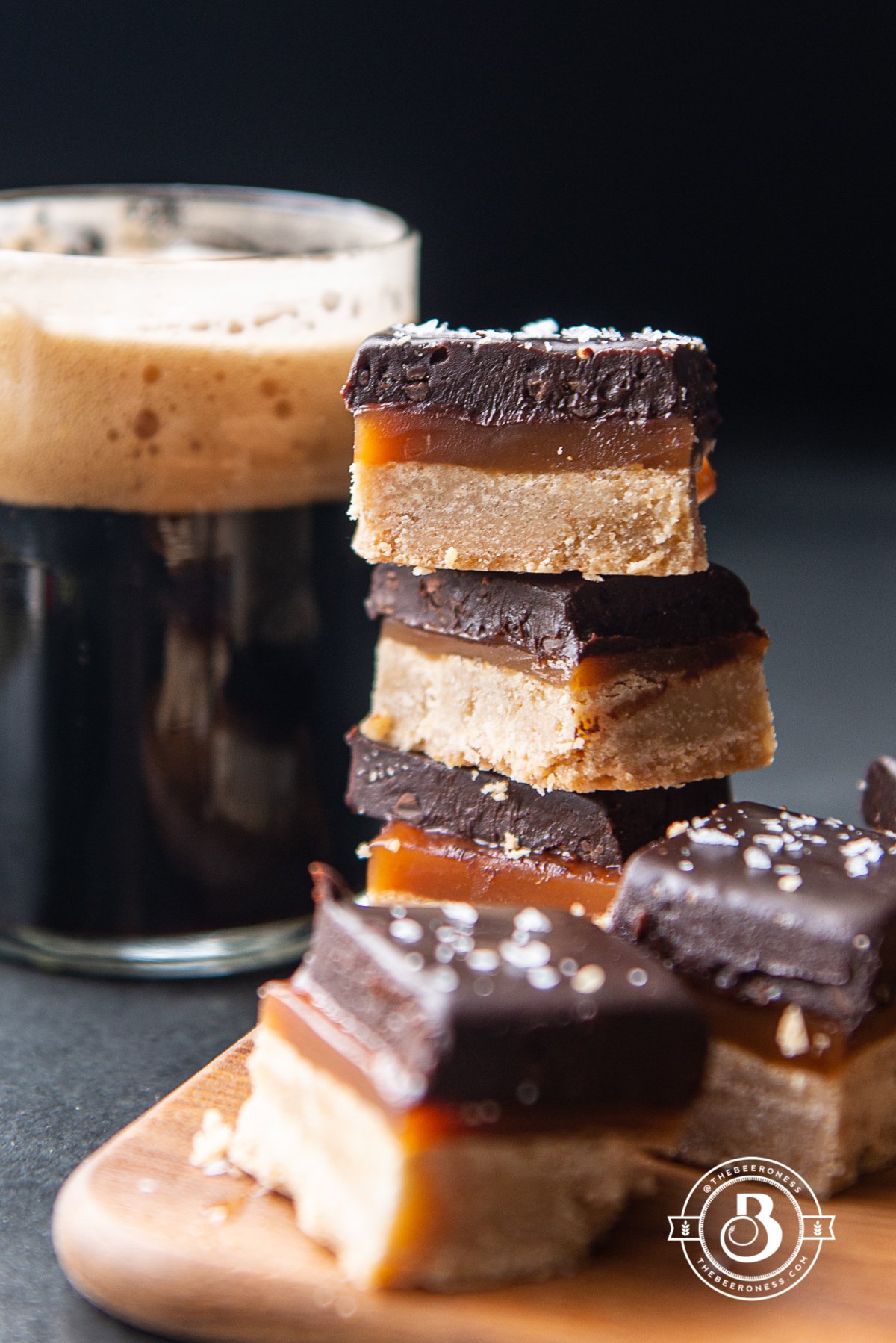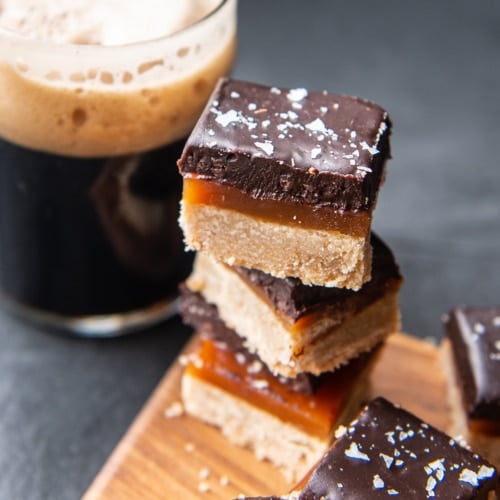 Browned Butter Shortbread Salted Beer Caramel and Espresso Chocolate Bars
Ingredients
Shortbread:
¾

cup

unsalted butter

½

cup

golden brown sugar

1

teaspoon

vanilla extract

½

teaspoon

salt

1 ½

185g cups all-purpose flour
Caramel:
1

cup

sugar

¼

teaspoon

cream of tartar*

¼

cup

water

6

tablespoons

butter

1

teaspoon

vanilla extract

¼

cup

heavy cream

1

teaspoon

flakey sea salt
Chocolate:
10

oz

dark chocolate chips

¼

cup

stout beer

2

teaspoons

espresso powder or instant coffee powder

not coffee grounds

1

teaspoon

flakey sea salt
Instructions
Add the butter to a saucepan. Cook over medium heat, stirring often, until it smells nutty and is a slight amber color, be careful not to burn it. Transfer the butter to the bowl of a stand mixer allow to cool for 15 to 20 minutes. Heat the oven to 325°F.

Add the sugar, vanilla, salt, and flour, mix on low speed until just combined.

Line an 8x8 pan with parchment.

Press the dough into the pan in an even layer.

Bake for 30 minutes or until the edges just start to brown. Remove from oven, allow to cool.

Add the sugar, cream of tartar, and water to a large heavy-bottom saucepan, stir until the sugar is dissolved, stop stirring.

Boil until a dark amber, about 8 minutes, swirling the pan occasionally if hot spots develop.

Remove from heat, stir in the butter until melted.

Slowly stir in the heavy cream and then the salt.

Pour in an even layer over the shortbread, chill until set, about 10 minutes.

Add the chocolate chips, beer, and espresso powder to a large microwave-safe bowl. Microwave on high for 30 seconds, stir and repeat until melted. Pour over the caramel in an even layer. Chill until set. Cut into squares to serve.
Notes
*cream of tartar is option but it does prevent crystallization if grainy caramel has ever been an issue for you