Beer Caramelized Mushroom Gorgonzola Tart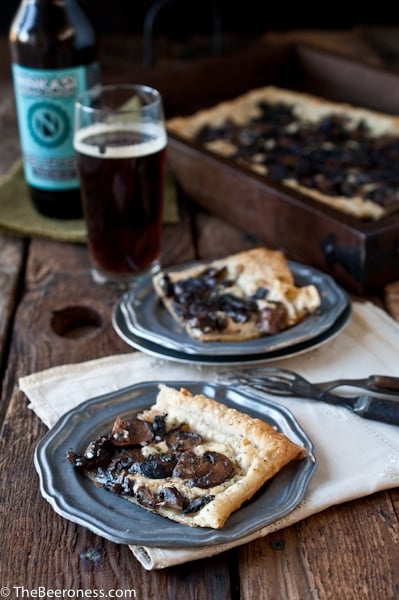 Food is the one common thread we all share. Since the dawn of time, food, and the pleasure we find in it, has been comprehensively universal. The community and connection found over broken bread doesn't need explanation. Maybe that's why beer and food find a seamless union, beer is a communal beverage. Beer begs to be shared, enjoyed, talked about, in a very similar that food does. You can feel it in the community that craft beer has created. It isn't about competition, it's about collaboration. It favors quality over quantity and people over profit. It's why I wanted to be a part of this world.
As my offering to the world of craft beer and her people, I wrote a cookbook, The Craft Beer Cookbook (affiliate link),. As a fantastic byproduct of said book writing, I'm going on tour. In a few weeks I'll embark on a West Coast Brewery Hopping Book Tour, to sign books, meet people and, of course, drink some beer. If you're on the West Coast, come out and see me, we can trade beer cooking war stories.
I'll be stopping at Ninkasi in Eugene Oregon, a sexy, hip kid when it comes to breweries in the Pacific Northwest. With equal parts Consistent Old Soul and Youthful Daringness, these are beers to seek out. I was able to get my hands on a bottle of Believer Double Red Ale, a beer with a great balance of low malty notes and the higher, bright citrus notes. It's creamy and smooth, but still kicks you some hops, it's a great beer. I used it to beerify (that's a word, I swear) some mushrooms, and added some creamy cheese to balance it out on a flakey crust. It's a beer flavored tart that can, and should, be shared. Over beer.
Beer Caramelized Mushroom Gorgonzola Tart
Ingredients
2

tbs

olive oil

2

lbs

assorted wild mushrooms

1

sweet white onion

sliced

2/3

cup

red ale

such as Ninkasi Believer

½

tsp

salt

½

tsp

black pepper

1

sheet puff pastry

thawed

2

tbs

butter

melted

3

ounces

gorgonzola

coarse kosher or sea salt

2

tsp

fresh thyme

chopped
Instructions
Heat the olive oil in a pan over medium high heat. Add the mushrooms and onion, cook until the mushrooms darken and onions start to soften, about 5 minutes. Add the beer, reduce heat and allow to simmer until the beer is almost completely evaporated.

Preheat oven to 400.

Roll out puff pastry on a lightly floured surface, transfer to a baking sheet. Brush the entire pastry with melted butter.

Sprinkle the cheese evenly across the tart, avoiding the outer 1-inch edge.

Spoon the mushrooms and onions over the cheese.

Sprinkle with coarse salt, and thyme.

Bake at 400 until a light golden brown, about 10-12 minutes.