Mac and Beer Cheese Brats with Beer Caramelized Onions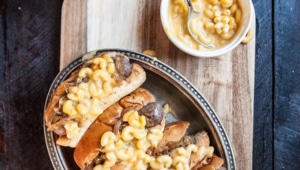 I just use it as an excuse.
The truth is, I only use the cultural intrigue over Oktoberfest as an excuse to do things like this. Because in any reasonable persons mind, this is a bit too far. One too many. Coco Chanel is telling me to take something off before I leave the house with these things. In a way, I did. I wanted to add crumbled bacon to the top. And jalapeños, although I'll even admit that would be one too many. Just a bit too far, pushed too far over the edge for enjoyment.
In reality, there are two ways to look at these: extreme and ridiculous displays of overt glutton lust, OR as a concerted effort in indulgence moderation. I'll choose the later. And I'll choose a beer, and I may choose to have two.
Want more? Join me on Instagram 
Mac and Beer Cheese Brats with Beer Caramelized Onions
Ingredients
2

tablespoons

butter

1

sweet white onion

sliced

1

tablespoon

brown sugar

1

cup

beer

Belgian ale, pale ale, red ale

6

raw bratwurst

12

ounces

beer

pilsner, pale ale, or wheat beer

6

buns

split

2

cups

Mac n Cheese

recipe link below
Instructions
In a pot over medium heat melt the butter (not too hot or the onions will burn before they caramelize).

Add the onions, cooking until they soften, about 5 minutes. Stir in the brown sugar.

Pour in the beer and allow to cook until the onions are dark brown and the beer is mostly gone, about 45 minutes to one hour. Remove from heat, set aside.

Add the brats to a cast iron skillet over medium heat. Add the beer, bringing to a low simmer. Cook over medium heat until the brats are cooked through, about 8 minutes. Remove from heat.

Add the brats to a pre-heated grill or grill pan until grill marks appear, about 3 minutes per side.

Add the brats to the buns, top with caramelized onions and mac n cheese. Serve immediately.

*if making in advance, store all elements separately. Re-heat and assemble right before serving.
Stove Top Sriracha Beer Mac N Cheese Recipe