Beer Brined Rotisserie Spiced Chicken Legs
Beer Brined Rotisserie Spiced Chicken Legs
I spent a few years resenting chicken.
Not chicken in general, beer can chicken. Mostly because when people found out that I cooked with beer for a living, that was the first recipe they thought of. "Like….beer can chicken?" Um, yeah. Or Beer Brined Duck with Stout Pomegranate Sauce and Belgian Ale Sweet Potato Mash.
Over the years, I've gotten over it. The truth is, it was my issue. Not theirs, not the chickens, but mine. I was so bent towards pushing the idea of cooking with beer into the space that wine occupies that I lost sight of the fact that beer can chicken is pretty damn good. Not to mention the fact that it's more accessible than most wine dishes, and it highlights one of the main reasons to cook with beer: it makes poultry taste fantastic.
When people ask me what my go-to cooking with beer recipe is, I always talk about poultry. I decided that it was time to put pen to digital paper and show the world that cooking with beer isn't JUST beer can chicken, it is ALSO beer can chicken. After all, you can make any wine dish with beer but wine can chicken just isn't the same.
Get the recipe for Beeroness Beer Can Chicken on eHow.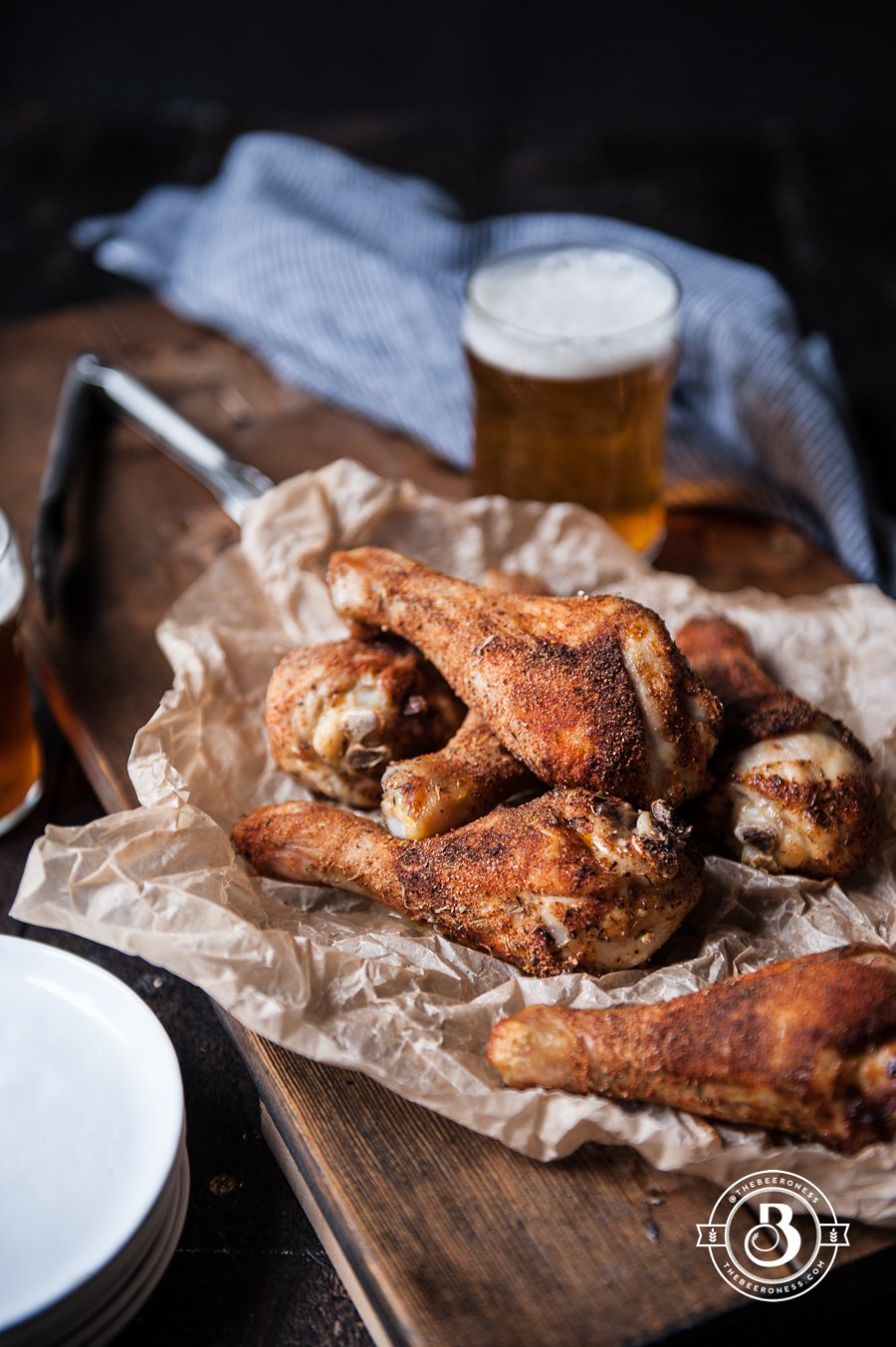 Beer Brined Rotisserie Spiced Chicken Legs
Ingredients
2

lbs

chicken drumsticks or wings

2

tbs

kosher salt

12

ounces

wheat beer

1

tsp

paprika

2

tsp

baking powder

this will help crisp the skin

1

tsp

onion powder

1

tsp

garlic powder

½

tsp

dried thyme

1

tsp

salt

½

tsp

black pepper

½

tsp

chili powder

1 ½

tsp

brown sugar
Instructions
Place the chicken in a large bowl or baking dish. Sprinkle on all sides with kosher salt. Pour the beer over the chicken until submerged (adding additional beer or water to submerge the chicken).

Cover and refrigerate for 1 hour and up to 12.

Preheat the oven to 250.

In a small bowl stir together the paprika, baking powder, onion powder, garlic powder, thyme, 1 tsp salt, chili powder and brown sugar.

Remove the chicken from the brine, rinse well and pat dry.

Place a wire rack over a baking sheet, spray with cooking spray.

Rub the chicken on all sides with the spice mixture, add to prepared pan.

Bake at 250 in the bottom half of the oven for 30 minutes. Move the chicken to the top half of the oven and bake at 450 for an additional 30 minutes or until cooked through.*
Notes
Although the timing of this recipe sounds like it's too long, it isn't The recipe was adapted from America's Test Kitchen and always yields perfect results. The first 30 minutes is just meant to render fat, not cook the chicken. The second 30 minutes cooks the meat and browns the skin. The baking powder in the recipe helps draw out moisture and crips the skin.