Triple Chile Beer Cheese Dip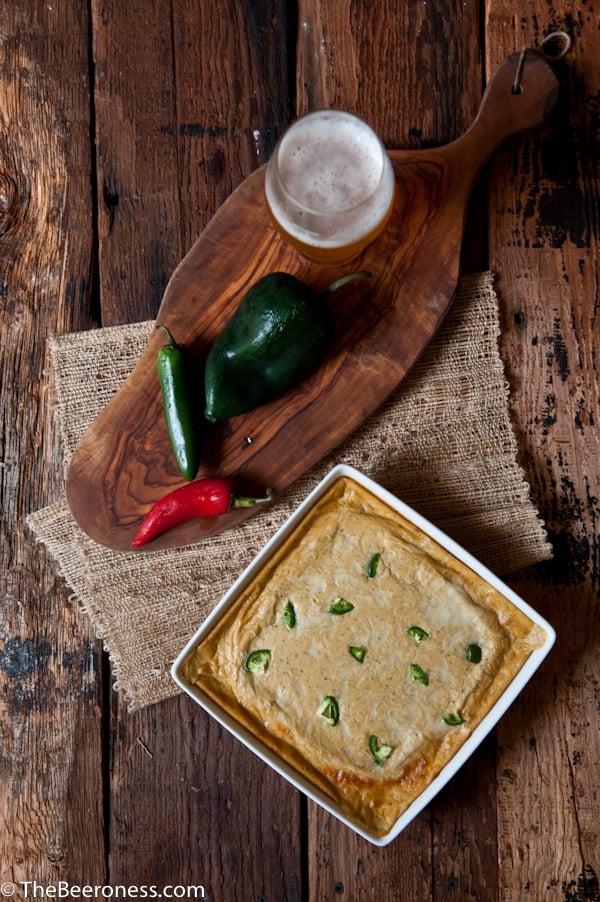 I've always been a bit of a heat freak. I'll always order the spiciest version of any dish on the menu, and then add hot sauce. I've had to tamp down the fiery ingredients when writing recipes for mass consumption, but when it's just me and a few other capsaicin worshipers, I'll triple the power of the chiles.
When it comes to peppers, there is no way to look at them and tell how hot they are. Jalapeno's for instance can range for a semi-mild heat level to a knock your socks off fire that can be three times the socville units of their milder counterparts. The scoville scale measures the heat level in chiles, giving them a number that correlates to how spicy those little devils are. Other than the peppers that earn no units (like the bell pepper), most peppers get a range rather than a specific number. For instance, the jalapeno ranges from 2,500-8,000. But you'll never be able to tell just by looking at them if that pepper is mild or wild.
If you want to temper the heat a bit, most of the heat is held in the seeds and that white membrane that keeps the seeds attached to the inside of the pepper. Remove some or all to control the heat a bit. Too mild? Add beer. Alcohol intensifies heat so adding a high ABV brew will kick that heat up a notch of two. Adding another kick of heat to my spicy food is just another reason for me to love beer.
Triple Chile Beer Cheese Dip
Ingredients
1

poblano pepper

8

ounces

cream cheese

¼

cup

sour cream

2 ½

cups

shredded mozzarella

1

chipotle chili in adobo

1

jalapeno

diced

1

cup

IPA beer

2

tbs

cornstarch

1

tsp

garlic powder

1/2

tsp

smoked paprika

½

tsp

salt
Instructions
Move oven rack to top position and second oven rack to the middle position.

Preheat oven broiler.

Place poblano pepper on a baking sheet. Place under broiler until blackened, flip over, bake on other side until blackened. Remove from oven, lower oven heat to 350.

Place pobalno in a bowl, cover with plastic wrap, steam for ten minutes. Remove from bowl, rub off the black skin and remove the stem.

Add the pobalno and remaining ingredients to a food processor. Process until smooth, pour into a baking dish.

Bake at 350 on the middle rack until warm and bubbly, about 20 minutes, serve warm.